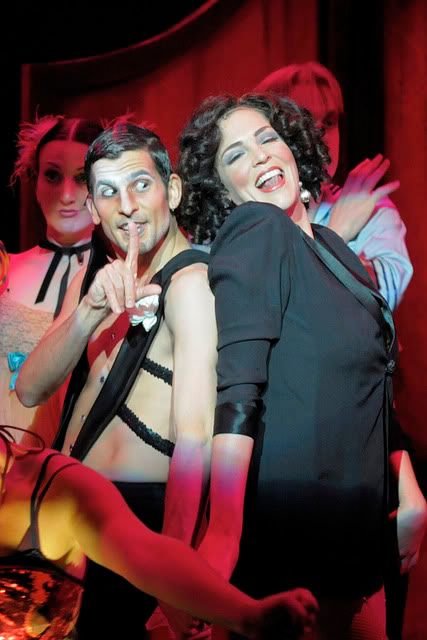 Nick Gabriel is the Emcee and Kate Del Castillo is Sally Bowled in the Center Repertory Company production of Kander and Ebb's Cabaret. Photos by kevinberne.com

Decadence, pineapples, Nazis and prairie oysters: Life is a `Cabaret' and then some
«««
Think about Broadway in 1966 when Cabaret opened at the Broadhurst Theatre. Also opening that year were Sweet Charity and Mame, which ran alongside such established hits as Hello, Dolly! and Fiddler on the Roof. With its examination of pre-World War II Germany at its most decadent and out of control, Cabaret was taking mainstream musical theater in a new direction, one marked by elements of old-school musicals, bold forays into politics and cynicism and lusty, scantily clad sexuality.
It's no wonder that Cabaret has turned out to be such a war horse. With a sturdy foundation in Christopher Isherwood's autobiographical Berlin Stories, which became the basis of John van Druten's 1951 play I Am a Camera, the musical ran for more than a thousand performances on Broadway and has been steadily revived on stages at all levels of the theater food chain since then. Bob Fosse's Oscar-winning 1972 movie, which preserved the sex, politics and some of the music of the original, proved that this was a story ripe for reinterpretation.
In 1998, Sam Mendes and Rob Marshall proved that Cabaret's durability could withstand an aggressive, hyper-sexual re-mount (if you'll pardon the expression), and that revival ran for 2,377 performances, more than twice as long as the original. A whole new generation happily dove into the world of the Kit Kat club, and since then, the show has had the cachet of a recently minted hit.
Last year around this time, the SF Playhouse mounted a stirring version of Cabaret in its tiny San Francisco theater, and this summer, it's Walnut Creek's Center Repertory Company inviting us to put down the knitting, the book and the broom and come to the cabaret, old chum.
Director Mindy Cooper, choreographer Joe Bowerman and musical director Brandon Adams don't drastically re-invent the musical, but they make smart choices – picking the best of previous versions and incorporating some original ideas – to create an exhilarating show with sizzle aplenty.
Nick Gabriel as the Emcee captures the essence of this production by taking the sweet playfulness of Joel Grey, originator of the role, with the more beguilingly perverse aspects of Alan Cumming's version in the most recent Broadway revival.
Kate Del Castillo as songstress Sally Bowles offers a refreshingly bold take on a familiar character. Instead of a wounded, yet resilient, hedonist, Del Castillo gives us a bitter beauty. Sure, this Sally has her share of wounds, but she's angry, and that comes through loud and clear in her in-your-face version of "Mein Herr" and her full-throttle rendition of the title song. Even her "Maybe This Time," sung as she contemplates an abortion, has a forcefulness that shields a broken heart with ferocity.
Unlike the movie, the show has two couples at its center. We get Sally and American writer Cliff (Jeffrey Draper, right, with John-Elliott Kirk) alongside landlady Fraulein Schneider (Milissa Carey) and her paramour/tenant, Herr Schultz (Jarion Monroe), a Jewish fruit vendor. What's nice about Cooper's production is that she gives equal dramatic weight to both couples. While Cliff and Sally get the showier dramatics, the older couple gets the show's most touching songs: "It Couldn't Please Me More" and "Married."
Carey, who also juices up her solos "So What?" and "What Would You Do?" and Monroe have effective chemistry, as do Del Castillo and Draper, who mercifully gives Cliff a pulse and makes him more guileless than innocent or naïve.
While certain ensemble numbers ("Don't Tell Mama," "Money," "Two Ladies") are fun and frothy, others, most notably Gabriel's "If You Could See Her" and the full-company reprise of "Tomorrow Belongs to Me," have the unsettling edge that makes Cabaret much more of a drama than a musical comedy.
Robert Broadfoot's set design is all about suitcases. Lit by Kurt Landisman, they hang in rows from the back of the stage (where the superb 10-piece orchestra, which includes some cast members, plays from a lofty perch). On-stage trunks open to become passenger car benches or fruit stands. The effect initially seems overpowering and telegraphs the end of the play (indeed the end of decadent Weimar Republic Germany in the face of Nazi rule), but when the end finally comes, even more suitcases, along with effective use of chain-link fencing, packs a surprising wallop.
FOR MORE INFORMATION

Center Rep's Cabaret continues through June 27 at the Lesher Center for the Arts, 1601 Civic Drive, Walnut Creek. Tickets are $37-$41. Call 925-943-7469 or visit www.centerrep.org for information.