Spirits are blithe in Moon's `High Spirits'
««« ½
What's the point of reviewing a show just a few days before it closes? Not much from a commercial point of view.
But given the sudden interest in all things Noel Coward, I had to check out 42nd Street Moon's production of High Spirits, a 1964 musical based on Coward's play Blithe Spirit. And I'm certainly glad I did – the show turned out to be one of Moon's can't-miss productions.
The show itself, with music, lyrics and book by Hugh Martin and Timothy Gray, has some snappy (and forgettable) tunes and adheres closely to Coward's original blueprint. But what makes this musical event stand or fall is its core quartet of actors.
If you happen to be in New York these days, you can pop in on the revival of Blithe Spirit and see Rupert Everett, Jayne Atkinson, Christine Ebersole and the redoubtable Angela Lansbury in the roles, and lucky you. But it's hard to imagine that starry foursome being funnier or more charming than the 42nd Street Moon crew.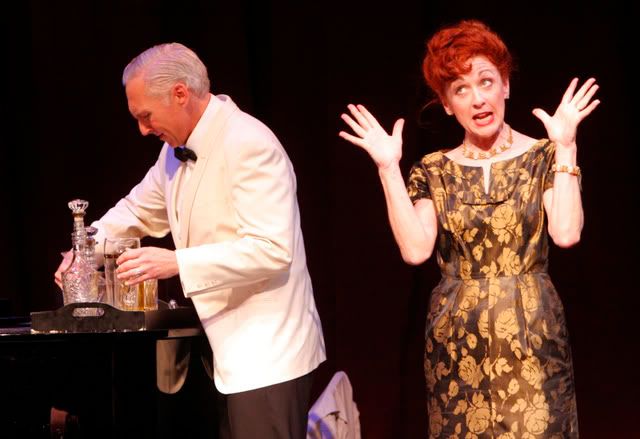 Michael Patrick Gaffney (above, photo by Robert Millard) is Charles Condomine, a writer and widower working on a new book that involves a séance. To assure accuracy, he invites a medium named Madame Aracati to his home for an evening's ghostly entertainment. On Broadway, Lansbury is said to be divine in the role, but 42nd Street Moon has a real secret weapon here: Megan Cavanagh, in her second Moon outing. Cavanagh is a seasoned comic who knows better than to simply put on a kooky show as the bicycle-riding spiritualist.
Cavanagh is hilarious and heartfelt. Her big numbers, "The Bicycle Song" (cleverly choreographed by Tom Segal), "Go Into Your Trance" and "Talking to You" (an ode to a Ouija board) and "Something Is Coming to Tea," are all show highlights simply because Cavanagh's Arcati is so much fun to watch. We don't believe for a minute that Arcati, as eccentric as she is, could be a phony. She's much too sincere and has too much belief in her own gifts.
That's a key to making sense of the silly plot. During the séance, much to the dismay of Charles' second wife, Ruth (a droll Maureen McVerry, funny in a starched British way, pictured above with Gaffney), Arcati conjures the fleshy ghost of Charles' first wife, the dashing Elvira, played with pizzazz by Dyan McBride.
These four performers, under the loving direction of Greg MacKellan are a joy. They have chemistry together; they sing, dance and act effortlessly; and they seem genuinely to be enjoying their time on stage.
McBride gets the show's two standout numbers – "You'd Better Love Me" and "Home Sweet Heaven" – and she swirls around the stage in a lovely, flowy blue dress (Louise Jarmilowicz gets credit for the costumes). She even infuses a less interesting song, "Faster Than Sound," with style and humor.
Musical director Dave Dobrusky lets the feel of the early '60s strike a groove in his playing, and he gets stalwart support from Nick DiScala on saxophone, clarinet and flute. With only two players, Dobrusky and DiScala manage to provide varied and pleasant arrangements that go a long way in selling the songs.
In recent shows, 42nd Street Moon, now in its 16th year, has evolved from straightforward concert productions, with actors holding their scripts, to more fully staged, though still minimalist, presentations. The great thing is that the transition seems to be working. These aren't big, splashy set- and costume-heavy shows, but the strengths of the shows themselves shine through and provide a showcase for some of our talented local musical theater performers.
Something to look forward to: The just-announced 2009-10 42nd Street Moon season begins in September with Irving Berlin's Call Me Madam starring New York cabaret star Klea Blackhurst. Harold Rome and Leonard Gershe's musical western, Destry Rides Again, will star local light Connie Champagne and run Oct. 28-Nov. 15. Cole Porter's Jubilee returns Nov. 25-Dec. 13 starring High Spirits cohorts Megan Cavanagh and Michael Patrick Gaffney. The Gershwins' Lady, Be Good! Runs March 31-April 25 and Jerome Kern and Oscar Hammerstein's Very Warm for May runs, appropriately, May 6-24.
The new season kicks of the beginning of a multi-year celebration of composer Jerome Kern and lyricist Ira Gershwin. The new season will also introduce "salon evenings" honoring lyricists Dorothy Fields (Oct. 13) and Ira Gershwin (Jan. 28).
For information visit www.42ndstmoon.org.