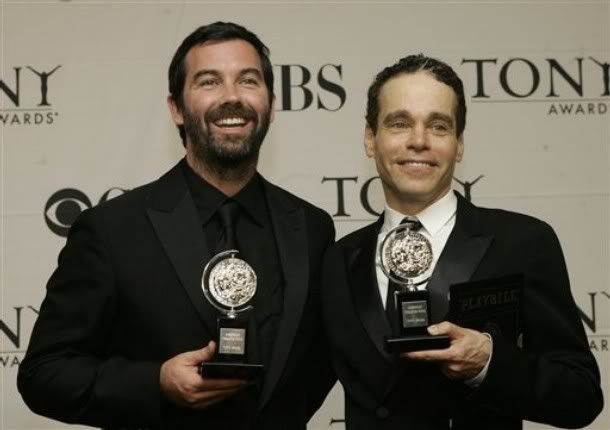 For the Tony Award-winning composing team of Steven Sater (book and lyrics, above left) and Duncan Sheik (music), Spring fever may be abating.
The duo, along with director Michael Mayer, worked on bringing their musical Spring Awakening to Broadway for seven long years. Then the show opened, won eight 2007 Tony Awards and has just launched its national tour at San Francisco's Curran Theatre. Upcoming productions will begin sprouting up around the world.
But Sater and Sheik are at work on other productions. As previously reported here, the duo's adaptation of the Hans Christian Andersen fairy tale The Nightingale could make its world premiere at San Francisco's American Conservatory Theater next season if the theater gods (and money people) smile.
The duo is also re-working Nero, which had its world premiere as a play with songs at San Francisco's Magic Theatre in early 2006.
"That project has really changed dramatically," Sater says. "We did a workshop of the revised version at New York Stage and Film with Idina Menzel, Lea Michelle, Michael Arden and a fantastic cast. It's becoming our new musical along with The Nightingale. It's really dark and dynamic and funny and musically really rich. This project has become very exciting."
Sheik says that he's pleased with the various iterations of Nero: "We're very close to finding a kind of more final, presentable version. The Magic run really helped us figure out what works, what doesn't. We had six or seven songs in that production. Now there are literally 30 pieces of music in that show."
He says that five or six of the original songs are still in the show, with the song "Lover from Hell" as the cornerstone.
"I had my own skeptical feelings about Nero and whether it was something artistic or commercially viable," Sheik says. "With the work we did this summer at New York Stage and Film, I saw it could really work. That was a huge relief for me, personally because, you know, you want to tell a story people can understand and get into. It's hard to do that with an anti-hero. We figured out how to make it truly engaging, even with characters who don't have a lot of sympathy attached."
Sater is also at work with System of a Down frontman Serj Tankian on a rock spectacular version of Aeschylus' Prometheus Bound. Diane Paulus, who directed Hair in Central Park this summer, is slated to direct.
And Sheik is at work mixing his latest record project, Whisper House, which is released on Sony/Victor records on Jan. 27. This will be a full-on Duncan Sheik album, but the songs, developed with Kyle Jarrow, also form the score of a show, also called Whisper House about a boy who loses his father in World War II and moves with his mother into a haunted lighthouse. Sheik says there may be a production of the show (for which Jarrow is librettist and co-lyricist with Sheik) in Delaware next year.
"I just finished mixing the record, and I'm so happy with it," Sheik says. "It was such a weird surprise. I recorded these things as demos, and everyone who heard them said if that's not your next record, you're crazy. Holly Brook, an amazing singer I've been working with, is my vocal partner on this record. I can't wait to get it out in the world."
Visit Sheik's official site: http://www.duncansheik.com/oldsite/httpdocs/index.html
For information about the Spring Awakening national tour, at the Curran Theatre through Oct. 12, visit www.shnsf.com.
Here are Duncan Sheik and Holly Brook performing "Touch Me" from Spring Awakening: