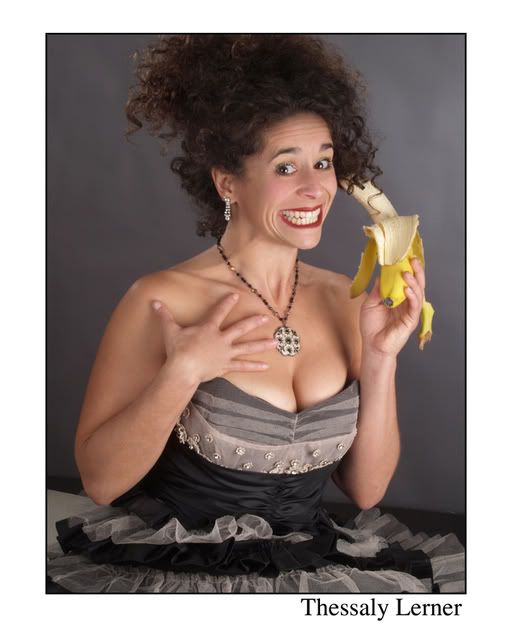 Thessaly Lerner stars in The Ukulady's Pony Show, part of the 17th annual San Francisco Fringe Festival. Photo by Lennon
And here Edinburgh, Scotland thinks it's got a great fringe festival. Ha!
Back for a 17th season is the San Francisco Fringe Festival, beginning today (Sept. 3) and running through Sept. 14 at a dozen downtown San Francisco venues.
There are 48 shows in all, most not more than an hour and here's the best deal of all: tickets are $5 to $9. That's right: real, live theater with actual human beings for less than what it costs to sit through The House Bunny.
Most of the shows are at the EXIT Theatreplex (156 Eddy St. and 277 Taylor St.), but a few are scattered in other venues including Grace Cathedral, The Center for Sex and Culture, Off-Market Theatre, Phoenix Theatre and Boxcar Theatre.
With 48 shows from which to choose – by performers from the Bay Area, across the country, Canada, Poland and England – it's hard to know which shows to recommend. But with prices so affordable, you might as well go see at least five shows. That way you'll probably end up loving two, liking two and wishing you had skipped that other one. Those are good entertainment odds.
Here are a few shows that emerged as intriguing from amid the avalanche of Fringe Festival press releases:

Exit Sign – A Rock Opera (pictured above) – Americans, or so we're told by the Supersonic Theater, have a hard time with death. That's the basis for this rock 'n' roll musical adventure about a father and daughter as they travel through experiences of time, mortality, death and love. Sept. 6, 11, 13, 14 at the EXIT on Taylor, 277 Taylor St.
Along the Path of Larks and Swallows – Mia Paschal and chaotic heart offer a dark comic valentine of love, heartbreak and passion. Here's the catchy tagline: "If only you could break up with somebody right at the beginning it would take a lot of the guesswork out of it, wouldn't it?" Sept. 4, 5, 6, 11, 12 and 13 at the Phoenix Theatre, 414 Mason St.
Late Nights with the Boys: confessions of a leather bar chanteuse – Alex Bond and David L. Carson read selected chapters from Ms. Bond's novel, which comes from her late-'70s days in the Dallas gay leather bars. Sept. 3, 4, 5, 6, 7 and 8 at the EXIT on Taylor, 277 Taylor St.
To Kill For – Vertigo 50 presents a play about Alfred Hitchcock, who, in the afterlife, misses his wife, Alma Reville. While he waits for her to appear, he is talked into remaking his film "Vertigo." Alma will arrive, but not before Hitch has had visits from Kim Novak, James Stewart and Tippi Hedren. Sept. 5, 8 and 9 at Grace Cathedral, 1100 California St.
True Theatre Critic – Polish solo performer Omar Sangare, a professor at Williams College, presents his show about a defeated man who, through his sorrow and anger, finds sweet revenge in criticizing those who have rejected him time and again. Sept. 8, 10, 11, 12, 13, 14, EXIT Theatre Stage Left, 156 Eddy St.
The Ukulady's Ponyshow – Thessaly Lerner (aka The Ukulady) and her Russian nanny (played by Jayne Entwistle) bring their long-running variety extravaganza to the Fringe with guests including the Neosurrealists, Sam Shaw, Gerri Lawlor, Susan McCollom, The Whistleaires, OPM, Don Seaver & Moresies. Sept. 5, 6, 7, 8, 12, 13 and 14 at the EXIT Theater, 156 Eddy St.
Madge's Box: The truth about women, vaginas and America – Harvey Rabbit presents this self-explanatory show about a housewife who has everything – husband, kids, TiVo – but her vagina. Mixing clown, burlesque, monologue and song, Rabbit goes deep into the dullness of the American Dream. Sept. 4, 6, 10 and 12 at EXIT Stage Left, 156 Eddy St.
My Camino – Canadian Sue Kenney (above, photo by Johnny Lam) walks two miles on a treadmill as she relates the story of her trek covering 500 miles of the Camino de Santiago in Spain. The show is adapted from Kenney's book "My Camino," which will soon be a feature film. Sept. 3, 4, 5, 6, 7 and 8 at the EXIT on Taylor, 277 Taylor St.
For a complete schedule, artist bios, audience reviews, photos and videos, visit www.sffringe.org. Call 415-673-3847.