Last night at Davies Symphony Hall, Bernadette Peters was in a good mood. Her voice was in great shape (and her shape was in GREAT shape).
In other words, Peters' "Summer in the City" concert was a triumph.
Last time Peters was in town, she was performing a theatrical concert at the Orpheum Theatre to promote her new Rodgers and Hammerstein album. That 2001 run got scotched by illness (she says Rita Moreno gave her the flu at a Jerry Herman tribute), and she hasn't been back since.
Friday night, she stood in front of the San Francisco Symphony, with her longtime musical director Marvin Laird at the conductor's podium (and, quite often, at the piano), and delivered the kind of old-school Broadway razzle dazzle that has made her a beloved musical theater icon.
If you've seen Peters in a show, especially a long-running one, you know that she can get tired and bored, and she can let her weariness come through in the performance so that it seems she's giving it about 50 percent. In her many appearances with the SF Symphony – 1991, 92, 95 and 98 – Peters has been hot and lukewarm. She trotted out a lot of the same songs, jokes and mannerisms, concert after concert.
This time around we saw a much fresher Peters. At 60 she has lost none of her Kewpie Doll looks – That hair! Those curves! – nor has her voice, one of the most bizarre instruments on Broadway, lost any of its appeal. I say her voice is bizarre because it is. The break between chest and head voice comes at a strange place, and her control is not always there. Sometimes the drama in her performance comes from wondering whether she can actually hit the note.
That said, Peters has learned to use her odd voice incredibly well. She has comedy notes and break-your-heart notes. She's a smart interpreter, and as she has gotten older, she has learned simplicity can be equally as effective as the most involved vocal manipulation. That's one of the reasons she's so good at singing the songs of Stephen Sondheim, who was well represented in Friday's song selection.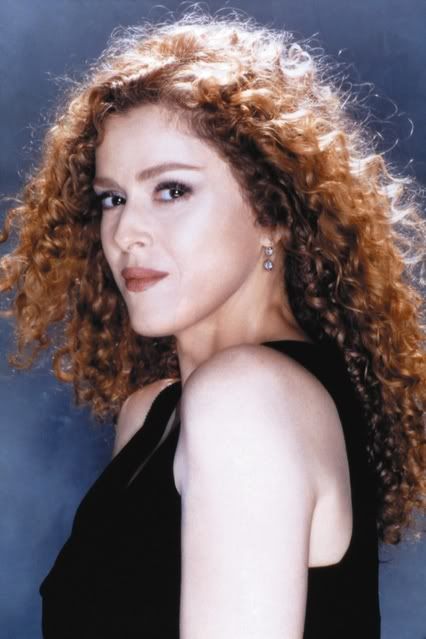 After an orchestral program conducted by Edwin Outwater that featured Broadway composers Sondheim, Bernstein, Gould and Styne (no mention need be made of the attempt to make the Stray Cats' "Rock This Town" into orchestral rockabilly), Laird led the orchestra through an overture that plucked out highlights from Peters' career (Gypsy, Mack and Mable, Sunday in the Park with George).
Peters entered singing a cutesy "Let Me Entertain You" from Gypsy and then got serious with "No One Is Alone" from Into the Woods, a song she sings just about better than anyone, and the simple arrangement for piano and cello was stunning.
Aside from a go-nowhere running joke about trying to sell a vacation home in Florida (five bedrooms, six baths, one pool), Peters was charming. She did do her "this is my back" joke when she turned to sip water, but mostly she connected with the adoring audience as she strutted through her vampy "There Is Nothin' Like a Dame" and then climbed on top of the piano for a hot – truly hot – "Fever."
She headed back to Rodgers and Hammerstein for "Mr. Snow" from Carousel and "Some Enchanted Evening" from South Pacific (she says she's seen the current revival twice and that we should catch it if we can) and then surprised us with a delicate "Shenandoah" that was practically a cappella. A recent gig at L.A.'s Disney Concert Hall forced her to add some Disney to the act: a lovely medley of "When You Wish Upon a Star" and "A Dream Is a Wish Your Heart Makes."
The Sondheim section of the evening started on the Davies grand organ in a riff from Sweeney Todd that turned into a beautiful "Johanna."
Peters sings "Not a Day Goes By" all the time, but Friday night's version seemed somehow less acted and more natural, which made the song all the more heartbreaking. Her "You Could Drive a Person Crazy" is fun (not as fun as Andrea McArdle's), but her "With So Little to Be Sure Of" brought weight and drama and beauty (more than the set closer "Being Alive," which didn't have quite the oomph it should have).
For an encore, she performed her first composition, "Kramer's Song," a lullaby she wrote for her dog and that accompanies her recently published children's book Broadway Barks. Peters walked into the audience to perform the song, which is truly lovely and emotional and has more than a touch of Sondheim in it.
Of course Peters could have performed more songs from her own shows. She didn't do anything from Song and Dance or Annie Get Your Gun or anything of note from Gypsy. But it was nice getting a mostly fresh plate of show tunes from such a delightful diva.
Visit Peters' official site: bernadettepeters.com