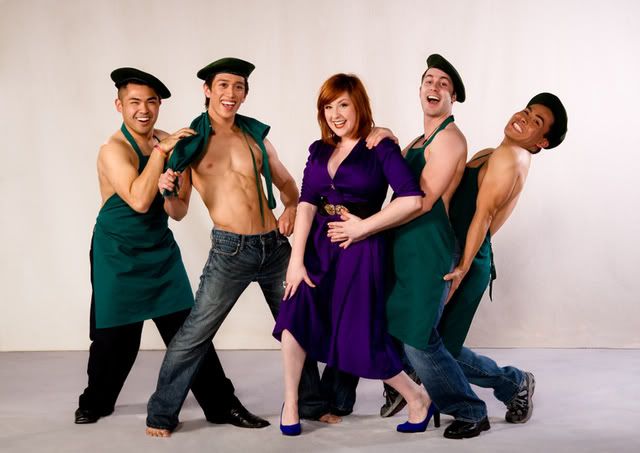 Sarah Farrell (center), with (from left) Mikey Tongko, Joven Calloway, Mike Triolo and Alex Rodriguez sing and dance their way through L. Jay Kuo's Insignificant Others at Theatre Pier 39. Photo by Edward Casati, Unbound Photography
The homegrown musical that has been called "Will & Grace meets Sex in the City" has reached a milestone.
L. Jay Kuo's Insignificant Others celebrated its 100th performance on July 19 at Theatre Pier 39.
The show began life in May of 2005, and after numerous workshops, opened at the New Conservatory Theatre Center in July of 2006. That run garnered the show a best musical award from the San Francisco Bay Area Theatre Critics Circle. From there the show moved to the Zeum Theater at Yerba Buena in San Francisco and then transferred to Theatre Pier 39 last February.
It looks like Insignificant others, which follows five friends who move to San Francisco from the Midwest as they adjust to the big, much less repressed city, is becoming a significant show in the San Francisco cultural scene.
Here's creator Kuo describing the evolution of the romantic comedy in a piece from last summer:

Insignificant Others is at 8 p.m. Fridays and Saturdays with Sunday matinees. Tickets are $39-$46. Visit www.isomusical.com for information and to hear musical samples.