Four years ago, Cutting Ball Theater continued its search for the edge that cuts with the first Avant GardARAMA!, a festival of short, experimental plays.
The quest for cutting-edge theater never ends, so Cutting Ball is reviving the festival, which opens Friday, July 18 and continues through Aug. 16 at the EXIT on Taylor. The roster of playwrights includes some heavy hitters such as Suzan-Lori Parks and Gertrude Stein. And there's also a local name: Eugenie Chan.
Sandwiched in between Parks' Betting on the Dust Commander and Stein's Accents in Alsace is Chan's world-premiere Bone to Pick, a new take on the Ariadne myth.
In the original story (or one of them), Ariadne falls in love with Theseus and helps him slay her brother, the Minotaur, and also helps him conquer the Minotaur's maze. But then, as so often happens in these stories, Theseus cast Ariadne aside, and she was rescued by Dionysus.
In Chan's take on the story, developed for a single actress, Ariadne is Ria, a waitress who has been slinging hash for 3,000 years in an island diner at the end of the world. Theseus, called Theo, has abandoned her, and she has done her best to serve all the nations who have visited her diner. But it's the end of the world as we know it.
"Ria's diner is demolished, she's stuck in this wasteland, alone, trying to figure out her life," Chan explains. "She addresses Theso, her lover boy, and her old boss, Kingman. And she thinks about when she had her lover, had her juice, and she sacrificed a family member. Now she's at the end of the line, in isolation. She has to confront her role in her own abandonment. She's a waitress with no more food to serve. She's kind a sad, kinda mad."
The idea to do this adaptation came from Cutting Ball artistic director Rob Melrose, with whom Chan worked at Marin Academy.
"Rob has long been fascinated by the idea of the labyrinth – purposeful wandering to somewhere you don't know," Chan says. "We talked about the myth, and I was all over the place about it. I have an opinion about Ariadne and Theseus. She was wronged. I know she's saved in the original story – Dionysus turns her into a star, but I became fixated on that other relationship."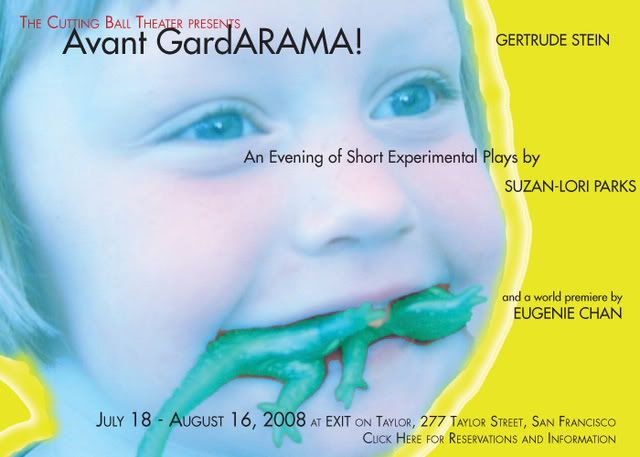 The solo show concept was based in practicality. Melrose, who is directing all three Avant GardARAMA pieces, wanted a piece that he could take on the road to experimental theater festivals. When the official commission came, Chan says she was thrilled.
"But I didn't realize how hard it would be," she says. "It was a lesson in hubris, which is always good. I thought I wouldn't have to deal with a bunch of other characters, but it turns out multi-character plays are much more natural for me. A solo show is like ice water in the face. But I love the challenge – any writer does. Otherwise you retreat into your old tricks."
A Bay Area native, Chan is finding her work more in demand around the country. She's in the midst of a seven-year residency at New Dramatists in New York and she's working with Seattle-based composer Byron Au Yong on an opera project called Kidnapped Water. He's basing the piece on the 64 hexagrams of the I Ching, and he's given eight writers eight of the hexagram for which to create mini-libretti.
"I'm not quite clear on the concept," Chan says. "But it was inspired by bottled water, and it goes up in places all around Seattle this summer."
Given that her writing career is percolating, why does Chan stay in the Bay Area?
"I get a lot of my creativity just living here," she says. "My family has a big history here. I feel rooted. And I love the theaters here, especially the smaller, younger theaters like Cutting Ball, Shotgun Players, Crowed Fire and Thick Description. Would that their kind of theater could flourish even more."
Avant GardARAMA opens July 18 and continues through Aug. 16 at EXIT on Taylor, 277 Taylor St., San Francisco. Tickets are $15-$30. Call 800-838-3006 or visit www.cuttingball.com for information.