Opened July 5, Bruns Memorial Amphitheater, Orinda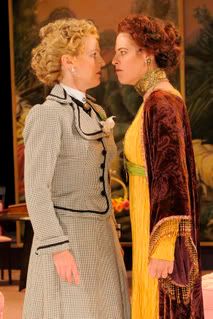 Julie Eccles is Gertrude Chiltern and Stacy Ross is Laura Chevely in California Shakespeare Theater's production of An Ideal Husband by Oscar Wilde. Photos by Kevin Berne
Ferocity marries wit in Cal Shakes' lively `Husband'
««««
Nothing ages like happiness, or so Oscar Wilde tells us in An Ideal Husband. But you'll be hard pressed to leave California Shakespeare Theater's production without being happy for at least a few hours.
The combination of Wilde and director Jonathan Moscone, as we saw in the 2004 Cal Shakes production of The Importance of Being Earnest, is a potent one, and the marriage makes for an ideal Husband.
Moscone understands how to keep Wilde's plates spinning. Over here, amid a swirl of "beautiful idiots," as Wilde calls them, is broad, silly comedy with great comic one-liners dropping like rain at Wimbledon, and over here is a more serious drama about how the personal and political end up being the same thing.
It's amazing that Moscone can get such big laughs and then delve so deeply into real-life emotions. Credit his superb cast for scaling the heights and depths so perfectly.
I have fond memories of Stephen Wadsworth's production of An Ideal Husband at Berkeley Repertory Theatre in 1995. That production, if memory serves, was all elegance and sharp angles. The wit sliced and the venom was toxic on contact.
Moscone's production is funnier and more deeply felt – an even greater accomplishment when you consider he's doing it outside. On opening night, the weather was glorious: warm and clear, with a pair of hawks squawking and diving over the stage.
But it was not easy to be distracted from the production. Annie Smart's set (lit with precision by Scott Zielinski) adheres to the drawing room conventions of Wilde's play but manages to open it up to indicate life beyond the area of central focus.
Julie Eccles, as usual, commands the stage as the virtuous Gertrude Chiltern, a woman who has put her politician husband (Michael Butler, below left) so high on a pedestal he has no choice but to come crashing down on top of her. It's interesting to note that in the Berkeley Rep production 13 years ago, Eccles charmed as Mabel, the sparky sister-in-law who's too smart for her own good.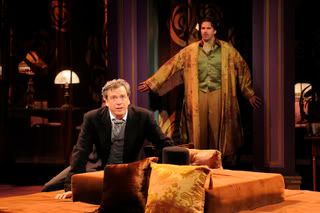 As Gertrude, Eccles plays beautifully opposite Butler's conflicted Sir Robert, a noble, upright politico with a dirty secret in his past. She's even better opposite Stacy Ross' Laura Chevely, a character whose very name oozes danger.
Mrs. Chevely, fresh from Vienna (and costumed by Meg Neville as something out of a gorgeous Klimt painting), wants to accomplish several things: to blackmail Sir Robert (she has an incriminating letter in her possession) and she wants another husband after the first two failed her. She's one of those smart, dreadful people whom Wilde describes "treating life as sordid speculation."
To accomplish her blackmail, Sir Robert must either tell his wife about his dirty past and risk losing her love or admit publically his shame and face the loss of his fortunes and his future.
On the marriage front, Mrs. Chevely turns to an unlikely candidate: the Wilde-like Lord Goring (Elijah Alexander), a man she spurned years before. It turns out no bridge is ever too burned for Mrs. Chevely to trouble the waters. But Goring, for all his insouciance, has his eye on young Mabel (Sarah Nealis), whose gross self-awareness nearly trumps his own.
Ross takes such delight in her character's nastiness that it's a joy to watch her and root for her downfall. Alexander works himself into quite a sweat as the man caught in the middle of a possible government scandal, a ruptured marriage and an invented affair.
Moscone pumps up the farce in the play's second half but then, with admirable control, brings the emotion fully into play when necessary. He even gooses the ending to make it more real, less happy.
There are multiple levels here to enjoy – the Wildean wit of the social comedy, the "what happens next" melodrama of the plot and the pithy observations about what Wilde calls "the modern mania for morality" and the "seven deadly virtues."
Wilde's Husband remains trenchant, perhaps because politicians and spouses have changed so little in the 100-plus years since the play's debut. Wilde's appeal for embracing human frailty rather than demonizing it still packs some punch.
"All I do know," Lord Goring says to a stern Lady Chiltern, "is that life cannot be understood without much charity, cannot be lived without much charity." It's somewhat ironic and terribly sad that Wilde, in his troubled life following the premiere of An Ideal Husband, received so little charity himself.
In an ideal world, this brilliantly observed play, with so much substance under the froth, could have served as his defense.
An Ideal Husband continues through July 27 at the Bruns Memorial Amphitheater, just off the Gateway/Shakespeare Festival exit on Highway 24, one mile east of the Caldecott Tunnel in Orinda. Tickets are $32-$62. Call 510-548-9666 or visit www.calshakes.org for information. Cal Shakes provides a free shuttle to and from the Orinda BART station and the theater.