California Shakespeare Theater production opened May 31, 2008, Bruns Amphitheater, Orinda

The eight-member cast of California Shakespeare Theater's Pericles puts on a jousting pageant on stage at the Bruns Memorial Amphitheater in Orinda. Photos by Kevin Berne
Cal Shakes season opens with radiant romp
«««« Rich, rewarding, adventurous
Presented as a gorgeous fairy tale for grown-ups, California Shakespeare Theater's first show of the season, Pericles, reminds us that in a seemingly horrible world, faith, love and integrity will receive their just reward.
One of those tricky plays labeled "romance," Pericles might as well be called "kitchen sink Shakespeare" because it includes a little bit of everything: incest, fiery shipwrecks, knightly jousts, swirling romance, assassination attempts, tragic death, magical resurrection, marauding pirates, betrayal and beyond-belief happy ending machinations. Experts quarrel about the exact authorship of the play, especially the first two of the five acts, but the fact is, Pericles is mightily entertaining, especially when directed with flair.
And flair is something director Joel Sass has in great abundance. This Pericles, which is winnowed down to eight actors (and four general ensemble members) playing forty-some roles, is based on the adaptation Sass created for Minneapolis' Guthrie Theatre in 2005. All the role switching gives the play a hyper-theatrical feel and helps keep it more in the realm of vibrant storytelling and less in the more emotionally demanding world of realism.
The stage of the Bruns Amphitheater, nestled in the rolling Orinda hills, has rarely been so beautiful. Set designer Melpomene Katakalos gives us a natural world – a tree trunk forms a central arch amid a sandy floor – with crude structures walled in by Persian carpets. Exotic carpets and pillows are strewn about the sand to create a warm, cozy atmosphere for ripping yarns and lusty romance. Russell H. Champa's lights play with the set the way fireworks play with a Fourth of July sky – they form an extraordinary element in the storytelling here, with their dastardly shadows, warm hues, heroic posturing and near-operatic grandeur.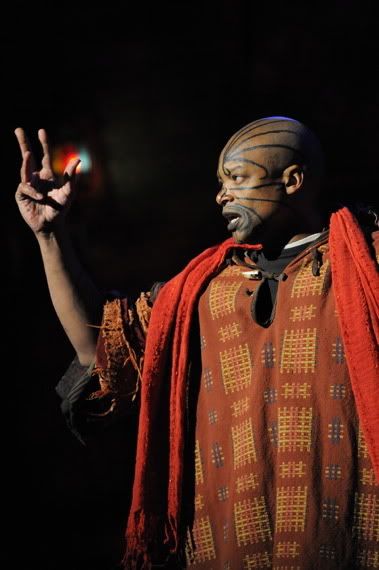 All of those elements are necessary in the telling of Pericles, the story of the Prince of Tyre (Christopher Kelly), whose life seems to take dramatic turns every time he takes a voyage. First he heads to a kingdom to woo a beautiful princess, but because her father the king is an incestuous letch, that doesn't work out too well, and Pericles finds himself and his kingdom under attack.
So the handsome prince heads off to a kingdom suffering famine and brings them grain and hope. Returning from that trek, his ship catches fire and sinks. He washes up on the shores of a gentle kingdom and is taken in by kindly fisherman. It just so happens that there's a knightly tournament going on and that the good-hearted king has a lovely, unmarried daughter. Cue the jousting. From here, the tale takes a more tragic turn, with death, kidnapping, jealousy, murder, forced prostitution and the supernatural all coming strongly into play.
But director Sass and his wonderful octet of actors sail through these bumpy dramatic waters with style. Shawn Hamilton(above) holds the narrative together as Gower, the storytelling poet who sings beautifully and fills in the blanks as the years hurry by over the course of the play's nearly three hours. Having a narrator helps because it's a little hard to keep track of this wandering tale.
But that's another reason Sass' production works so well – even when the play loses its way or gets tangled in yet another adventure, the stage is gorgeous and there's always something interesting going on. Raquel M. Barreto's costumes are lush and beautiful, like something out of 1,001 Nights. She also has a sense of humor. Her fishermen, for instance, look less like people and more like grass huts. And when it's time for the joust, the knights strap on their horses like clowns. Composer Greg Brosofske lends pomp and romance to an already lyrical story.
The role-shifting actors all shine. Ron Campbell goes from dastardly (as the incestuous king) to dippy (as a fisherman) to equine (as a prancing knight on "horseback"); Delia MacDougall (above, with Kelly) is a robust redhead who wins Pericles' heart, and then she's a madam in a fat suit (complete with over-stretched fishnet stockings); Domenique Lozano is a duplicitous queen and an enigmatic sorcerer who has the power to bring the dead back to life; Sarah Nealis is a radiant Marina, daughter of Pericles; Alex Morf plays a series of bad guys until his final bad guy, in the face of overwhelming virtue, turns good; and Danny Scheie plays several good, noble men and one feisty hunchback.
Is the play nonsensical and outlandish? Absolutely. Is it incredibly moving at its tearjerking conclusion when all is set right, and noble Pericles, after all his misfortunes, is given what he most wanted in the world? Oh, yes, and then some. Fairytale is fantasy, and we want to believe some of that fantastical world, of outrageous wrong and unwavering right, can rub off on our world. We want to believe in happy endings so that in our daily dealings with shipwrecks, bawds and nefarious kings, we, like Pericles, can take heart in an ending of the happy, tear-stained variety.
Pericles continues through June 22 at the Bruns Memorial Amphitheater, one mile east of the Caldecott Tunnel on the Gateway/Shakespeare Festival exit in Orinda (there's a free shuttle to and from the theater and the Orinda BART station). Tickets are $32-$62 (with student, senior and under 30 discounts). Call 510-548-9666 or visit www.calshakes.org for information.