Two wonderful actors, formerly of the Bay Area, are having some good days in the New York theater world. We're sorry they're not having good theater days in the Bay Area, but we wish them well. Here's the scoop: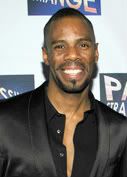 Colman Domingo is starring in the Tony-nominated Passing Strange, which, incidentally, just won three Drama Desk Awards including Best Musical, two Obie Awards including Best New American Theatre Piece, two Theatre World Awards, and the top prize from the New York Drama Critics' Circle (whew). If that weren't cause enough to celebrate, Colman will direct New Professional Theatre's production of Lisa B. Thompson's Single Black Female, a comedy about "single black women and their search for love, dignity and clothes." The production will star Soara-Joy Ross and Riddick Marie, at The Duke on 42nd St. in Manhattan. The show will run June 10-29.
Colman first directed the play in March of '99 at San Francisco's Theatre Rhinoceros.
Francis Jue, San Francisco native and a favorite at TheatreWorks in Mountain View (though that's hardly the only local stage he has graced), won an Obie Award for his featured performance in David Henry Hwang's Yellow Face.
Here's a nice story on Francis from AsianConnections.com. No word on whether Francis will be in the production of Yellow Face closing Berkeley Repertory Theatre's 2008-09 season. Here's hoping…