Opened March 11, 2008 at the Marines Memorial Theatre, San Francisco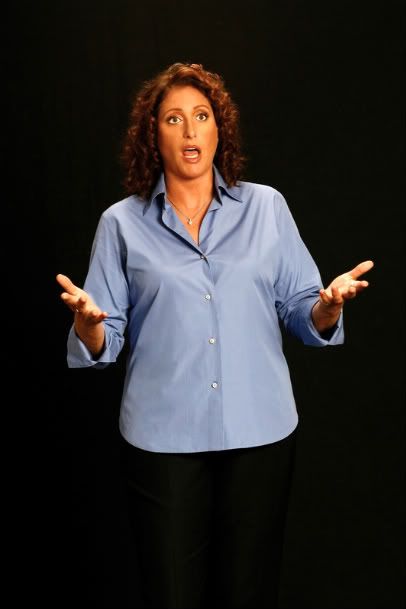 Judy! Judy! Judy! Stand-up act evolves into play
Four Stars – Mama mia!
Judy Gold has mother issues. And that's a good thing — for all of us.
For years now, Gold has been a highly enjoyable comedian. We've heard about her spit curl (she used to have one), her freakish height (6'3″ — not exactly freakish, but good for comedy), her overbearing mother, her sperm-donor kids and life in general for a funny lesbian.
In her one-woman show 25 Questions for a Jewish Mother, now at San Francisco's Marines Memorial Theatre, Gold is showing us how comics can evolve gracefully into something more than a stand-up act.
With the help of playwright Kate Moira Ryan and director Karen Kohlhaas (and six years of development), Gold's Jewish Mother has become a showcase for the very best of Gold.
The 75-minute show begins in familiar Gold territory as she stands at a microphone in a spotlight and delivers stand-up about — what else? — her mother, Ruth (aka Rivka) Gold. She tells a story about her mother's paranoia and even plays an actual voicemail from the elder Gold, who always ends her messages, even panicked ones, with a cheery, "So long."
Gold steps out of the spotlight and into the meat of her play: she wants to figure out what it means to be a Jewish mother. She has one (boy, does she have one!) and she is one (mother, with her ex-girlfriend, Wendy, of sons Henry and Ben).
With Ryan, Gold set out to interview Jewish women across the country and ask them questions about such things as guilt, regrets, relationships with their own mothers, relationships with kids, best advice ever given and that sort of thing.
The really interesting part of the show is when Gold becomes an actress and slips into the characters of the various Jewish mothers. She sits in an easy chair — a different posture, a different voice for each lady — and lets them answer a question.
We hear stories from Holocaust survivors and children of Holocaust survivors. We hear from a Chinese-American woman who converted to Judaism and from an Orthodox woman who says that she would sit shiva (as if mourning for a dead person) if one of her children married outside the faith.
It's all fascinating, even moving. But all the stories lead back to Gold and her own family, especially her own mother. When asked what she would have liked to do with her life had she not had children, Gold's mother answered: be a comedian. So that gives Gold the chance to attempt stand-up as her mother might have performed it (hilariously, by the way).
Gold can be a hysterically funny comic, and she has moments of hysteria (in every sense) in this show, which gives her fans what they expect. She also gives them more than her usual glimpses of autobiography by pulling us into her life and making us watch her relationship with her mother grow beyond screaming adolescent to screaming adult to finally daughter with newfound respect for mother as a human being with her own tragedies and understandable hang-ups.
25 Questions for a Jewish Mother is a richer experience than you might expect. There's poignancy amid the laughs, real life embedded in the jokes and something healthy — chicken soup for the soul? — in its wide-angle view of motherhood, religion and reality.
25 Questions for a Jewish Mother continues through March 23 at the Marines Memorial Theatre, 609 Sutter St., San Francisco. Tickets are $39-$49. Call 415-771-6900 or visit www.marinesmemorialtheatre.com.