You're forgiven if you didn't know quite how amazing Margo Hall is.
If you're a regular Bay Area theatergoer, you already know that Hall is an extraordinary actor. Last year, for instance, she reprised the character Fe in Campo Santo/Intersection for the Arts' Fe in the Desert and gave one of the year's best performances.
But Hall is also an accomplished director. She was one of the creative collaborators and one of the performers in Berkeley Repertory Theatre's award-winning docudrama The People's Temple, and last year she co-directed Shotgun Players' excellent Bulrusher at the Ashby Stage.
Surprisingly, Hall says she prefers directing to acting.
"I say that when I'm directing," Hall says. "I do love acting, but there's something so fun, so freeing about directing."
And one of Hall's favorite directing gigs is for Word for Word, the San Francisco company that does amazing work turning short works of fiction into fully staged theater pieces without changing a word of the original text.
With Word for Word, Hall has been both performer (Langston Hughes' The Blues I'm Playing, Barbara Kingsolver's Rose-Johnny, Zora Neale Hurston's The Gilded Six Bits) and director (Alice Munro's Friend of My Youth, Greg Sarris' Joy Ride).
She finds herself back in the Word for Word director's chair for James Baldwin's Sonny's Blues, which opens tonight at San Francisco's Lorraine Hansberry Theatre.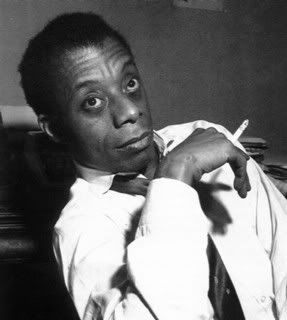 Baldwin's story, published in 1957 and collected in the 1965 book, Going to Meet the Man, follows two brothers in 1950s Harlem. One is a schoolteacher and family man. The other is a jazz pianist with a troubled past.
Hall, who grew up in Detroit and now lives in Oakland with her husband, the actor L. Peter Callender, and their 12-year-old son, reread the story and responded to it immediately.
"Visualizing the piece wasn't difficult," Hall says on the phone from her home. "Ever since I've worked with Word for Word I can't read a story without visualizing it. I didn't visualize the story's opening moment right away — that took some time. But I clearly saw other parts."
The story's jazz milieu was a natural for Hall, whose stepfather was a jazz musician.
"I was exposed to Sonny Rollins and a whole lot of other jazz cats," Hall says. "I was familiar with the world of be-bop. My dad's 15-piece band rehearsed in our basement. When I was rereading the story, this music, these people — Charlie Parker, Bird — I just knew it. It was familiar. I could hear the music and everything. It was really exciting."
With jazz music so prominent in the story, Hall had to decide how to handle music in the production. Should there be live music? Should the actors play instruments themselves? At first, Hall considered casting her friend, the actor and beat-boxer Tommy Shepherd, but then she decided to go for the full jazz sound.
She approached her friend and previous collaborator Marcus Shelby, a prominent Bay Area jazz musician.
"I knew Marcus would know this story, this world," Hall says. "The more we talked about the show and the score, the more I talked about the sounds in the show — the traffic, the subway — all being created by instruments in a very stylized way."
Ideally, Shelby and his band would be playing live for each performance, but Hall says that would have required more time in an already crowded rehearsal schedule, so the score is recorded. But on Feb. 15, after the performance, Shelby will perform the music live at a gala reception.
One of the most extraordinary (and most consistent) things about Word for Word is the company's skill at making literature come to life in surprising ways that enhance the story. The experience of seeing a Word for Word show is often as rich as reading and as thrilling as live theater because the show is, quite literally, both.
For Hall, the key to a good adaptation is transformation.
"It's easy to put the story up, make it narrative and let the audience enjoy the beautiful language," she says. "But capture the essence of the story is hard. We as the creative team have to go so deep that the audience can see the transformation and get a true, honest sense of what the story is when they leave."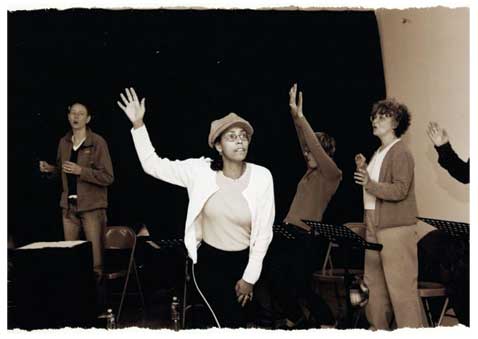 The more narration in a story, the harder it is to stage. Not surprisingly, if a story has a lot of dialogue, it's fairly easy. Sonny's Blues lands more on the narration-heavy end of that scale.
When Hall directed Friend of My Youth, another narrative-heavy story, she elected to direct her actors away from talking directly to the audience.
"This time, I went, `No, I'm gonna do it.' The actors should definitely address the audience," Hall explains. "This story is so universal — it's about relationships and siblings. One is this conservative guy who went to school and became a teacher. Most of the audience will relate to him. Let's have him talk to the audience, then get back into the scenes. This gives me as a director the opportunity to make bold choices."
Next up for Hall: directing a solo show by Ariel Lucky, Free Land, about his family's pioneer history and interactions with American Indians. She's also continuing to teach at Chabot College ("I love my kids…they lift me up with their zaniness") and being a mom.
"My son is a computer genius," she says. "He has his own computer business and Web site. He fixes computers. He loves reading Shakespeare, but he wants to be a CEO."
Sonny's Blues continues through March 2 at the Lorraine Hansberry Theatre, 620 Sutter St., San Francisco. Shows are at 8 p.m. Wednesdays-Saturdays; 2 p.m. Sundays. Tickets are $22-$36. Call 415-474-8800 or visit www.lhtsf.org or www.zspace.org.