Some interesting show and show-related CDs are popping up just in time for the holidays. In the next few weeks, I'll be highlighting some of winners and losers.
Judy Kuhn, "Serious Playground: The Songs of Laura Nyro" (Ghostlight Records) — Kuhn was Broadway's original Cosette in Les Miserables and she just joined the cast of the current revival as Fantine. Though she has a fine Broadway pedigree (Chess), she's more than capable of singing more than show tunes, as this excellent CD proves. Kuhn appeared in the Nyro revue "Eli's Comin'," and her affinity for the early '70s groove and muscle of Nyro's songs is apparent.
Jeffrey Klitz's arrangements and orchestrations don't try to modernize Nyro's songs but rather give them a timeless sound that captures pop, blues, and great American balladry all at the same time.
The big hits, for the most part, aren't here, and that's OK. Kuhn trains her emotional, often thrilling voice on finding the joy, depression, funk and enigmatic pulse of Nyro's distinctive songs.
One of the most exciting tracks turns out to be "Stoney End," which couldn't be more different from Streisand's well-known version. Kuhn delivers it almost as a lullaby, backed by a soothing acoustic guitar and cello.
Then a tune such as "California Shoeshine Boys" comes along, with its ebullient horns, to liven things up. But boy can Nyro get dramatic — "Been on a Train" is practically a self-contained musical tragedy.
There's no denying that Nyro wrote sensual songs. If Carole King was the singer-songwriter you wanted to introduce to your parents, Nyro was the one you wanted to play hooky with down by the river.
Probably the best thing about "Serious Playground" is that the Kuhn-Nyro combination is sexy. There's heat and spirit here to spare.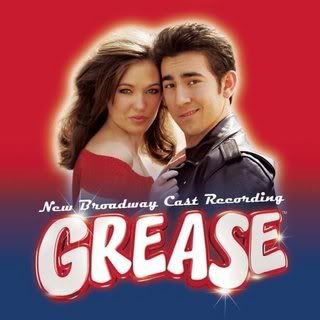 Grease, The New Broadway Cast Recording (Masterworks Broadway) — Not the oil slick of the 1994 Broadway revival, this pleasant, not-really-necessary production exists (and is selling tickets) because of the reality show that preceded it: "Grease: You're the One That I Want" let America (or the 12 regular viewers) vote on who should star as Danny and Sandy. The winners, Max Crumm and Laura Osnes, seem like nice kids, and they sound good if uninspired on this cast album, which is the first cast album to contain the songs written for the movie ("Grease," "Hopelessly Devoted to You," "You're the One That I Want").
Musical director Kimberly Grigsby, who did such spectacular work on Spring Awakening, wisely tries to dull the sheen of these overly shiny songs by attempting a more authentic '50s sound — spare and percussive — when she can get away with it. More of that might have made this the definitive Grease, but as it is, the new disc won't supplant the movie soundtrack in most fans' collections.