Berkeley gets a new Playhouse
Nov 01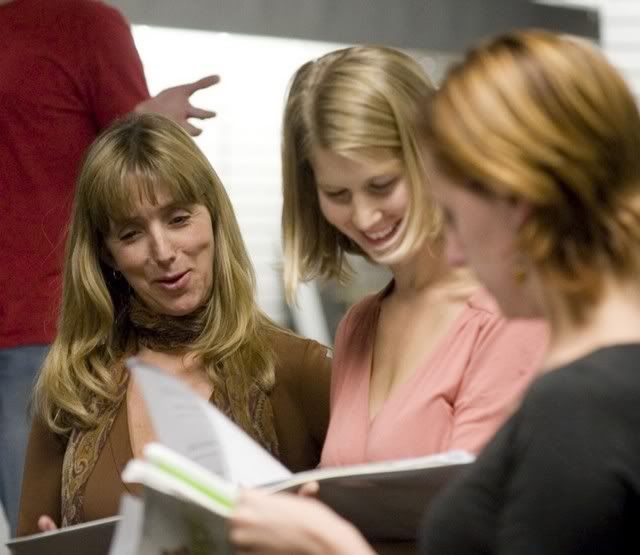 Elizabeth McKoy(above left) and Kimberly Dooley (above right) are creating a children's theater, and they know what they're doing.
In addition to theatrical qualifications, the two women have, between them, six children. McKoy has four, ages 13, 10, 5 and 7 months. Dooley has a 3-year-old and a 10-month-old.
"Imagine this: me and Kimberly conducting rehearsals with babies on our hips and taking nursing breaks," McKoy says. "Talk about family theater!"
McKoy is the artistic director of the brand-new Berkeley Playhouse, whose first production, the musical Seussical, the Musical, opens Thursday at the Ashby Stage, home of the Shotgun Players.
Dooley is directing the show, and she also happens to be the wife of Shotgun Players artistic director Patrick Dooley as well as a Shotgun company member.
There's no shortage of children's theater in the Bay Area, but then again, there are many definitions of children's theater. For McKoy, who spent five years teaching at Seattle Children's Theatre, the definition is this: high-quality professional theater involving "talented writers, sophisticated performers."
"You don't talk down to kids," McKoy says. "You put it out there, let them break it down and make personal connections. Young audiences are the future of theater. If we can get audiences to shows like ours and get them to participate in education programs, we'll have lots of people participating in theater for many, many years."
Dooley compares what Berkeley Playhouse is aiming to do with what Pixar does on movie screens: "We want to do shows that appeal to children and adults the way Pixar makes movies for all ages that are sophisticated, complex, funny, witty, and with a core imaginative quality that appeals to kids."
McKoy's first local creation was the Imagination Players, a theater camp for kids that started in her living room when two of her own brood got bored in the two-week theater camp they were attending. McKoy saw their need to be involved in something more serious, more professional and more like the bonding theater experiences the kids saw the adults having.
Imagination Players quickly outgrew the McKoy household and moved to the Julia Morgan Center for the Arts, which is where McKoy and Dooley met.
After last summer's sold-out IP productions of Little Shop of Horrors and The Music Man, McKoy realized it was time to make the next step and fold her theater camp into a professional theater company and let young performers work alongside adult professionals.
"Kids are often removed from adult experiences and placed in age-appropriate curriculum," McKoy says. "In the arts, it's so magical to put professionals with children."
For Seussical, the cast includes 16 adults, 11 children and a four-piece band.
"In terms of size and scope, this project is ginormous," Dooley says. "I like it, though. It suits me."
Dooley (above, with her Cat in the Hat) is also enjoying the show, which has been extensively retooled since its disastrous Broadway run in 2000, and says that Dr. Seuss, for all his charm and wit, provides some substantial messages about compassion, prejudice and the environment.
"I have always loved and responded to stories," she says. "I see it in my 3-year-old daughter, her passionate love of story. I think I have an ability to key into that with kids. I love working with them and their openness. I love giving them material that's challenging and giving them art they can ask questions of. They're smart, and they can take it."
With arts programs in schools continually being sidelined or cut entirely, McKoy sees a need for groups like Berkeley Playhouse.
"These experiences make better citizens and people," McKoy says. "When kids get training in the arts, they see the world differently. They're able to see different points of view, think creatively and outside the box. In a world of horrendous standards-based movements, the arts ask kids to think more, do more, ask questions and not just respond to fixed questions.
"Seeing kids onstage or in the audience, I watch them feel, think, make connections outside of what is being branded in movies and TV, which are corporate-driven experiences. The arts are nutrition for the soul."
Berkeley Playhouse's Seussical runs Thursday through Dec. 2 at the Ashby Stage, 1901 Ashby Ave., Berkeley. Shows are at 7:30 p.m. Thursdays-Saturdays; 2 p.m. Saturdays and 3 p.m. Sundays. Tickets are $18 for children and seniors and $23 for adults. Call 510-665-5565 or visit www.berkeleyplayhouse.org.