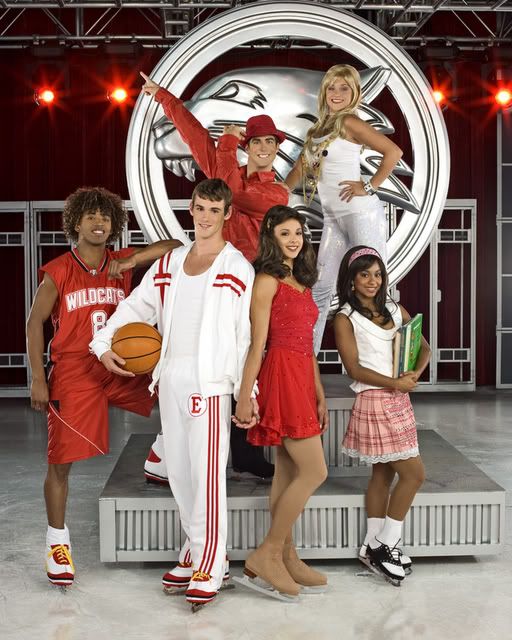 Admit it. You're wondering what it was like.
Cheesy? Silly? Stultifying? Genius?
Yes, yes, not so much and no.
We're talking, of course, about Disney's High School Musical: The Ice Tour, which opened Thursday at the Oracle Arena in Oakland and then heads to San Jose's HP Pavilion.
The easy answer is High School Musical, the phenomenally successful Disney Channel movie musicals, are as good on the ice as they were on the small screen. Given your age bracket, that could mean many things.
The experience of The Ice Tour is just that – it's an experience. The on-ice choreography, the pyrotechnics, the gee-whiz positivity of the blandly perky pop score are all fine and dandy. But watching the audience – to borrow from Lily Tomlin here – is the real art.
Looking around the arena, you couldn't help but be moved by the gazillions of kids – young, mostly girls, ages 8 to 11 I'd guess – singing along with every word, waving their red-and-white East High School pennants with the abandon of a junior pep squad. The screams were ratcheted up to Beatles '64 intensity.
And what's even funnier, is that a whole lot of the moms (not many dads, though there were an intrepid few) had equally big smiles on their faces and were also singing along in between bites of popcorn and nachos.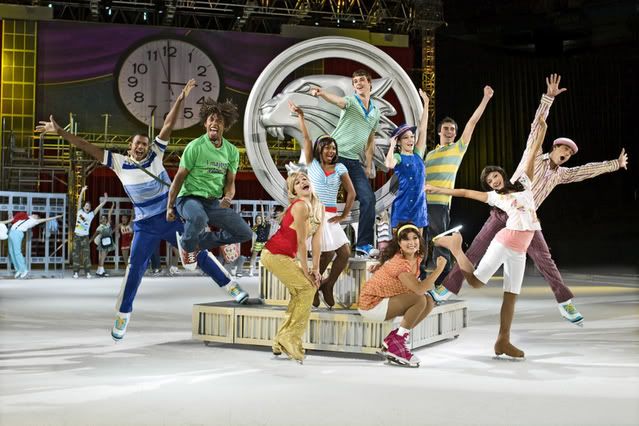 The pop-culture phenomenon of High School Musical really is something to see – and hear.
As for the show itself, directed by Broadway veteran Jeff Calhoun and choreographed by Chucky Klapow and Cindy Stuart (faithfully following the movie moves created by Klapow, director Kenny Ortega and Bonnie Story), is a fast-moving re-creation of both HSM movies. Act 1 finds Troy meeting Gabriella on New Year's Eve, their romance and their split alliances – to the school musical, to each other and to Academic Decathlon (her) and the basketball team (him). Act 2 is a summertime fling, with the East High Wildcats working at a luxurious resort and the Paris Hilton-y Sharpay making a move for Troy.
All the songs are squeezed into the nearly two-hour show, and the momentum of the piece cannot be denied. By sheer force of cheerfulness, everyone – even the reluctant adults – has a good time.
Jordan Brauninger and Lane Walker are suitably adorable as Troy and Gabriella, though I must confess I was fonder of Sandy Rucker and Peter Bonard Muck as weirdly intimate brother-sister team Sharpay and Ryan.
The one big improvement over the movies is Troy's big solo, "Bet On It.'' In the movie Zac Efron bounces through the ultra-green golf links like a junior Kevin Bacon trying to cut footloose. But on the ice, Brauninger (lip-synching the movie soundtrack, as all the skaters do) gets to show his moves in a much more impressive manner.
I could live another day without hearing "You Are the Music in Me" or "Get'cha Head in the Game" again, but every time I'm exposed to HSM, I react retroactively: my 10-year-old self would have flipped for this squeaky-clean Disney phenom.
Visit the official High School Musical: The Ice Tour here.
P.S.
In the interest of full disclosure, I must tell you that I gleefully accepted Disney HSM swag including red-framed glasses that blink red lights; a souvneir program that plays "We're All in This Together" when you open it; red-and-white pompoms; and a sign to cheer for my favorite character (no, I didn't choose Troy or Gabriella or even Ryan — I picked the one that said CHAD in big, bold letters. All of the swag, except for the sign, has been passed on to fans under the age of 10.