Opened Sept. 22, 2007 at the San Mateo Performing Arts Center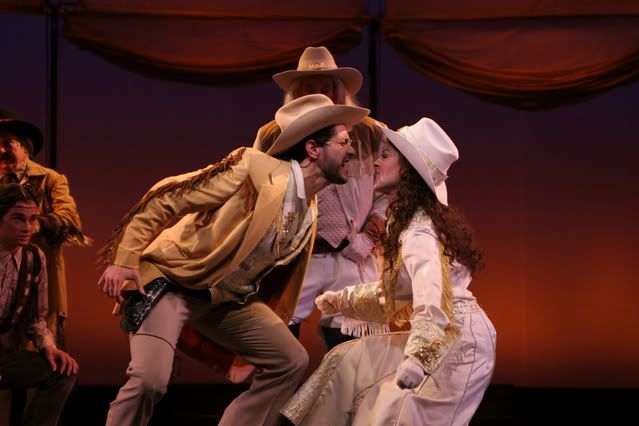 Broadway by the Bay hits musical target with Annie Get Your Gun
There's simply no business like Irving Berlin's show business: grit, glitter, grins and some of the best, most buoyant musical theater tunes ever to hit a stage.
Perhaps Berlin's best overall package is Annie Get Your Gun, which opened in 1946 and has been kicking up its Wild West heels in one form or another ever since.
San Mateo's Broadway by the Bay has polished up and loaded Berlin's Gun with a tremendously appealing cast and a bright, shiny production that defies anyone not to enjoy it from cowboy-hatted top to cowboy-booted bottom.
Annie opened during the weekend at the San Mateo Performing Arts Center, and director Alex Perez offers the show at its colorful, tuneful best.
This is not Ethel Merman's Annie, which is to say this is the revised version that Bernadette Peters brought to Broadway in 1999. Herbert and Dorothy Fields' somewhat dusty book has been revamped by Peter Stone, who turns the production into a version of Buffalo Bill Cody's Wild West Show, complete with big-top tent and strings of carnival lights.
The Native-American element — not to mention Chief Sitting Bull's song "I'm an Indian Too'' — were deemed politically incorrect, so the new version gives us a bigoted character who eventually learns an important lesson about calling the Indians "savages.''
Stone's changes also help streamline the show and keep it moving at a contemporary pace. The changes also keep Berlin's score in the center ring where it should be.

Musical director Mark Hanson and his 14-piece orchestra do right by Berlin's infectious melodies, though at Sunday's matinee, the trumpet got a little lovesick during Annie's "They Say It's Wonderful.''
How do you resist a show that begins with all guns blazing through "There's No Business Like Show Business''? Fact is, you don't.
You climb aboard this warhorse, and whether sharp shooter Frank Butler (David Sattler) ends up with back-country hick Annie Oakley (Virginia Wilcox), who happens to be a sharper shot than the big-headed Butler, hardly matters — as long as everyone keeps singing.
Sattler's gorgeous voice soars through "Show Business'' and shines in his big numbers, "The Girl That I Marry'' and "My Defenses Are Down.''
Wilcox is a marvelous comic actress and terrific character singer. She's especially effective in the mood-lifting "I Got the Sun in the Morning'' and in that joyful ode to ignorance and sex, "Doin' What Comes Natur'lly.'' She also warbles beautifully through the lilting "Moonshine Lullaby,'' on which she is joined by Abbey Teitelbaum, Lindsay Light and Gabe Hoffman as her younger siblings as well as by the harmonizing trio of Deedra Wong and twins Khail and Nik Duggan.
Unfortunately, Wilcox rushes through the score's most gorgeous ballad, "Lost In His Arms'' but makes up for it on spirited duets with Sattler, "An Old Fashioned Wedding'' and a very funny "Anything You Can Do.''
Frank and Annie do most of the singing in this nearly three-hour show, but young lovebirds Tommy (Shaun Repetto) and Winnie (Dominique Bonino) get an Act 2 number, "Who Do You Love, I Hope,'' that's really just an excuse to show off Jayne Zaban's high-stepping, yee-haw-heavy choreography. If Repetto's high kicks get any higher, NASA may need to get involved.
John Duggan provides some dignified comic relief as Chief Sitting Bull, and Cameron Weston as company manager Charlie Davenport and John Musgrave as Buffalo Bill are fine straight men amid the musical merriment. Amy Nielson has the tough job of playing the bigoted Dolly Tate, but she manages some laughs.
If you hear people talking about Broadway by the Bay's Annie Get Your Gun, and they say it's wonderful. Darn tootin', they're right.
For information on Annie Get Your Gun, visit www.broadwaybythebay.org.