American Conservatory Theater's season-opening production of Sweeney Todd: The Demon Barber of Fleet Street is wowing audiences in San Francisco with its stripped-down intensity, nerve-jangling performances and bloody stagecraft.
The show boasts the same director — John Doyle — who jolted audiences with Sweeney in London and on Broadway, where he won a Tony Award for best director.
As on Broadway and in London, Doyle's accomplice in this bloody musical feat (if you don't know the story, a barber enacts revenge by slitting certain customers' throats and then, with the help of the crazy lady downstairs, bakes them into meat pies) is musical supervisor and orchestrator Sarah Travis.
Travis' work on Sweeney is nothing short of miraculous. All the performers play their own instruments. There is no orchestra. This means that, when Mrs. Lovett (the crazy baker lady) and Sweeney (the throat slicer) have a number, the remaining eight cast members have to provide musical backup.
She and Doyle have worked on a number of what Doyle calls "actor musician" shows, including Mack and Mabel and Fiddler on the Roof.
I conducted an e-mail interview with Travis from her home in England.
Q: How difficult is it to find performers who are strong enough actors for the story and equally strong as musicians for the exacting demands of Stephen Sondheim's score?
A: It never ceases to amaze me just how many talented, multi-skilled performers there are out there, on both sides of the pond. With every new show we discover a whole new batch of people. For the last 10 years I have been working on "actor musician" shows, mainly in the U.K, and there is an ever-growing pool of experienced performers in this field, and also many new ones coming through the training system. There is even an "actor musician" course in London now bringing on new talent.
The auditions are fun — it's always good to have an instrumental lineup in mind, but it doesn't always work out exactly as planned, and luck sometimes does play a part. On the last day of the original U.K. Sweeney auditions, for example, two cellists auditioned one after the other, and they ended up playing our Joanna and Anthony. I had never envisioned they would both play the same instruments, let alone cello, but it just seemed right — and it's been that way ever since.
Q: It seems that putting a show like this together is an incredibly intricate puzzle. Not only do you have to pare down the orchestrations (the original Broadway production had 27 players, this one has a maximum of 10), you have to figure out which of the actors is available at any given time to play when they're not needed in a scene.
A: I have a sort of imaginary chart in my head. It gets pretty cluttered in there at times, too!
The process is indeed a jigsaw puzzle. With Sweeney now, it's all pretty set in how it's staged and who plays when, who moves a chair when, and so on. But when a show is first produced, it's pretty complicated.
I can have a rough overview of how a piece will develop through pre-rehearsal discussions with the director and designer, but moment to moment, it's impossible to know exactly who does what when.
So my only option is to over-orchestrate so that it gives us more choices in rehearsals. It then becomes a form of bartering, looking for the best choices all round, and inevitably, I start to strip the orchestration down to free up people for staging and begin to mold the sound I want as rehearsals progress.
I am re-orchestrating sometimes right up to previews and always thinking on my feet _ that's the bit of the process I love.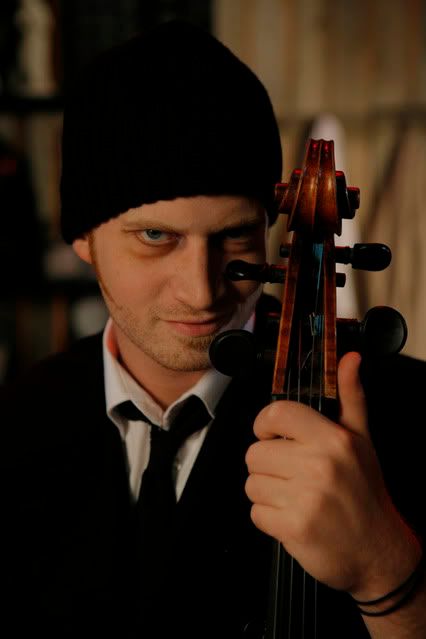 Q: The production now at ACT will go on to tour the United States. How closely is it modeled on the Broadway production?
A: We did indeed set out to follow the Broadway blueprint when casting the tour. Several of the original Broadway cast are coming back to do the tour, so that was a great start. Judy Kaye, who is playing Mrs. Lovett (and who took over for Patti LuPone on Broadway), has learned to play tuba especially for this production — a fantastic achievement!
Otherwise, there have been a few tweaks and re-orchestrations, but nothing too complicated. We were very lucky this time, as it can be much more involved. It only takes one character with a slightly different instrumental lineup to affect the whole scoring — it can be a nightmare!
Q: Sondheim himself has said this production of Sweeney is the one that "comes closest to Grand Guignol, closest to what I originally wanted to do." What have your interactions with Sondheim been like?
A: Sondheim has always been incredibly supportive and generous about my work on Sweeney. He has always let me get on with the job and has trusted the process all the way. He will come into rehearsals and listen with fresh ears and make suggestions or give notes once the show is up and running. He is always positive, and I find him a great teacher and inspiration.
Q: When you and John Doyle set to work on Sweeney, what kind of sound did you have in mind?
A: John always envisioned a claustrophobic, intimate chamger interpretation with a constant underlying feeling of the inevitable.
Musically, I wanted it to feel like a roller coaster — once the first bar is played, the tension starts to build, and it never lets up. We hope that the audience is pulled along with it. We took out some original applause points to keep the tension building right through. Sondheim's score has a claustrophobic feel, and John's set has a hemmed-in, coffin-like look, especially when the lights filter through the cracks in the boards.
I think the smaller orchestration for this production helps this stifling effect, as it draws the audience in to the story. I think Sondheim's brilliant score has made my job easy with all its dramatic tension, its gritty harmonic construction and at times its soaringly beautiful melodies. The show is simply a masterpiece.
Q: So what's next for you, Sarah? Are you aching to work with a full orchestra whose members never have to act?
A: I'm not really sure. I'm always a little scared of bigger orchestrations. If someone asked me to score West Side Story for 35 players, I'd probably run a mile! I'm always learning as I go, and finally accepting that it's OK to make mistakes. I don't tend to plan things, so anything that comes along presents its own challenges. As long as work is varied and fulfilling, than that's OK.
Meanwhile, I have been busy this year in the U.K. working on an actor-musician version of Martin Guerre at the Watermill Theatre (where Sweeney began), a pantomime at the Barbican called Dick Whittington, ongoing cabaret work with my act Drop Dead Divas, and I am about to start scoring Honk, a version of "The Ugly Duckling" by Stiles and Drew (now famous for writing new songs for the Cameron Mackintosh/Disney Mary Poppins), also at the Watermill this Christmas.
I'm delighted to get to San Francisco for the second time this year. I was there in March on a holiday, and in three weeks drove 4,000 miles to Yosemite, Lasl Vegas, Canyonlands, Arches, Grand Canyon and back up the coast. I think withs was up there with great challenges but absolutely fantastic! Will be good to stay put in the city this time.
Sweeney Todd continues through Sept. 30 at American Conservatory Theater, 415 Geary St., San Francisco. Tickets are $30 to $82. Call 415-749-2228 or visit www.act-sf.org.