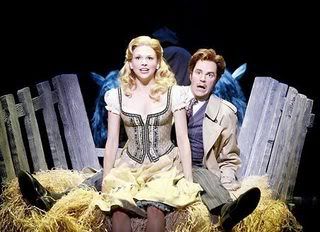 Mel Brooks' new musical comedy adaptation of Young Frankenstein, based on his and Gene Wilder's 1974 movie of the same name, opened in its pre-Broadway tryout last week in Seattle.
The two major critics, Misha Barton of the Seattle Times and Joe Adcock of the Seattle Post-Intelligencer, had differing views on the show, which stars Roger Bart as Victor Frankenstein (that's Fronk-en-steen), Andrea Martin as Frau Blecher, Shuler Hensley as the Monster, Sutton Foster as Inga, Megan Mullally as Elizabeth and Christopher Fitzgerald as Igor
Barton called the piece a "supersize, eager-to-please and arguably redundant musical comedy" and says, "The musical is freshest and funniest in the second act, when it stops doggedly aping the film and lets the actors concoct their own comic chemistry."
Here's more from Barton:
Brooks has composed some 18 songs for the show, mostly breezy knockoffs with a Gypsy or vaudeville ring and shamelessly silly lyrics ("There is nothing like a brain!"). Most tunes are calling cards (Elizabeth's "Please Don't Touch Me"). At least one is superfluous ("Join the Family Business").

But there are two good vehicles for [director/choreographer Susan] Stroman's clever choreography: "The Transylvania Mania," blending 42nd Street hoofing with Fiddler on the Roof folk dancing; and "Puttin' on the Ritz," which expands the film's Monster-Frederick tap duet to the Irving Berlin song into a major extravaganza.
Adcock in the Seattle PI was more enthused about the musical, writing, "Everything about the show is an inspired revitalization of something old or very old or very, very old." His favorite performer is Martin, who "does a 1920s Berlin cabaret-style number that could have been borrowed from Kurt Weill and Bertolt Brecht's Threepenny Opera" and proves "once and for all that true comedy can be made out of the solemn performance style of bygone German divas on the order of Marlene Dietrich or Lotte Lenya."
Here's a great peek at both the movie and the show from a Seattle TV station:
Check out the official Web site for Young Frankenstein.