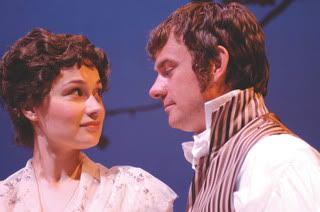 Here's how Jane Austen describes the title character of her novel Emma:
Emma Woodhouse, handsome, clever, and rich, with a comfortable home and a happy disposition, seemed to unite some of the best blessings of existence, and had lived nearly twenty-one years in the world with very little to distress or vex her.
Austen goes on to mention, in a nice way, that Emma is spoiled and that she had "rather too much her own way, and a disposition to think a little too well of herself."
Emma, in her sweet arrogance, goes on to meddle — always with good intentions — in the lives of those around her, matchmaking and fussing until she finds love right under her own nose.
If Austen were around today, she would have seen Emma portrayed on film by Gwyneth Paltrow in a fairly straightforward adaptation called Emma and by Alicia Silverstone in Clueless, a perky teen comedy that is actually a clever adaptation of Austen's novel.
This weekend, Austen might be delighted (or alarmed) to see her "handsome, clever and rich" Emma singing onstage in TheatreWorks' Emma, a world-premiere musical by Paul Gordon.
In 2000, Gordon was represented on Broadway by another literary musical heroine, Jane Eyre. That's the show that connected him with TheatreWorks, the first regional theater company to produce Jane Eyre after its Broadway run.
"I didn't know what to expect when I came to see Jane Eyre in Mountain View," Gordon says. "But I fell in love with the production and with (artistic director) Robert Kelley's direction."
The new relationship continued when Gordon's Emma, for which he is doing triple duty writing music, lyrics and book, was selected to be part of TheatreWorks' 2006 New Works Initiative.
Talk about fast track _ a year later the show is already on the main stage.
"Some projects just go faster than others," Gordon says before heading into a rehearsal. "For whatever reason, I wrote Emma in six months, and before I was even done, TheatreWorks was doing the first reading. Now, not even a year after that, we're up to the first production."
Gordon, whose background includes penning pop hits for Peter Cetera and Amy Grant ("Next Time I Fall") as well as for Bette Midler, Quincy Jones and others, didn't intend to write the entire show by himself.
He wrote the score, which he describes as a "chamber musical scored by oboe, cello, violin and piano that blends theater music with the Beatles — think `Eleanor Rigby,'[TH]" and sketched out a first-draft script.
"I figured someone would come in later and write the actual book," Gordon explains. "But the first reading went just fine. Remarkably, the thing worked."
The reason? Gordon's collaborator — his book writer, if you will — was Jane Austen.
"It's not like I've written a new story," Gordon says. "Obviously I'm writing some different scenes and transitions, things you naturally do in an adaptation, but this is her story. I'm using as many of her words as I can. I'm humble enough to know that whatever anyone thinks of the book, good or bad, it's Jane Austen."
Kelley is back in the director's seat for Emma, opens Saturday at the Mountain View Center for the Performing Arts, and there's another holdover from Jane Eyre as well.
Pleasanton native Lianne Marie Dobbs, a veteran of TheatreWorks and 42nd Street Moon shows, played Helen Burns in "Jane Eyre" and now plays the title role in Emma.
Dobbs has been something of a muse to Gordon on this project.
"It turned out that Lianne was instrumental in making TheatreWorks aware that I was writing Emma," Gordon says. "She made sure I got the script to (TheatreWorks' director of New Works) Kent Nicholson, and then she flew out to L.A. to record the demos with me."
Gordon says he wrote the character of Emma with Dobbs in mind.
"She has the right presence, spirit and intelligence for a role such as Emma," Gordon says. "It's hard to find actresses who sing well and act well. Lianne personifies the idea of Emma, and she's such a great musician with a wonderfully trained ear. She cares deeply about the character, and that really helps me."
Emma hits the stage only a few weeks after another Austen-themed project, Becoming Jane starring Anne Hathaway as the British writer, hit movie screens. hardly a year goes by, it seems, without popular culture rummaging through Austen's collected works.
"The timing is good for us, but it's certainly not planned," Gordon says. "I'm keeping my fingers crossed that this resurgence of love for Austen's brilliant work will help the journey of this show. Our goal is to try and live up to Jane Austen's vision. She set the bar pretty high. I respect that and want to do right by her."
Another project close to Gordon's heart is the Web site indiEclectic.com, an attempt to shine the spotlight on singers and songwriters who, in Gordon's opinion, aren't receiving the kind of exposure they should in th emusic business and the mainstream media.
"I went to a bunch of singers and songwriters I know — one of the first was Alanis Morissette — and asked them to recommend 10 artists they love and that no one has ever heard of," Gordon says. I went to Robbie Robertson and Jackson Browne and a bunch of people, and they were more than happy to share the music they really love, and those people in turn make recommendations and so on, and so on."
The hope behind the site, Gordon says, is to try and find a way for the artists to support themselves — "we're not expecting millionaires here" — to to allow the musicians to devote themselves to their music and find a way in this digital age to support other artists and create community.
In the near future, Gordon hopes the site will offer what he calls a "backstage pass," which for about $20 or so, subscribers can download all the content on the site, which would be songs by 200 to 300 artists.
"The artists are really enthusiastic," Gordon says. "They love the idea."
Visitors to indieEclectic.com can search on Gordon's name to come up with what he considers a decent introduction to his work. He recommends visitors take a listen to "Theme from Emma" (from his current project), "Secret of Happiness" (from another project with Jane Eyre collaborator John Caird based on Daddy Long Legs) and "Unholy Train" (a solo work that's more of his pop music/singer-songwriter side).
Emma continues through Sept. 16 at the Mountain View Center for the Performing Arts, corner of Castro and Mercy streets, Mountain View. Tickets are $25 to $61. Call 650-903-6000 or visit www.theatreworks.org.