Every year around the Fourth of July, I like to celebrate something entirely American: the musical.
I'm a little late this year, but it's my patriotic duty. So here, better late than never, are some show tune suggestions to get you through the summer.
Of course the original cast album of the moment is Spring Awakening (Decca Broadway). The Duncan Sheik-Steven Sater score, performed by the most appealing cast on Broadway, calls out for frequent spins and rewards careful listening.
Almost as appealing, but in an entirely different way, is Curtains (Broadway Angel), the John Kander and Fred Ebb (with help from Rupert Holmes) show that has turned into a reliable hit on Broadway. The score by Kander and the late Ebb is pure, old-fashioned Broadway, with a few of the duo's famed vamps thrown in for good measure.
The emotional highlight is Jason Danieley's "I Miss the Music," which is, in some ways, Kander's musical memorial to his late writing partner.
Stars David Hyde Pierce and Debra Monk are completely charming, and the disc is highly enjoyable — a classic show music experience. And for theater fans, there are abundant inside jokes (especially on Monk's "It's a Business) and a new theater anthem, a la "There's No Business Like Show Business" in the rousing "Show People."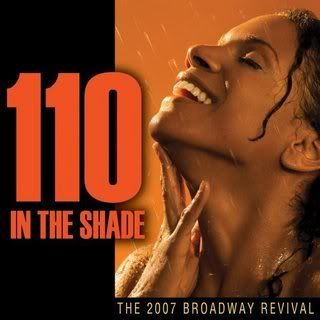 The CD from the Roundabout Theatre Company's revival of 110 in the Shade (PS Classics) is worth owning for one reason: Audra McDonald. She elevates this 1964 Harvey Schmidt-Tom Jones score to fine art. Just listen to her extraordinary performance — both acting and singing — on "Love, Don't Turn Away," "Raunchy" and "Old Maid."
An unusal occurrence in this day and age, Grey Gardens received cast albums for both its off-Broadway and Broadway incarnations. The Broadway album (distinguished by the green cover with star Christine Ebersole wearing a hat and peering around a hand mirror) from PS Classics is the one to own. It's a more polished version of the score, and the performances (especially from Ebersole and Mary Louise Wilson, both Tony winners for this show) are even richer. It's sad that the musical is closing so soon after winning Tonys, but at least the performances are preserved here.
I've reviewed the revival CD of Stephen Sondheim and George Furth's Company in this space before, but I have to amend that review. After seeing the show, I fell in love with the CD, especially the performance by Raul Esparza, which I had disparaged after just listening to the disc.
Esparza was amazing onstage, and the disc from Nonesuch/PS Classics captures every bit of warmth and flawed humanity he displays in person.
Finally, we have a disc from one of the season's major flops. High Fidelity (Ghostlight Records) never should have been a musical, and this disc demonstrates exactly why. Nick Hornby's story about popular music snobs who work in a record store is full of very strong opinions about what makes music good and what makes it suck. The kind of music delivered here by composer Tom Kitt is exactly the kind of music that the story's characters would make fun of. Amanda Green's lyrics are actually pretty clever, but they're mired in mild-to-murky pop that obscures their charms.
Two more discs to check out: Broadway Scene Stealers: The Women and Broadway Scene Stealers: The Men, both from Playbill Records and Masterworks Broadway. Hardcore show tune enthusiasts will already have most of the cuts on these discs, but they're excellent surveys of musical theater and don't have all the usual suspects (for instance, there's no Andrew Lloyd Webber), and all the cuts are from original cast albums originally released on Columbia or RCA (a benefit of the Sony/BMG merger).