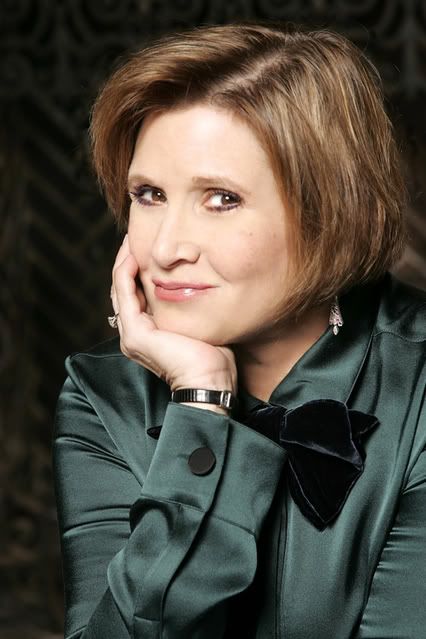 It's old news by now that Carrie Fisher will be replacing Rita Moreno next spring in Berkeley Repertory Theatre's 40th anniversary season.
Fisher will be doing her solo autobiographical show Wishful Drinking, and last week, she gave a press conference at Berkeley Rep with artistic director Tony Taccone, who will take over as director and help Fisher re-shape the show.
Below are some highlights from the press conference. A couple things you should know about Fisher. Her parents are Debbie Reynolds and Eddie Fisher (who lives in San Francisco). She played royalty in a film called Star Wars (and its sequels). She has had substance abuse issues and has been in rehab. She has also been institutionalized for mental health problems. She's a best-selling author (Postcards from the Edge, Surrender the Pink, Delusions of Grandma, The Best Awful). And she's one of the sharpest, funniest women in Hollywood.
Here's Fisher answering the question, "When did you start writing about your life?"
"When it started to get interesting. No, that's not true. When I was an adolescent — not that life was interesting, just intense. It was a way to manage the intensity, a way to organize a disorganized emotional state, to take wet emotions and sort of dry them.
[When deciding what to write] I just decide what's going to get me in trouble with my parents and grounded and what won't. There are certain things I think are funny. One of the things I say is: If my life wasn't funny, it would just be true, and that's unacceptable. I think that's true for everybody. To my mind, it ought to be.
There are things that are very painful, but if you can make them funny, it's the best thing in the world, the only thing. When I'm not able to laugh about things it's really mean things that are really bad. That's always what I've tried to do. Find the funny things in sometimes tragic things, not that my childhood was tragic by any definition."
Fisher on the influence of Star Wars:
"It follows me around like a vague, exotic smell. But it's not … it would be the highest-class negative you could ever have. It was a nosebleed high-class problem to have that as a problem, to be identified with an iconic film for most of your life. The funniest version of that — I'll be in an airport and someone will shout out, "Princess Leia!" as if I, at my age, 50, will go like this, "Yes?" That is how it remains in my life. It goes on and on and on. It's funny to me. Necessarily funny. If it wasn't, I'd be an angry person. There are other cast members, not that many, that really wanted to be taken seriously or wanted it to go away like some sci-fi rash or something like that. It refused to do so, and they just remain angry. That's a really bad choice. I had fun making those movies. I'm proud to be in them. I love George [Lucas], and I love giving him awards now. He gets them all the time. I get to make fun of him. With this show I'll get to make fun of him closer to home."
Fisher responding to the question: "How honest are you in your show?"
Brutally honest. It's a bloodbath. No, honest. Sometimes in my life I wish I hadn't been so honest. But things are known. A version of events about me would go out — she was in rehab. This is me trying to control the material. She was in a mental hospital. I would like to try and control that material rather than have you assume what it was. I'll tell you the funny version. It's the long version of you noticing I'm overweight and me saying first, "I know I'm 10 pounds overweight."
Fisher's advice to Paris, Lindsay, Britney and their ilk:
"Swear to God, there seems to be some delight in living out this insane behavior in front of the paprazzi. If you live in a gated home, they can't watch everything. They have a rapt audience in a lot of the population, but if they would stay home for some of this and get a driver…We were all this age. Very difficult to be this age. Never like this when I was young and doing substances. I don't know that I would have survived it.
Paparazzi are crazy now. Get a lot of money for these pictures. That's what starts it.
My advice is: Stay home. Get a driver. And wear underwear."
Fisher on Natalie Portman, who played Princess Leia's mother in the three "Star Wars" prequels (or whatever they are): "I wish I looked like her. I do run into her and say, `Hi, Mom.' I'm not kidding. My ex, the father of my child, is her agent, so it makes us related in a way in Hollywood."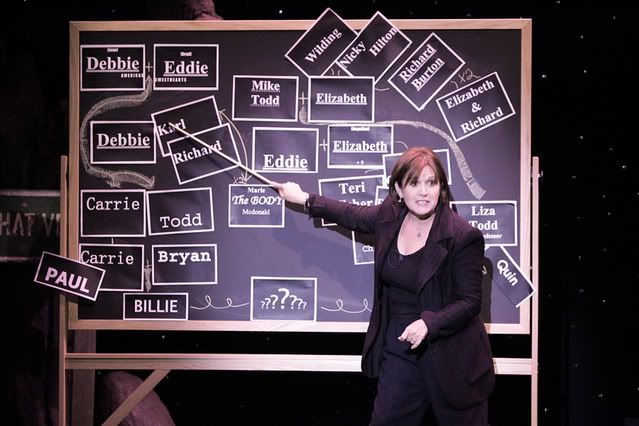 Fisher on what kind of stories we can expect to hear in her show:
"Stories about different situations and experiences in my life — whether it's my ex-husbands (I turned one of them gay by taking codeine — I never read that warning on the bottle — I thought it said `heavy machinery, not homosexuality.' I could have been driving those tractors all along.) If things like that happen to you, all this stuff being true, I should write that down. That's unusual. So, you know, I had unusual things happen in my life. My childhood with my lovely parents. My stepmother (Elizabeth Taylor) — I do a thing, my daughter went on a date with — this is very complicated –Mike Todd and Elizabeth Taylor's grandson, so I pose the question, `Are they related?' then trace the lineage with a blackboard.
I talk about Star Wars some, talk about alcoholism and mental illness, in theory — other people's. What it would be like if I had those things. I talk about a man dying in my house, in my bed, which was unique. He was gay. He didn't die in the saddle. That doesn't happen to a lot of people. So, you know, things like that.
Fisher on her checkered theatrical career:
"I've done really bad theater. I went to the Central School of Speech and Drama, which I think you'll notice in all my film work, a really theatrical horror. While I was there I got Star Wars. That's why I have this slight English accent in the first film, which is really pretentious and embarrassing to this day.
I did a play called Censored Scenes from King Kong in New York. The review from Clive Barnes said we should all leave our agents it was so bad.
I was a chorus girl in my mother's show Irene. I did a show at the Public, don't think it even opened "Sleep AroundTown." Replaced in "Agnes of God," playing the nun with Geraldine Page and Elizabeth Ashley (at this point Fisher whispered conspiratorially: "On freebase") That is my stage career. Good isn't it? Oh, and, like most teenagers I did nightclub work with my mother in Vegas and Reno.