All-4-`Joe'
Apr 05
A member of a once-popular boy band is taking a break from his group to perform in some musical theater.
No, Justin Timberlake is not starring in Broadway by the Bay's Show Boat. Nor is Jordan Knight aiming for respectability in TheatreWorks' Merrily We Roll Along.
This boy-band member may not be a household name, but you've definitely heard him sing. Everyone on the planet has heard All-4-One's Grammy-winning "I Swear," the 1994 No. 1 hit and perennial wedding favorite.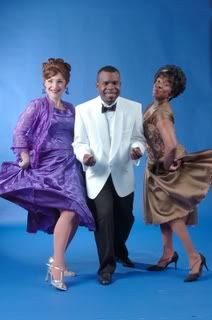 Delious Kennedy (above), one of the four in All-4-One, credits a San Jose radio station with putting his band on the musical map 13 years ago. That's one of the reasons he says he's so happy to be back in the South Bay for American Musical Theatre of San Jose's Smokey Joe's Cafe.
The lively revue of Jerry Leiber and Mike Stoller songs – they wrote "Hound Dog" for Elvis and a gazillion other hits you know — opens April 10 and marks a return to the musical theater stage for Kennedy, who began his performing career in Broadway-style revues at New Jersey's Six Flags Great Adventure.
"We did those shows seven times a day, five days a week," he says. "I was really skinny. It was fun. I love performing, so it was great to have that job in high school while other guys my age were cutting lawns."
In college, he did some musical theater _ The Wiz, Godspell _ and then went to a karaoke contest, where he met two guys who would later be his bandmates. All three of them lost the contest, but they stayed in touch and eventually formed All-4-One.
The group's first hit, "So Much in Love," hit the airwaves in 1993, and though the boy-band craze has cooled considerably, the band is still together. In fact, they group is preparing to release a new studio album, "7," in July.
Between band duties, Kennedy has managed to appear in some movies, most notably Barbershop, and on TV in "General Hospital."
"How can I say this and be politically correct? I don't love the music industry," Kennedy says. "It's not necessarily about the songs and performers. People are here one minute and gone the next. There are no legendary performers or songs. It's about the hit of the moment and moving on, not about developing artists."
So, in addition to the film work, Kennedy is returning to one of his first loves: musical theater.
"My goal is to end up on Broadway in The Color Purple or something," he says. "I wanted to get used to the Broadway way of life, so I thought Smokey Joe might be a good place to start."
In the show, Kennedy gets to sing "Stand By Me," "Love Potion No. 9," "Treat Me Like a Fool" and "Youngblood."
"I'm worried about performing eight shows a week," he says. "I've got a humidifier in my room."
After Smokey Joe's and after the new album is released, Kennedy has his eye on New York.
"My dream shows to be in would be Rent or The Color Purple, you know, anything that's not straight-up Broadway," he says. "I want something with good, decent songs with a little soul to them."
Smokey Joe's Cafe opens April 11 and continues through April 22 at the San Jose Center for the Performing Arts, 255 Almaden Blvd., San Jose. Tickets are $13.75 to $73. Call (888) 455-7469 or visit www.amtsj.org.