Opened April 12, 2009, Magic Theatre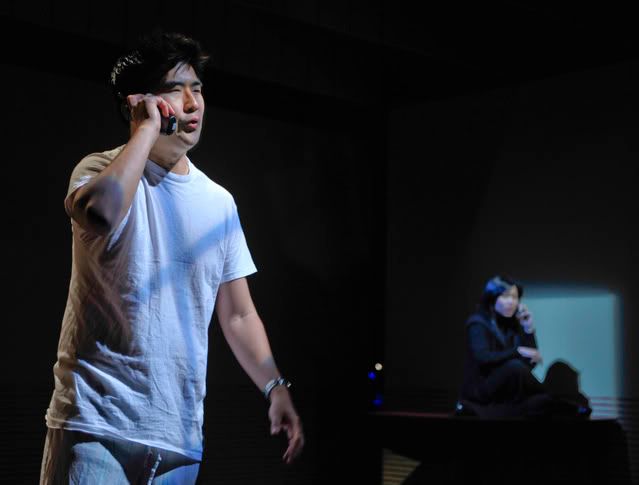 Ryun Yu as David, a New York investment banker, talks on the phone with his sister, Esther played by Angela Yin in the Magic Theatre's world-premiere production of Lloyd Suh's American Hwangap. Photos by davidallenstudio.com

Mind the `Hwangap': Laughs, pain fill Magic's family drama
««« ½
To see simple, expert stagecraft at its very best, look no further than the Magic Theatre's world-premiere production of American Hwangap by Lloyd Suh.
The plot is your basic dysfunctional American family drama – immigrant parents, divorce, troubled kids – but made all the more interesting for an approach that is about as far away from TV sitcom land as possible. Director Trip Cullman could have anchored Suh's drama in a realistic Texas living room, couch and all. But the play is more interesting than that, and Cullman finds inspired ways to continuously offer surprises in his staging.
Erik Flatmo's set is essentially one carpeted room and what is probably the most versatile dining room table imaginable. That table occasionally serves as a table (in a diner, in the family home), but more often it's a basement fort of sorts, a climb-able tree in the yard, a car and even a fishing boat on a lake.
With York Kennedy's lights to help give a sense of place and mood, that extraordinary one-room set is alive with possibilities.
Suh's play aims to be both conventional – we all recognize parts of our family in this family no matter how different our backgrounds – and unconventional. He doesn't always tell his story in a linear way, and the stripped-down, non-naturalistic set helps amplify the emotion of certain scenes. When he exposes his need for psychological explanation, this child is messed up in this way because of this action by a parent, the writing is less interesting.
But mostly the play pops because Suh is a funny writer who knows just how powerfully humor resonates through deep pain.
By not choosing a specific point of view from which to tell his story, Suh shifts the emotional focus from scene to scene, and while that may cause some snags here and there, the overarching portrait of a broken family emerges slowly. We know that the Chun family suffered a big loss 15 years earlier, when patriarch Min Suk Chun (Keone Young, right), an immigrant to the U.S. from Korea, abandoned his wife and three children to return home.
That left mother Mary (Jodi Long, below left) to provide for elder son David (Ryun Yu), now a slick investment banker in New York, middle daughter Esther (Angela Lin), twice divorced and generally confused, and younger son Ralph (Jon Norman Schneider,right, with Young), who's approaching his 30s but living like he's 16 in his mother's basement, playing video games, sipping juice boxes and watching the world tread lightly around his "nervous condition."
The family is in a state of upset with the homecoming of Chun. He's returning from Korea to celebrate is "hwangap" (pronounced hwon-gap), a 60th birthday celebration that often inspires deep moral reflection amid much food, wine and conviviality. Though Mary is providing a bounteous feast, her children are having difficulty mustering gratitude and excitement at his pending arrival. Says David to his mother: "Just lemme understand what's expected here: are you planning on a series of weepy hugs? Is all forgotten? Or is there a recrimination involved, a little weekend of apologies and fistfights?"
Cullman's cast is incredibly appealing. Virtually all of the actors are adept at playing broad theatrical comedy and then pulling it all in for a tightly focused, emotionally true interaction. Each character emerges as more interesting and with more depth of feeling than we originally think as we initially navigate the familiar terrain of family drama.
The greatest surprise comes in the alliances – Mary with her aggressively contrite ex-husband, Ralph with the father who is surprisingly like him and, perhaps best of all, between distant brother David and lost sister Esther. There's a scene between the two siblings late in the 90-minute play that has them both on the phone yet connecting in a way that will have a life-altering effect on both of them. It's a gorgeous scene, beautifully written and played by Yu and Lin.
It's all about second chances in American Hwangap, an ultimately forgiving, even loving, drama. The contrast of eastern Korea with western Texas gives way to the complexities of family dynamics and the surprising strength of those tricky familial bonds.
American Hwangap continues through May 3 at the Magic Theatre, Building D, Fort Mason Center, Marina Boulevard at Buchanan Street, San Francisco. Tickets are $40-$45 (with student, senior and educator discounts). Rush tickets for students, seniors, educators and people younger than 30: $10 one half hour before performance. Call 415-441-8822 or visit www.magictheatre.org for information.
LOOKING AHEAD

The Magic Theatre, after a rocky start to 2009 that almost capsized the theater, has announced its 2009-10 season: John Kolvenbach's Goldfish (in cooperation with South Coast Repertory); the world premiere of Luis Alfaro's Oedipus El Rey; Mark O'Rowe's Terminus and a fourth play yet to be named.