Opened July 23, 2008 at the Orpheum Theatre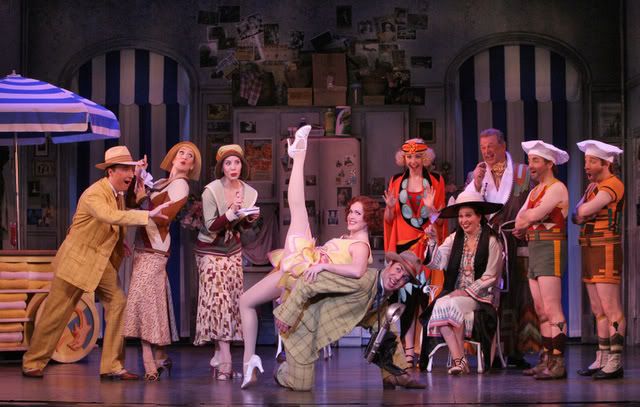 The cast of The Drowsy Chaperone joins stage star Janet Van De Graaff (Andrea Chamberlain, center, leg in air) in the show stopper "Show Off." The Tony Award-winning musical is at the Orpheum Theatre in San Francisco. Photos by Joan Marcus

Shadows hover over daffy, delightful `Drowsy'
««« ½

Musicals don't come much sweeter than The Drowsy Chaperone.
The little Canadian musical that began life as a wedding present and then blossomed in to a 2006 Tony Award-winning hit is on the road and is now at San Francisco's Orpheum Theatre as part of the SHN/Best of Broadway season.
For a frothy musical, it's fairly high concept. A nameless man in a chair (a completely charming Jonathan Crombie, below) attempts to stave of his miserable life for a while by listening to a favorite original cast album.
"I hate the theater," he mutters in the darkness as the show begins. He then proceeds to tell us how modern musicals are dull and dreary and overblown and that his greatest pleasure in life has been from gorgeous, silly musicals of yore. To make his point, he pulls out some classic vinyl: the 1928 score for Gable and Stein's The Drowsy Chaperone starring Jane Roberts, the "Oops Girl" and venerable British actress Beatrice Stockwell before she was made a dame.
It's a complete fiction, of course, invented for the purposes of this musical, but the fake show's authenticity is half the fun as it begins to unspool in the man's dingy studio apartment with ongoing commentary from the man, who is in musical theater heaven while the music plays, and only occasional interruptions from the ghastly real world.
Crafted in vintage '28 style, the musical numbers of The Drowsy Chaperone, with music and lyrics by Lisa Lambert and Greg Morrison, are light and airy, funny and forgettable – in other words, just right. As the Man in the Chair says, musicals should help one "escape the dreary horrors of the real world." And this is a musical that does…to a point.
While the silliness of "Drowsy" trills and tap dances along its merry way, book writers Bob Martin and Don McKellar (two of the brains behind the brilliant Canadian TV series "Slings and Arrows") sneak in some welcome depth through the character of the Man in the Chair. That's not to say this is heavy going, but this is mindless entertainment with a mind.
Director/choreographer Casey Nicholaw brings a precise knowledge of old-fashioned musical theater to the production that keeps the effervescence bubbling and the charm churning. As the man's record turns, his apartment becomes more and more overlaid with the country estate sets (by David Gallo), and Ken Billington and Brian Monahan's lights become more fantastical and beautiful.
We're never fully caught up in the story of the silly musical – a great follies star is about to forsake the stage to marry an oil tycoon and her producer and the producer's mafia connections fear that losing their star will mean losing their fortunes – because the Man in the Chair keeps pulling us back.
In his oversized sweater and threadbare corduroys, the Man weaves in and out of the musical theater stars, sometimes pausing the record so he can tell us that this actor was eventually found dead in his apartment, but not until five days after his actual death and his body had been partially consumed by his poodles.
"Try not to think about the poodles," the Man says before the actor begins a song.
The Man also gives us glimpses of his real life – his failed marriage (he didn't know how to stop it from starting), his Zoloft addiction and his hermetic, anti-social ways. This is a man who, for all his charm, is lost to the world. He may love musicals, but they're really just a patch on his concerns about, among other things, pornography and global warming.
But that's what makes The Drowsy Chaperone more interesting than other retro-musicals such as No No Nanette or Sugar Babies.
And then there's the energy of the high-spirited cast. The touring show features some standout musical performers, namely Andrea Chamberlain as stage star Janet Van De Graaff (her showstopper "Show Off" lives up to its name), Georgia Engel (Georgette from "The Mary Tyler Moore Show") as loopy Mrs. Tottendale and Mark Ledbetter as the tap-dancing, roller-skating groom.
I was a little disappointed in Nancy Opel's take on Janet's chaperone, a boozy Brit with the requisite inspirational anthem about alcoholism ("As We Stumble Along"). Opel has a sharp, shrill voice and comic chops that stop just short of being hilarious. She's funny, but just not quite enough.
The same is true for Dale Hensley as Italian lover Aldolpho. It's tricky to play a bad actor and be funny doing it, and Hensley is far from a bad actor; he's just not quite big enough –metaphorically speaking – for this goof of a character.
It's hard to complain about anything when a show is this much fun. The Drowsy Chaperone, which runs under two hours without an intermission, is lovely and lively with real-world shadows lurking at the edges and threatening to spoil all the fun.
Here's a little taste of Drowsy Chaperone: