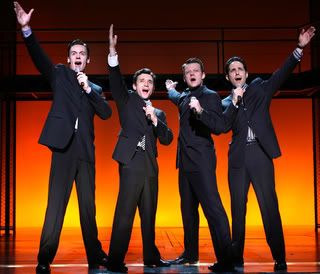 The boys of Jersey Boys in Las Vegas: from left: Erich Bergen, Rick Faugno, Jeremy Kushnier and Jeff Leibow in the production at the Palazzo. Photo by Joan Marcus.
Since leaving my illustrious career as a newspaper theater critic/editor in March, I've been doing some freelancing. Now you, gentle reader, get to enjoy the fruits of my labors.
In today's Oakland Tribune/Contra Costa Times travel section you'll find a story I did for them about the Las Vegas production of Jersey Boys at the Palazzo Hotel. In true Bay Area News Group fashion, the first part of the story is missing on the Web. Here's the link anyway: www.insidebayarea.com/travel/ci_9299376. At the bottom of the story is my list of Top 5 best bets for the Las Vegas theatergoer.
And here's what's missing from the top of the story:
Oh, what a night! `Jersey Boys' hits Vegas' plush Palazzo
By Chad Jones
CONTRIBUTOR
Every time you think you know Las Vegas, the city spins the dice in another direction.
First it's a curious desert getaway. Then it's the ring-a-ding Rat Pack capital of the world. Then it's cheap and sleazy. Next thing you know it's an adult theme park full of swanky hotels, hip clubs and hot restaurants.
Now it's all of the above plus world-class shopping, aging '70s superstars and Broadway musicals.
There's just no place like Vegas (mercifully), and the town just keeps evolving.
The newest resort-casino on the strip is the 50-story Palazzo, which officially opened last January, a sister hotel to the Venetian next door, and its adjunct tower, Venezia. All together, this trio of resorts boasts 7,066 rooms, all suites, making it one of the world's biggest resorts.
The Palazzo is aiming to be the next level of Vegas accommodation, and with the opening of "Jersey Boys," the hit musical, earlier this month in the Palazzo's theater, the hotel is positioning itself as a destination for the discerning Vegas visitor.
Even compared to the Venetian, with its heavy-duty Italian-themed canal boat ride and slavishly re-created St. Mark's Square at the center of its Grand Canal Shoppes mall, the Palazzo is different.
For Theatre Bay Area magazine, I wrote a feature on the San Francisco International Arts Festival (continuing through June 8). Read it here in its entirety, nothing missing (thanks, TBA!): www.theatrebayarea.org/mag/article.jsp?thispage=mag.jsp&id=405
And, as ever, thank you for reading. — Chad