Opened Friday, Nov. 16, 2007 in San Francisco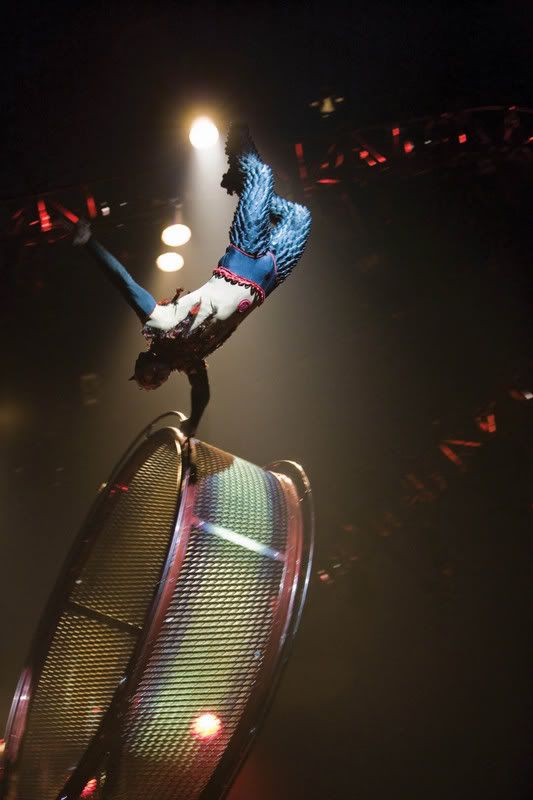 Cirque du Soleil's Kooza thrills more than chills
Three stars Killer `Wheel of Death'
I can be a jerk about Cirque — I fell out of love with Cirque du Soleil, even though I wanted our affair to continue. I suppose it's all a matter of over-exposure to a good thing, and judging from the response to my whining about this fancy-pants Canadian circus troupe, some of y'all feel the same way.
Well, having paid a visit to the blue-and-white-striped tent behind AT&T Park on Friday to see Cirque's latest touring show, Kooza, I have to say: It's pretty thrilling and mostly unfussy.
It's also kinda long — with a 30-minute intermission (one has to shop for trinkets, mais bien sur) we were out of the tent at five to 11 — and there are definite slow spots. Even though director David Shiner is an expert clown, the clowning in Kooza left me cold. I liked that the clowns spoke, and spoke in English, but their routines, especially the audience-participation bits, ran long and wore out their welcome.
But there are two clowns whose mission is not laughter but "atmosphere" and "tone." Jason Berrent (below in the vertical stripes) is The Trickster, a wily presence in stripes who seems to orchestrate things with a high-voltage wand. Berrent is incredibly lithe and graceful (his entrance out of a giant jack-in-the-box is extraordinary), and though he's silent, he's a powerful presence. His co-star is Stephane Landry (below in the horizontal stripes) as The Innocent, a childlike kite-flyer who is lured into The Trickster's snare.
The stage (designed by Stephane Roy) is spacious and gorgeous. Giant swaths of fabric move up and down — sort of a breathing curtain — to conceal and expose a central three-tiered gazebo. The lower level contains a traditional theatrical red curtain, the middle level contains the band (fantastic! but more on them in a moment) and the top level is often a perch for clowns.
Over the years I have grown indifferent to the Cirque musical approach. I used to dutifully buy the CDs and zone out to their trippy blend of New Age-worldly wise sounds. After a while, it all sounded the same. Kooza actually sounds quite different, and the thing that sets apart Jean-Francois Cote's score is a big, fat, brilliantly bold horn section. To have trumpets and saxophones and trombones cutting through the cuteness does wonders. Sometimes there's an Indian Bollywood feel to the music, other times it's 1950s movie soundtrack, then it's jazz, then it's (and this is my favorite) Earth, Wind and Fire. Loved the music and will buy the CD (or download it — hey, it's the 21st century).
Highlights of the circus acts:
– The crowd loved the three lady contortionists (Julie Bergez, Natasha Patterson and Dasha Sovik), who are clearly among the best at what they do, but they grossed me out — one girl actually runs around her head! — and I thought that when they were all doubled over, they looked like a giant shrimp cocktail.
– Darya Vintilova's solo trapeze bit, which looks like a whole lot of fun and about as close as a human can get to actually flying, benefits from a pusling rock 'n' roll underscore.
– Anthony Gatto and Danielle Gatto's juggling — very Las Vegas with his silver lame jumpsuit and red-feather skirt — is old-fashioned and delightfully cheesy, but Anthony is such a skilled juggler, the cheese melts away and you're left awed.
– The highwire act by the Dominguez family (with Flouber Sanchez, who is likely an honorary Dominguez), is also exciting. For much of the act there's no net, and they're not hooked to safety wires.
– The best act of the night is by far the "Wheel of Death" (pictured at the top of the review) Performed by Jimmy Ibarra Zapata and Carlos Enrique Marin Loaiza, the act involves what looks like a giant propeller, and at each end of the spinning arm is a round cage big enough for a man to run around in or on top of. I don't often gasp or hide my eyes at circus stunts, but this one made me flinch and shriek like a little girl at a prize fight. Extraordinary.
As usual, the costumes (by Marie-Chantalle Vaillancourt) are gorgeous, and the lighting (by Martin Labrecque) couldn't be any sharper.
It's an exciting night under the big top — one that gives me a little more faith in Cirque du Soleil's ability to keep jaded audience members such as myself coming back for more.
For information on Cirque, which has been extended in San Francisco through Jan. 20, visit www.cirquedusoleil.com.