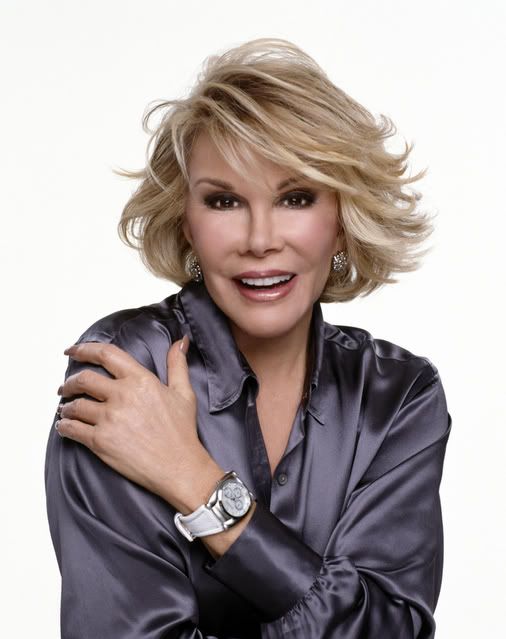 This is not — I repeat — not a review of The Joan Rivers Theatre Project at San Francisco's Magic Theatre. Rivers and her crew are in town for a few weeks to workshop a new play, and reviews are not allowed.
The show had its unofficial opening Wednesday, and I will say this about the experience: I haven't laughed so hard or so well in a long time.
I'm not going to talk about the show's problems (at nearly two intermissionless hours, it's about 20 minutes too long, the supporting characters are straight out of sitcom land, etc.) because that's the whole point of performing in San Francisco — to do some major work on a brand-new piece of work.
But I am going to say that Rivers is extraordinary. At 74, she doesn't need to be getting a new play on its feet, let alone a play she co-wrote (with Doug Bernstein and Denis Markell) and stars in. The admirable thing here is that Rivers wants to create a real play — with characters and a story arc — and not just do her usual stand-up routine.
To be sure, she gives her fans what they want. There's an awful lot of stand-up material in here (some old, some new) when Rivers breaks the fourth wall and talks directly to the audience. Rivers' comedy has only gotten rougher and raunchier and funnier over the years. You really ought to hear her talk about aging and sex over 60. Unbelievably funny stuff. And yes, she talks about her plastic surgery (she estimates she has spent upwards of $150,000 on procedures), and she talks frankly about ageism in show business.
There's a spirit to this show — of survival, of finding your bliss, of proving the world wrong — that goes beyond comedy, and as the show develops, this aspect is certain to become as powerful as the jokes.
Rivers and director Mark Rucker are doing an interesting thing during the San Francisco run. They're inviting the audience to stay after the show and offer feedback directly to Rivers about what worked and what didn't in the show. At Wednesday's show, the audience was pretty evenly divided about whether or not they thought the show should be solo or with the other actors. Some felt Rivers' story was strong enough to stand on its own, while others appreciated the interaction with other people (which differentiates the show from other celeb tell-alls).
Rivers deserves a big, fat hit at this point in her storied career. Enough with the ups and downs. Time for audiences to start celebrating her comic genius and the fact that she's every bit as funny as she was when she started more than 40 years ago.
For information about The Joan Rivers Theatre Project, which runs through Sept. 2, visit www.magictheatre.org.
If you're not reading Rivers' daily blog, you should be. She writes a lot about the development of her play: Joan Rivers Blog.