What a party! You expect big things in Las Vegas, and that's what you get.
The Palazzo put on quite a show before and after the show as Jersey Boys officially opened on May 3, becoming the first show at the Palazzo hotel, which officially opened last January.
The requisite red carpet arrivals saw the surviving Four Seasons — Frankie Valli, Bob Gaudio and Tommy DeVito, along with producer Bob Crewe — as well as a few celebrities, including John Cleese, Michael Urie (of "Ugly Betty" fame) and Willie Garson (of "Sex and the City" fame) as well as some Vegas celebs: Rita Rudner, Wayne Brady and John O'Hurley (in the soon-to-close Spamalot).
The most moving moment of the evening was when the real Four Seasons went on stage at the curtain call to take a bow with their musical theater counterparts. Read about that and see a photo in my review below.
The opening-night party, held in one of the Palazzo/Venetian airplane hangar-like ballrooms, was a scene. Classic '60s cars, complete with go-go dancers, adorned the corners of the room where the food tables were, and in the center of the room, like an air traffic control tower, also complete with go-go dancers, was the DJ.
Opening night also happened to be Frankie Valli's 74th birthday, so when the onstage Four Seasons — Erich Bergen, Rick Faugno, Jeremy Kushnier and Jeff Leibow — arrived at the party, they announced Valli's birthday then sang a beautiful four-part harmony version of "Happy Birthday to You." After the stage was cleared, the back "wall" of the ballroom came swooshing down to reveal a dance floor and a stage adorned with — you guessed it! — go-go dancers grooving to a '60s beat.
Here are some photos of Valli's birthday tribute: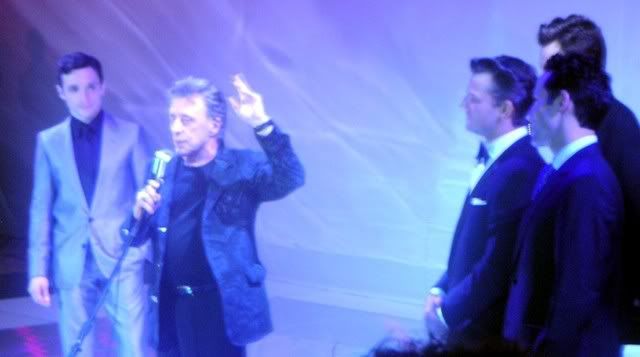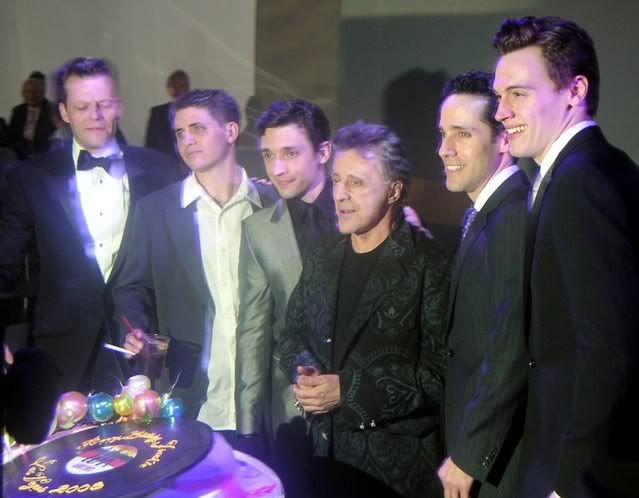 At the party I ran into Jeff Leibow (who plays Nick Massi) and his lovely wife, Melody, both formerly residents of East Palo Alto and now Las Vegans. They looked fantastic:
I also ran into Joyce Chittick, who plays multiple roles, including Frankie's wife. Her real-life love is Rick Faugno, who happens to play Frankie. I've known Joyce since she was in high school (my mother was her high school principal at Sparks High School), when she performed in a top-notch performance choir called Skyfire. She and Rick were beaming, and rightfully so. They're in a hit show, and they're both superb in it.