The cast of the Aurora Theatre Company's The Best Man by Gore Vidal includes (from left) Tim Kniffen, Deb Fink, Charles Shaw Robinson, Michael Patrick Gaffney, and Michael Cassidy. Photos by David Allen

Vidal's `Best Man' wins at Aurora
(three ½ stars)
Just in case you haven't already had it up to here with presidential politics, you should turn your attention to Berkeley's Aurora Theatre, where Gore Vidal's 1960 The Best Man is showing us unpleasant things about the way we elect our leaders.
Director Tom Ross guides an astute cast through 2 ½ hours of Vidal's quips, observations and jabs, all on the subject of the dirty business involved in getting to the White House. It's a swell, snappy production with lots of laughs, some of which hurt more than others.
The play may be almost 50 years old, but it reverberates – a scary thing in a country that has supposedly changed so much. The only real difference between the two candidates fighting it out for their party's nomination at the Philadelphia convention and the ones at the conventions we just saw in Denver and Minneapolis is the absence of mobile phones, Blackberries, laptops, blogs, 24-hour news pundits and hordes of hovering staff members.
At the core, Vidal shows us, politics has changed very little, and in the end, America's choice will be "the angel of grayness…as usual."
The candidates squaring off are William Russell (Charles Shaw Robinson), a former Secretary of State, and Joseph Cantwell (Tim Kniffin), a reigning senator.
Russell, described as a "fancy Dan from back east," has a tendency to joke too much and quote the likes of Shakespeare, Oliver Cromwell and Bertrand Russell to a confused press corps. He's an intellectual in politics and therefore the subject of mistrust.
Cantwell is slick and ambitious, a true politician who's willing to sling mud to get what he wants. And that's just what he does. He gets the dirt on Russell (illegally) and times to release it at the convention in such a way that Russell will have to withdraw from the race.
But Russell has a couple things on his side: a conscience (which some would say makes him a wishy-washy flip-flopper), intelligence and the backing of the Truman-esque former President Arthur Hockstader (Charles Dean). Together, with the help of Russell's chief of staff (Michael Patrick Gaffney), they go in search of dirt on Cantwell and find something juicy, something that makes him "not normal."
"I don't believe it," Russell says. "Anyone with that awful wife and those ugly children has to be normal."
While the men get ugly, the women get…ugly. Russell's wife, Alice (Emilie Talbot) is uptight and a little cold. She and her husband have actually been separated for years but are putting up a united front for the sake of the campaign. Mabel Cantwell (Deb Fink), on the other hand, has a little bit of the Lady Macbeth vibe as she does everything she can to keep his political machine running smoothly.
Vidal stirs up sensational fun as he creates a political potboiler that, as entertaining as it is, doesn't cut terribly deep. It's like a good B-movie that stirs things up and lets the viewer take it from there.
The actors do all they can to find three dimensions in the play. Robinson is perfectly cast as the conflicted intellectual, and so is Kniffin, whose Cantwell seems like a power-mad little boy much of the time.
Dean is positively presidential as Hockstader, and he seems to relish being the "hick president" who still wields a mighty power stick.
In supporting roles, Fink's blond would-be first lady is deliciously bitchy, all grace and smiles and viciousness. And Gaffney, Talbot, Elizabeth Benedict (in multiple roles) and Jackson Davis (in several roles, including a satisfyingly slimy one) populate the intimate Aurora stage – designed with 1960s hotel flair by Richard Olmsted – with genuine character.
Vidal's view, in the end, is cynical. Is there any other option when it comes to American politics? He doesn't have any faith at all in our electoral process, and we end up getting what we deserve. Someone brings up the notion of an immoral president, to which former President Hockstader retorts: "They hardly come in any other size."
Try not keeping that in mind for the next two months.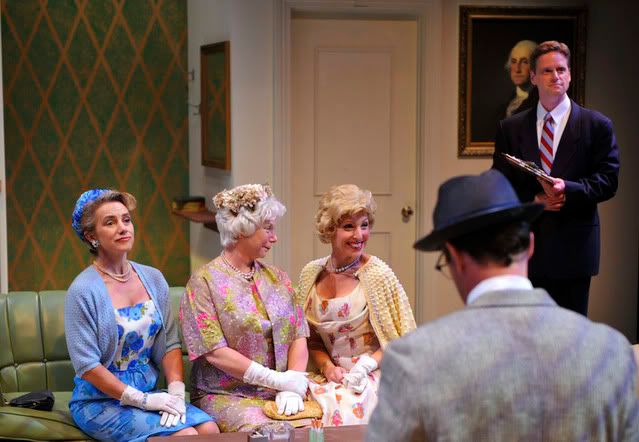 The ladies of the Aurora Theatre Company's The Best Man (seated on the couch) are, from left, Emilie Talbot, Elizabeth Benedict and Deb Fink.
FOR MORE INFORMATION
The Best Man continues through Sept. 28 at the Aurora Theatre Company, 2081 Addison St., Berkeley. Tickets are $40-$42. Call 510-843-4822 or visit www.auroratheatre.org.