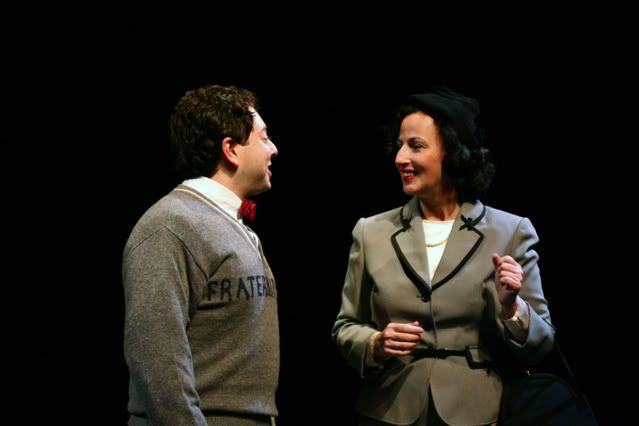 Anthony Nemirovsky is the son and Jeri Lynn Cohen is his mother in the Tobias Wolff short story "Firelight," one of three stories in Word for Word's More Stories by Tobias Wolff at San Francisco's Magic Theatre. Photos by Clayton Lord

Word for Word remains hungry like the Wolff
««««

The particular alchemy of Word for Word and author Tobias Wolff is undeniable. Six years ago the venerable theater company, which adapts short works of fiction without changing a word of the original text, produced three Wolff short stories, and the result was a theatrical and literary explosion.

Something about Wolff's deep humanity and understated flair seemed to expand and blossom under the stage lights and in the capable hands of the Word for Word team.

Wolff, happily, is back on stage with Word for Word in the appropriately named More Stories by Tobias Wolff, a trio of tales from the author's latest short story collection, Our Story Begins: New and Selected Stories ($26.95, Knopf).

Joel Mullennix directs the stories, and a five-person cast brings them to delectable life on the stage of the Magic Theatre.

Each of the stories is so different, and yet there are threads that run through them – something wistful in the narrative – that helps the evening feel of a piece and underscores the tender, complex authenticity of Wolff's writing.

"Sanity" opens the evening with two superb performances. Michelle Pava Mills as April, a high school girl worried about her father's latest stint in a mental hospital and the effect it will have on her second stepmother's willingness to remain in the family. And Stephanie Hunt is Claire, the cool, collected stepmother whose roiling inner life (not to mention her past) can barely be sensed outside her cool, gray suit and wide-brimmed black hat.

The two women, after visiting the mental hospital, have a long walk back to catch the bus (people in Wolff stories are more likely to take busses than drive cars), and during that walk, Wolff plunges deep into the essence of marriage, of age contrasting youth, of need rebuffed by being needed.
It's a fascinating, surprising story with ending that could even be considered happy.
"Down to the Bone" is the evening's most touching story as a man (Paul Finocchiaro) in his late middle age, arrives in Miami to serve "long hours of useless witness to his mother's dying." With the usual Word for Word flair, we're treated to snapshots of the mother's youth and to the man's relationship with his rented sports car, a red Miata (played by Mills in a sexy red vinyl dress – costumes by Laura Hazlett). We even get a guest appearance by Freud (Anthony Nemirovsky).
The man's volatile emotional state gets a workout when he visits a funeral home run by an odd Viennese woman named Elfie (Jeri Lynn Cohen) who flirts with him and gives him beer.
What holds the piece together dramatically is Finocchiaro's moving performance as a man anxious for his mother's suffering to end, grieving the loss of "the great friend of his youth."
A mother-son relationship is also at the core of "Firelight," a Seattle-set story that illuminates the struggle of a mother (Cohen) and her young son (Nemirovsky, who also effectively plays the son as a much older man) who, despite their lack of money, led a slightly glamorous life dominated by shopping (but not buying).
This is Cohen's moment to shine, and she is luminous (helped by the warm light of Jim Cave's design). A woman of intelligence and spirit, this mother is also as eccentric as she is loving. One of her hobbies is shopping for apartments they can't afford, if only to escape their dreary boarding house and its "smells disheartened people allow themselves to cultivate." One chilly evening, after a day of pretend apartment hunting, they come upon a home near a university inhabited by a professor and his family (Finocchiaro, Hunt and Mills) who will soon be moving out.
The son is immediately taken in by the family scene – there's a blazing fire in the fireplace, and the wife just made a batch of brownies – and changed before the evening is over. As a man, his sense of home will be forever defined by that evening and its ultimate betrayal.
Word for Word's adaptations make these Wolff stories feel as if they were meant for the stage, and that's probably their least likely destination. But that's the magic of Word for Word, a company that cares about an author's voice almost as much as the author.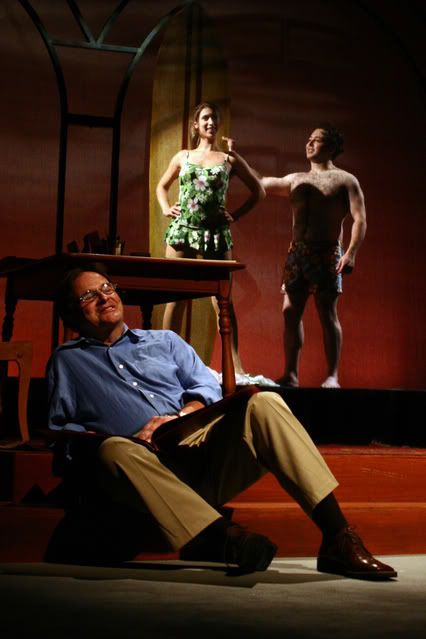 More Stories by Tobias Wolff continues through Oct. 5 at the Magic Theatre, Building D, Fort Mason Center, Marina Boulevard and Buchanan Street, San Francisco. Tickets are $22-$40. Call 415-441-8822 or visit www.zspace.org.