And suddenly, Alex Morf was everywhere.
Not exactly, but it sure seemed that there was the Bay Area theater scene without Alex Morf, and then with him – in a big way.
The wrestler from rural Iowa came to the end of his master's program at American Conservatory Theater, and his career quite literally took off.
While he was in his final year at ACT, he was cast as the rambunctious little brother in the mainstage production of The Rainmaker. Then, just as he was finishing his MFA, he was cast in the California Shakespeare Theater production of Pericles. Now he's starring in Cal Shakes' season-ending show, Twelfth Night, which opens Saturday at the Bruns Amphitheater in Orinda.
"I don't know," Morf says. "I spent the last three years at ACT, and it's sort of like being kept in captivity. Then, after Rainmaker it just sort of snowballed from there. I've been really lucky to work with some really good people and have them want to work with me again."
One of those repeat customers is director Mark Rucker, who cast Morf in Rainmaker and works with him again in Twelfth Night. It was Rucker's decision to make this take on Shakespeare's beloved romantic comedy a little different. Morf is playing both twins: Viola and Sebastian, who get separated in a storm at sea and are then reunited at the end. To survive in a foreign land, Viola disguises herself as a boy and causes all sorts of romantic confusion.
So see if you get that straight: Morf is playing one twin, male. He's playing another twin, female, who's pretending to be male.
"This is an actor's dream," Morf says. "I happen to be partial to Twelfth Night. I think it's one of the masterpieces of Western literature, and Viola is one of the most interesting roles in Shakespeare – so strong, so honest, so sincere. She's put in an impossible, aggravating situation, but it's enjoyable and wonderful at the same time."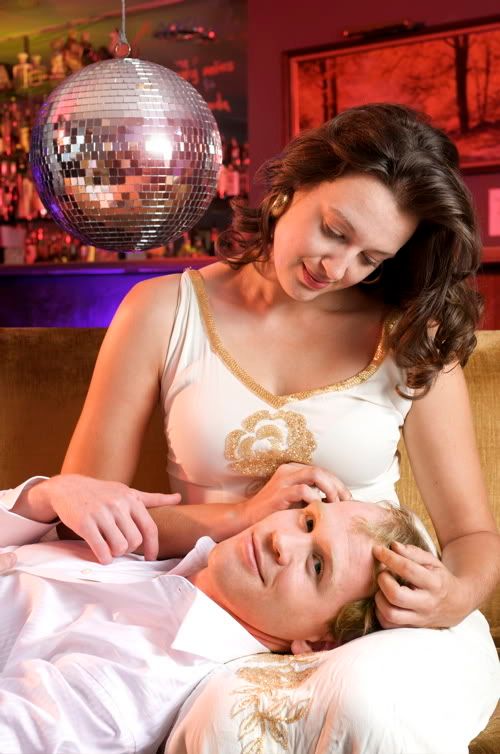 This is the third time Morf has performed in Twelfth Night. Previously he played Malvolio (at St. Olaf College in Minnesota) and Sir Andrew Aguecheek (at Chautauqua in western New York). Nor surprisingly, this is his first stab at Viola (Morf, at right, co-stars with Dana Green as Olivia).
"I'm not someone you look at and say, `Oh, he should be playing women,'" Morf says. "I wrestled in college. I was an athlete and stuff. But really, this is such an amazing challenge. I couldn't do it with any other director."
There's certainly a practical aspect to hiring one actor to play twins: you're guaranteed the identical twins will be identical and you don't have to put actors in silly wigs and costumes and hope the audience suspends its disbelief.
Director Rucker also had another reason, as he explained to his star.
"There's so much about gender in this play and the ambiguity of gender," Morf says. "In Shakespeare's time, the play was done with all men, which adds even more layers to the gender issue. The rules of gender in this play are what allow the play to happen. I think Mark had a lot of interest in exploring that."
So how does a boy from Iowa end up playing a woman in the Bay Area?
In Morf's case, it begins with parents who were supportive of his creative bent. They took their son to New York to see theater, and not just any theater: Chekhov. By the time he got to college, Morf was going to go the safe political science route, but one day in the library, he got bored.
"I started writing a play for a competition," he recalls. "I ended up winning with a play called People Like You. I had so much fun writing it, I felt liberated. I decided I needed to be doing something creative and expressive. Haven't looked back since."
After a stint in a hit Minneapolis production of The Cradle Will Rock performed in an abandoned Sears building, Morf quit his day job as a high school wrestling coach and started applying to grad schools. He got into the ACT program, which he considers "the best thing I've ever done."
"It's hard to describe the intensity of the program," he says. "You start at 9 in the morning and go until 10 at night, pretty much six days a week. You learn a lot about yourself. You learn you have a lot more secrets than you think you do. It's a great group of people there, and I feel very lucky to have spent three years there."
After Twelfth Night ends, Morf will do what successful Bay Area actors inevitably do: head to New York.
"I have an agent out there now," he says. "But I hope I can continue to work out here as well. It does feel like home."
Twelfth Night continues through Oct. 5 at the Bruns Amphitheater in Orinda, just off Highway 24 at the Shakespeare Festival/Gateway exit, one mile east of the Caldecott Tunnel in Orinda. There's a free shuttle to and from the theater and Orinda BART. Tickets are $32-$62. Call 510-548-97666 or visit www.calshakes.org