Opened Sept. 7, 2008 at the Curran Theatre, San Francisco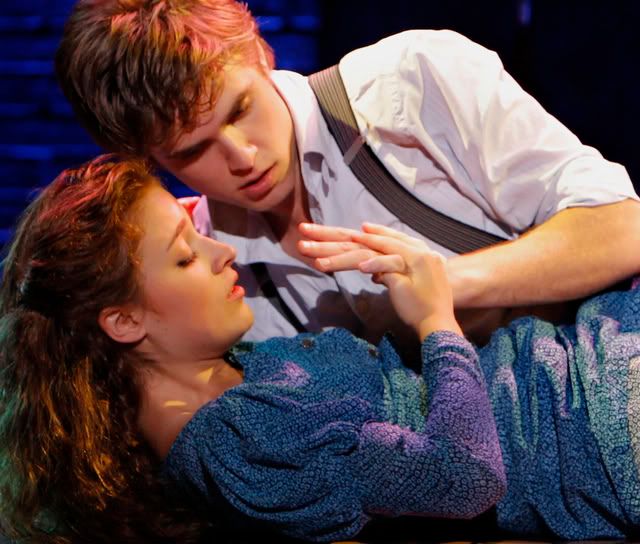 Kyle Riabko and Christy Altomare are Melchior and Wendla, the doomed lovers in Spring Awakening, the Tony Award-winning musical that launched its national tour at San Francisco's Curran Theatre. Photos by Paul Kolnik.

Sex, violence and rock 'n' roll: `Spring Awakening' jolts San Francisco
««««

It's appropriate that on the very same night Rent ended its 12-year run on Broadway, Spring Awakening officially launched its national tour at San Francisco's Curran Theatre as part of the SHN/Best of Broadway season.
Both shows re-imagine older texts – for Rent it was Puccini's La Boheme, for Spring Awakening it was Frank Wedekind's 1891 German play of the same name – and infuse them with elements of pop, rock and Broadway. And each show in its own way has taken musical theater a step away from extinction.
Unlike Rent, which never really had a chance to be finished, Spring Awakening is an expertly crafted masterwork in the art of musical theater. The show, with book and lyrics by Steven Sater and music by Duncan Sheik, connects on a powerfully emotional and visceral level. It breaks all the rules and dares to be as bold as it is beautiful.
The national touring company that opened Sunday night is every bit as good as the original Broadway company – in some cases better — and the production itself is just as electrifying. The young performers, ranging in age from 18 to 27, attack the piece with gusto and don't shy away from the sex, nudity, masturbation, violence and rock 'n' roll rebellion that infuses its 2 ½ hours.
Director Michael Mayer maintains firm control over the proceedings, guiding his vibrant young performers to an astonishing level of honesty as they veer between the late 19th-century play about adult repression of hormonal teenagers and the 21st-century rock concert that unleashes a torrent of emotions. It helps that Christine Jones' set keeps things simple (with audience members seated on the right and left sides of the stage) for the scenes and then allows Kevin Adams' gorgeous lighting design to wash over the stage and provide rock concert energy during the songs.
Heading the cast is Kyle Riabko as Melchior Gabor, a bright young man "of distinct intellectual capacity," as Sater puts it, and Blake Bashoff as Moritz Stiefel, a "neurasthenic imbecile" and Melchior's best friend.
Moritz, with his punk-rock haircut and desperate face, is the show's anti-hero with a too-active mind (and libido) and nowhere to channel his considerable energies. Bashoff's take on the character is more comic to start, but when, in Act 2, Moritz's story turns tragic, Bashoff is like an exposed nerve, and his pain is palpable, most notably in the raging "Don't Do Sadness."
Melchior is a much smoother character, but he has his share of inner turmoil, which Riabko communicates effectively. In the devastating second act, this young Canadian rock star proves himself an actor of considerable depth and commitment. He gives a great performance and bears the emotional weight of the play in his extraordinary ballad "Those You've Known."
Christy Altomare is Wendla Bergman, a curious young woman who inspires the show's (and the original play's) most provocative scene when she asks Melchior to beat her because her comfortable life has been so devoid of acute feeling or sensation. Stunningly beautiful and with a voice to match, Altomare is entirely believable as someone trapped in the chasm between child and adult, and her performance of "Whispering," a ballad tinged with hope and tragedy, is shattering.
The power of the entire ensemble, which includes Angela Reed and Henry Stram as all the adult characters, is undeniable, especially when they join voices on songs such as "Touch Me," "I Believe" and the exquisite, heart-rending "Song of Purple Summer." AnnMarie Milazzo's vocal arrangements find the rich textures of Sheik's gorgeous music, and music director Jared Stein is able to take his seven-piece band from the delicate chamber sound to full-on rock 'n' roll rage.
And then there are those incredible moments of chaos amid the sadness and balladry. First we get the boys, in the midst of a stern, abusive Latin lesson, breaking into "The Bitch of Living," and then we get the entire cast exploding into teenage anarchy in "Totally F***ed." Both numbers feature the extraordinary choreography of Bill T. Jones, whose gestural vocabulary, built slowly and subtly throughout the show, erupts into a storm of bodies punctuating the air with expressed anger and the joy of sweet release.
We've been told that in musicals, the songs should forward the story or reveal character, but here, Sheik and Sater's songs don't usually do that. They're more like emotional commentary, a bridge between the late 1800s and now. It's a score that is immediately appealing and accessible but that rewards the listener with something new on every listen.
The cast performs expertly — Steffi D as Ilse, a young woman cast out of her home to fend for herself, makes a huge impression on "Blue Wind" – but there are places where more performance experience will reveal further depths.
That said, there's no denying the power and sheer beauty of this remarkable show.
Will Spring Awakening have the staying power of Rent? I'd venture to say it will have more than staying power: it will go down in musical history as one of the greats.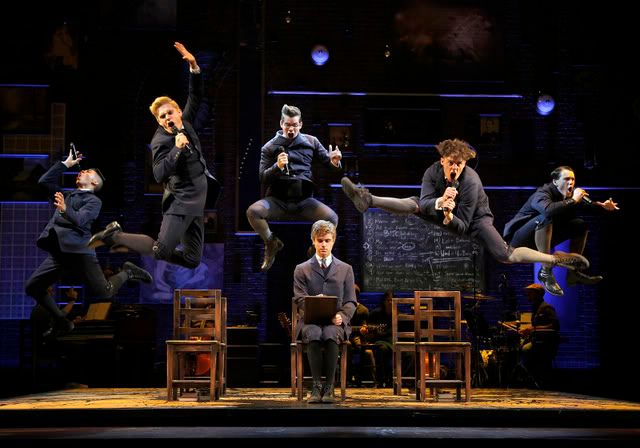 FOR MORE INFORMATION
Spring Awakening continues through Oct. 12 at the Curran Theatre, 445 Geary St., San Francisco. Tickets are $30-$99. Call 415-512-7770 or visit www.shnsf.com or www.ticketmaster.com for information.