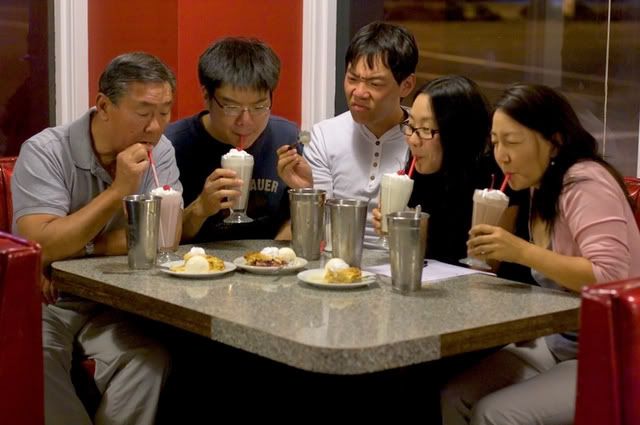 The cast of Lauren Yee's Ching Chong Chinaman at Impact Theatre includes (from left) Dennis Yen, Arthur Keng, Sung Min Park, Cindy Im and Lisa Kang. Photos by Cheshire Isaacs
Impact gets irreverent with Yee's `Ching Chong'
(three stars)
NOTE: Dates added to the run: Monday, Oct. 6 and Wednesday, Oct. 8. The Monday show will be a cast & crew benefit: all proceeds from that evening's admissions and donations will be split among the cast and crew, all of whom are struggling artists who have generously donated most of their time in the name of supporting great local small theatre.
Before we dive into Impact Theatre's season-opening Ching Chong Chinaman, a word on Impact's reboot of its performance space, LaVal's Subterranean.
If you're unfamiliar with this Berkeley performance spot, you probably don't know that it's actually the basement of LaVal's Pizzeria at the north gate of the UC Berkeley campus. It's not the most inviting of spaces – small, cramped, artistically challenging. But as teenagers across the country know, good things can happen in basements.
Despite the physical limitations, Impact, the theater's resident company, usually manages to do good, imaginative work while audience members chomp on pizza slices and guzzle beer. Well, this summer, Impact upgraded the space in two major ways: the space now has a door to help cut down noise from the busy pie factory upstairs (the clomping on the floor above will always be with us) and there are all-new seats to give audience tushies a smooth ride through Impact's dramatic adventures.
The seats help ease the crammed-in feeling and contribute to easing the sight-line issues, which is all the better to enjoy San Francisco playwright Lauren Yee's Ching Chong Chinaman, a gleefully irreverent, audaciously un-PC comedy about cultural identity.
Taking place almost entirely in the minty green Palo Alto kitchen of the Wong home (excellent set by Edward Ross, lit by Kelly Kunaniec), Yee quickly introduces us to a highly Americanized Chinese-American family.
Dad Ed (Dennis Yen) and mom Grace (Lisa Kang) have virtually no connection to their ancestry. One major concern of the family is to have their eyes "nice and wide open" for the annual photo Christmas card.
Their teenage children, Desdemona (Cindy Im) and Upton Sinclair Lewis (Arthur Keng), have even less cultural identity than their parents. Desdemona (Desi for short), desperate to get into Princeton, defies Asian stereotypes by not being good at math. Upton is a videogame addict specializing in "World of Warcraft," and in order to win a tournament, he needs help doing his homework and chores.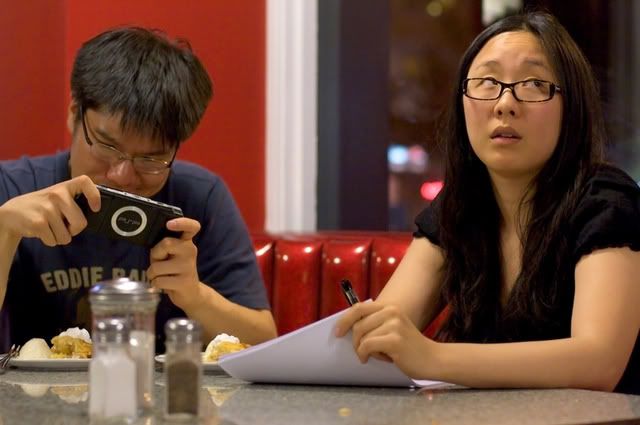 Being a crafty guy, Upton buys an indentured servant from China in the form of Jin Qiang (Sung Min Park), whose name, as pronounced by members of the family, comes out sounding like "Ching Chong." Though he speaks no English, it's up to Jin to teach the Wongs how to use chopsticks.
One nice thing about Yee's play, under the direction of Desdemona Chiang, is that it consistently defies sitcom rhythms and continually takes surprising turns. You don't expect Jin to be an ambitious dancer who wants a spot on the reality series "America's Next Top Dancer." You don't expect the action to shift to Mexico for a belated quinceañera, nor do you expect a Korean orphan (played by Pearl Wong, a deft comic actress essaying a number of small roles) to be pummeled by her altruistic American sponsor.
There are some great laughs in Ching Chong, but the play turns unexpectedly moving in its final moments when everything the Wongs thought they knew about culture and family is shaken and they're forced to redefine life on their own terms.
Friday's sold-out opening-night performance had some pacing issues early in Act 1, but the actors soon hit their stride, and the comedy and satire fired more assuredly.
Chiang's cast rolls with the surprises in Yee's script and finds humanity the comedy. Especially effective are Park as Jin, a stranger in a strange family, and Kang as Grace, a clueless mom who slowly gets a clue. Their scenes together are tender and even sexy.
Oh, and by the way, the seats – even in a hot basement on a sweltering late-summer night – couldn't have been more comfortable.
P.S.
Impact artistic director Melissa Hillman made the funniest "turn off your phone" speech I've yet to hear in a theater. She said that if your phone goes off during the show, "I will swallow it and you can come back for it later."
Ching Chong Chinaman continues through Oct. 10 at La Val's Subterranean, 1834 Euclid Ave., Berkeley. Tickets are $10-$15 in advance and $10-$17 at the door. Call 510-464-4468 or visit www.impacttheatre.com.