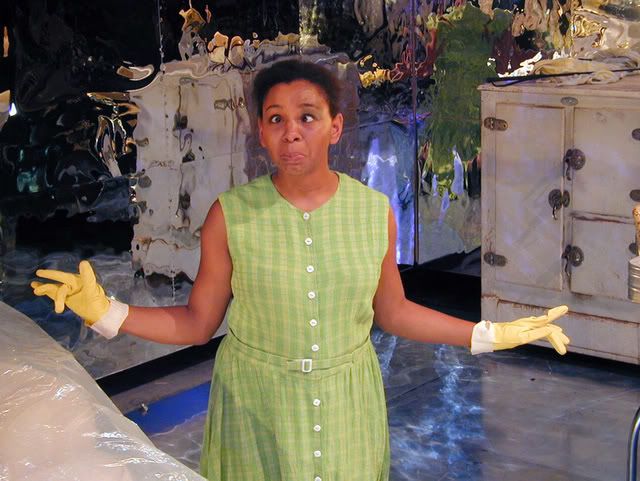 Felicia Benefield is Mare in Suzan-Lori Parks' Betting on the Dust Commander, one of three avant garde plays in The Cutting Ball Theatre's avantGARDARAMA at the EXIT on Taylor. Photos by Rob Melrose.

Chan's `Bone' trumps Parks, Stein in evening of experimental plays
«««
I'll come right out and say I'm not a fan of avant garde theater. It's frequently pretentious, self-involved, inscrutable and not much fun.
Call me an unsophisticated hack – OK, you're an unsophisticated hack! – but I like story. I like humanity. I like to see myself reflected on stage in some way, and I guess I've never remotely seen myself in an oddly theatrical, experimentally artistic, forward-thinking way. Poor me.
But let me say this: I don't love aggressively avant garde theater, but I really like the work of The Cutting Ball Theatre, a group run by Rob Melrose and Paige Rogers. I don't always love the plays they do, but I always like the way they do them.
Take, for example, Cutting Ball's avantGARDARAMA! a collection of three short avant garde plays, which just happen to ascend from incomprehensible to wonderfully, imaginatively coherent.
The opening salvo, Accents in Alsace, comes from Gertrude Stein's 1922 Geography and Plays and doesn't really make much sense off the page. There's a soldier (David Westley Skillman), a motherly/sisterly woman with a baby carriage (Felicia Benefield) and a narrator (Rogers).
I got that this had to do with World War I, but that's about all I got. Rather than try and find a story, as is my wont, I enjoyed director Melrose's staging, set designer Michael Locher's metallic box of a set, Heather Basarab's sharp lighting and Cliff Caruthers' superb video projections and sound design.
The second piece, Suzan-Lori Parks'
Betting on the Dust Commander, is also strange, but it's funny – and boy does that make a difference in my enjoyment level. Dust Commander won the 1970 Kentucky Derby, hence the title.
Benefield and Skillman play a married couple stuck in an endless loop of silliness. He bet 35 cents on Dust Commander way back when and won enough to buy them a house. He's going back to the track to see the old horse run an anniversary race. But before he goes, he's got to somehow uncross his wife's eyes.
Parks has a whimsical way with language, and her use of repetition brings out the humor and music of her dialogue. It's all beautifully executed by Benefield and Skillman, who manage to traffic in Parks' rhythms while bringing out darker shades involving sex, dissatisfaction, boredom and outright craziness.
The real treat of the evening is the world-premiere of local writer Eugenie Chan's
Bone to Pick. A commission by The Cutting Ball and Magic Theatre/Z Space New Works Initiative, this retelling of the Ariadne myth brings the heroine to the modern world and leaves her stranded in a diner at the end of the world.
In her once-pink, now filthy, blood-spattered uniform, Ria, impeccably played by Rogers (above), sips dirty water from her coffee pot and re-lives her life of passion, isolation and choice making. "Someone needs to treat me like a piece of meat. Know what I mean?" is Ria's opening line.
The combination of Chan's funny, often heartbreaking script with Rogers' bravura performance is a potent one to say the least.
Rogers establishes such rapport with the audience – especially when she talks about food (this stranded woman is HUNGRY) – that she could take us to any dark corner of theatricality she chooses.
This particular journey goes deep into her relationship with Theo (Theseus), the soldier who used her then abandoned her at the end of the world. He comes back for food every once in a while, but he doesn't stay (nor does he pay).
Ria, it seems, is doomed to keep repeating the betrayal of her half-brother, the Minotaur ("Oh, brother, oh, bull," Ria keeps saying). In the current, desolate state of the war-torn world, the Minotaur is the last "rib-eye steak" on the planet, and Ria, despite herself, will lead Theo to him once again. Fire up the barbecue.
Rogers is so moving and Chan's play so well constructed that the play hardly seems experimental. It just seems like an extraordinary play of depth and expansive feeling.
AvantGARDARAMA continues through Aug. 16 at EXIT on Taylor, 277 Taylor St., San Francisco. Tickets are $15-$30. Call 800-838-3006 or visit www.cuttingball.com.