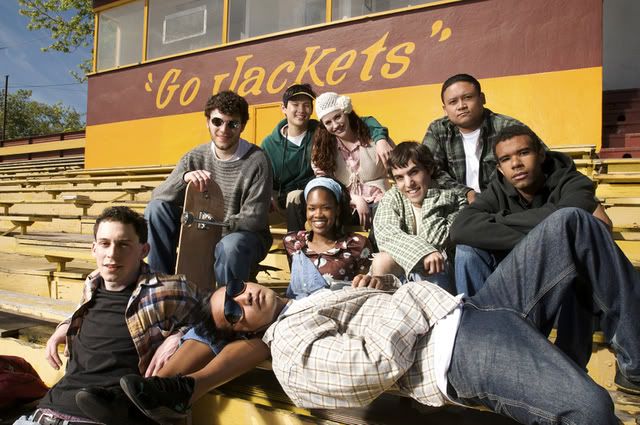 Berkeley Repertory Theatre's season-opening play Yellowjackets, a drama about life at Berkeley High School in the early '90s, has inspired a free teen journalism summit. Photo by Kevin Berne.
Berkeley Repertory Theatre announced an unusual opportunity for Bay Area teens tied to its world premiere of Yellowjackets: local youth can attend a free summit on the power of journalism and theatre on Monday, Aug. 18 from 9:30 a.m. to 3:00 p.m. Making an Impact: A Teen Journalism Summit will take place at the Berkeley Rep School of Theatre, located at 2071 Addison St. in downtown Berkeley, and will feature interactive activities with respected reporters.
"Since Yellowjackets is set at Berkeley High, and the plot revolves around a prank at the school newspaper, we decided to create an event for student journalists," explains Rachel Fink, director of the Berkeley Rep School of Theatre. "The more we spoke with students, the more we realized they were eager to have a larger conversation – to explore their responsibility as reporters at their schools, and to discover the impact that role can have on the greater community."
The summit is the brainchild of 19-year-old Albany-native Genevieve Michel. Last year, when she was a senior at Albany High School, Michel led Berkeley Rep's Teen Council; this summer, after her freshman year at New York University, she returned to Berkeley to help plan this event.
"In high school, it's so easy to lose sight of the big picture – so easy to forget that extracurricular activities teach us tools that we can use for the rest of our lives," Michel comments. "Students attending this summit will spend the day working with journalism professionals – and I hope they'll leave it with a better sense of how they can use their words and their passion to be a force for change."
The day-long workshop will examine how journalism and theatre can inspire debate and ultimately create large-scale change within a community. Teens will participate in a morning discussion on the roles of performance and the media, and then break into smaller groups led by professional reporters to brainstorm compelling story angles inspired by the day's debate. The panelists will include Kristin Bender of the Oakland Tribune, yours truly (freelance reporter Chad Jones), nationally renowned playwright Itamar Moses (at right in his Berkeley High days), artistic director Tony Taccone, and other respected local journalists.
The summit was inspired by the first play in Berkeley Rep's upcoming season: Yellowjackets, an incisive play set in Berkeley and written by a Berkeley native. Itamar Moses – who once edited the student newspaper at Berkeley High School – returns to his hometown with a script set in the halls of his alma mater. When the school paper publishes an insensitive story, students suddenly find themselves embroiled in a volatile controversy – and even their teachers seem unprepared to deal with the repercussions. Tony Taccone directs this collision of race and class set just around the corner from Berkeley Rep. With Yellowjackets, he generates the same mix of intense emotion and timely politics that infused shows such as Continental Divide, Culture Clash's Zorro in Hell, and Taking Over. Yellowjackets begins previews on the intimate Thrust Stage on Aug. 29, opens Sept. 3, and runs through Oct. 12.
Anyone wishing to register for Making an Impact: A Teen Journalism Summit may request a registration form by sending an email to gmichel@berkeleyrep.org. This one-of-a-kind event is free to all participants, and is open to high-school students at all levels; no prior journalistic experience is required. Youth attending the summit also receive a free ticket to see Yellowjackets on Friday, Sept. 5.
Students entering grades 9-12 are invited to Making an Impact: A Teen Journalism Summit, Monday, Aug. 18 from 9:30 a.m. to 3 p.m. at the Berkeley Rep School of Theatre, 2071 Addison St. @ Shattuck, Downtown Berkeley. The seminar is free! For information call 510-647-2978 or visit www.berkeleyrep.org or e-mail school@berkeleyrep.org