Continues through Aug. 16 at Custom Stage, Off-Market Theatre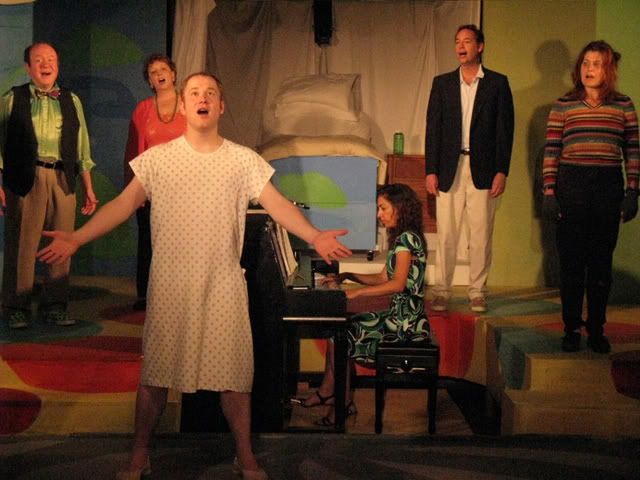 Benjamin Pither (center, in gown) is Gordon Schwinn, a man who needs a new brain in William Finn's A New Brain, in a production from San Francisco's Custom Made Theatre Company.
Finn's `Brain' pulses with vigor and vitality
«««
William Finn's A New Brain is a little treasure that slipped through New York and is finally getting its due in small productions around the country.
At Lincoln Center in 1998, it was clear that Finn, the composer of Falsettos and The 25th Annual Putnam County Spelling Bee, had written a very personal musical about being diagnosed with a life-threatening brain condition.
But since then, the gems in Finn's score have begun to shine even brighter.
San Francisco's Custom Made Theatre Company is in the midst of A New Brain, and their production amply demonstrates what's great about the show (and what's not, but that's of minor interest).
Artistic director Brian Katz is at the helm of this nine-person musical, and at the center of the production are two massive talents. First is music director/pianist Rona Siddiqui, who sits center stage in an awkward, rotating "orchestra pit" and plays beautifully almost nonstop for 90 minutes.
Music is fully part of the story as main character Gordon makes his living writing ditties for a children's TV show starring a frog named Mr. Bungee. The act of songwriting becomes the ultimate leap of creative faith as Gordon has to decide how he wants to use his talent: for the despotic frog or for the nurturing of his own creative soul.
Having Siddiqui at the center of that battle, playing Finn's gorgeous, funny, sometimes bizarre music keeps attention fully focused right where it should be.
The other major talent is in the center role of Gordon. Benjamin Pither is one of those singing actors whose work is so solid, so vocally assured you never worry for a minute whether he can handle it and just relax into the performance and the character.
That's a huge advantage in a small production like this. Pither, even when wearing a hospital gown and receiving a sponge bath, commands the stage without overpowering it. We come to love Gordon and his neuroses and creative soul searching.
Finn's score is at its best in the group numbers "Heart and Music," "Sitting Becalmed in the Lee of Cuttyhunk" and "I Feel So Much Spring." Along with the lovely duet "Sailing" (between Pither and Cameron Weston as Gordon's boyfriend, Roger), and a mother's torch song for her ailing son, "The Music Still Plays On" (nicely performed by Pat Christenson), these songs are among the most moving Finn has written.
There are also songs that feel like they're from a different musical. Finn incorporates a homeless woman (well played here by Lisa-Marie Newton) into the story, but she never makes much sense in the overall arc of the story. And aside from "nice nurse" Richard (David Fierro), the medical staff (played by Charles Evans and Giana DeGeisco) don't have clear enough characters and seem more like excuses to beef up the ensemble.
Marci Ring's set turns the Custom Stage in the Off Market Theatre Complex into a brightly colored children's room. It's a small, multi-level space, and with nine performers on it, it gets crowded. And director Katz hasn't always found the best configuration for his actors, especially when they attempt to execute Katie Kimball's choreography.
But the energy is right, and the cast attacks the material with vigor. Even the not-so-great numbers come across well, and the show's 90 minutes fly by. There's real uplift at show's end, and the heralding of spring, both as a season and as an attitude toward life, is genuinely moving.
A New Brain continues through Aug. 16 at the Custom Stage, 965 Mission St., San Francisco. Tickets are $20-$30. Call 1-800-838-3006 or visit www.custommade.org.