NEWS FLASH: Show has been extended through Aug. 31!!!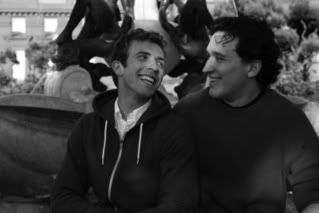 Brandon Finch (left) is Albert, a lonely gay teen about to find love with the help of his "fairy godmother" (Scott Phillips) in the original musical Oh My Godmother: A Fabulous Fairy Tale at the Zeum Theatre in San Francisco. Photos by Justin Chin

Infectious tunes, spirit make `Godmother' sparkle
«««
Once upon a time, in a little island kingdom known as Alameda, an industrious and talented man wrote a wacky musical. Beloved by all on the island, the musical found a fairy godmother who, with a wave of her lucrative wand, magically transferred the show to the emerald city known as San Francisco.
So is there a happy ever after ending for Oh My Godmother!, the musical that got its start three years ago at the Altarena Playhouse and is now ensconced in San Francisco's Zeum Theatre?
The answer is an unqualified yes.
The creation of Ron Lytle, who wrote the music, lyrics and book, directs and choreographs, Godmother has charm and exuberance to spare. This re-telling of the Cinderella story with a modern gay spin is a throwback to the perky, snappy musicals of Jerry Herman. In fact, if you envision Herman's La Cage aux Folles blended with Cinderella you get the idea.
Where it counts, this merry musical has what it takes. Lytle's score has melody and hooks and abundant humor. His book, though there's more of it than necessary, is sweet and sassy. And his cast keeps surprising with its blend of musical comedy exaggeration and genuine heart. Clearly Lytle is a man who has absorbed the world of musical theater, especially shows from the '50s and early '60s when tuneful enjoyment was the highest priority. His show is derivative in the way that Mel Brooks' The Producers was – it's so in love with shows of yore, it can't help channeling their sounds and their joy.
Godmother's community theater roots still show (especially in blackout scene changes that have a tendency to kill momentum), but that's also part of the charm here. This isn't just some slick, contrived show designed to take your money and time without thought for much else. Clearly, a lot of people have worked hard to bring this show to life, and it's a tribute to their efforts that the show's 2 ½ hours turn out to be as enjoyable as they are.
The clever part of Lytle's update is the way he uses drag instead of magic. When Prince (Kyle Payne) instantly falls in love in a chance meeting, the object of his affection happens, for comically complicated reasons, to be our young hero, Albert (Brandon Finch), in drag. This sends Prince into a tailspin – how could a young gay man raised by gay parents (the very funny Steve Yates and John Erreca) suddenly be straight and in love with a young lady? Well, only in stage comedies would a reasonably intelligent man not notice the bad wig and even worse dress. Not even Prince's sassy, queeny best friend, Payne (Tomas Theriot) notices that the lovely "lady" is clearly a handsome man in draggy drag.
But such willing suspension of disbelief is the lifeblood of musicals. Horrified that their son might be straight (but willing, as compassionate parents are, to give up their own hopes in favor of their child's happiness), the parents hold a ball so that their son will either find his mystery woman or meet another handsome young man.
Back home, Albert is dealing with his horrible stepmother (a wry Jennifer Tice) and two psychotic stepsisters, Esther Hazy (the ever-sneering Lisa Otterstetter) and Esta Lieber (the always-eating Julia Etzel). The only light in his life comes from his "fairy godmother" (Scott Phillips), an old friend of his departed dad's who runs a drag shop in the Castro called The Beaded Lash.
The show's best numbers tend to be the big ensemble numbers. The colorful opening, "San Francisco, Home Sweet Home to Me," could easily become a much-loved anthem for the city that can never have enough anthems. The rousing closer, "Old Fashioned Commitment Ceremony," is also pleasing in all the right musical ways. Comedy numbers such as "Bitch" (the stepmother and stepsisters), "Somebody for Everybody" (the stepsisters) and "It's a Boy!" (Prince and his parents) manage to advance the story and entertain in grand fashion.
The ballads are less successful (especially the Cole Porter wannabe "Midnight") only because it's harder to find the emotional pulse of a fairy tale than it is the comic. Still, there's not a song here that's less than easy on the ears, which is a major achievement for any new musical. And you'll be hard pressed to find any musical, new or old, more carefree and gay than Oh My Godmother!

Oh My Godmother! continues an extended run through Aug. 31 at Zeum Theatre, 221 Fourth St. (at Howard Street), San Francisco. Tickets are $25-$35. Call 800-838-3006 or visit www.ohmygodmother.com for information.