Joe Sears is new character Shot and Jaston Williams is Vera Carp in Tuna Does Vegas, the latest in what is now the Tuna Quartet, at San Francisco's Curran Theatre. Photos by Brenda Ladd.
My first-ever San Francisco Chronicle story can be found in today's Pink Section. It's a feature on Tuna Does Vegas, the fourth in the Tuna Chronicles series, which comes to San Francisco's Curran Theatre as part of the SHN/Best of Broadway series June 17-28. Check out the article here.
I talked to co-writer/stars Jaston Williams and Joe Sears, along with the usually-silent third partner, co-writer and director Ed Howard. I couldn't get everything into an 800-word story, so here are some tasty Tuna leftovers.
Jaston Williams: "This one is sick even by our standards. The research was fun. I made three trips to Vegas, and that place just cracks me up. I had an extremely good time — within reason. My partner and I adopted a boy from China three years ago, and I took him to Vegas with me. We were in the shops at Caesars, where everything's Roman, and there's an FAO Schwartz with a giant Trojan Horse. I just couldn't help it. I told the guy in the story that the Trojan Horse had nothing to do with ancient Rome. They didn't like me looking down on their horse.
Joe Sears: I'm cooking up a batch of black-eyed peas. They're healthy and delicious and Aunt Pearl knows how to cook 'em. In fact, at the Central Market Cooking School here in Austin, I teach a class in Aunt Pearl's Comfort Food. I dress up in my hat and dress and do that two or three times a year. You're guaranteed good food.
I have been to Vegas a couple times in my life but before the big bang with the pirate ships and things like that. Vegas is a whole new thing. As Joe Bob says in the show, "It's like Broadway without the intermission." What I know about Vegas is that the people there have a great sense of humor. Like Texans, they can laugh at themselves. As long as the satire is good, funny and in good faith, they don't mind.
Ed Howard: The heart of any Tuna show is the biggest part of it. Vegas doesn't have a heart, and that's the point. I think this one completes the story. We're not taking ourselves serious for a moment. The message of the show is one that has been coming to me, and hopefully to us all: It's time to stop being afraid and to enjoy. The best Greater Tuna could offer up back in the '80s was a prayer for salvation early in the Reagan years. We're so enamored of these characters. If that hadn't happened, the show would've been a flash in the pan. The characters have taken over our lives, and we want to do them justice.
Jaston Williams: We started out satirizing the Moral Majority. What was satire in 1980 is the presidential cabinet today. It's so scary. In the Reagan years, even these people were a joke. Now they got the good seats on the plane. Really terrifying. The new show doesn't get too political, but they get their licks in. They all liked Huckabee, but he was awful liberal. When he said, "I'm a Christian but I don't hate anybody," that really cost him in Tuna. Years ago, we had lunch with Huckabee, believe it or not. We were playing Arkansas, and we had a nice lunch at the Governor's Mansion. His wife's the scary one. I wouldn't mess with her if she had a gun. She'd been out getting her rifle license or something. She was nice, but we didn't give her any lip.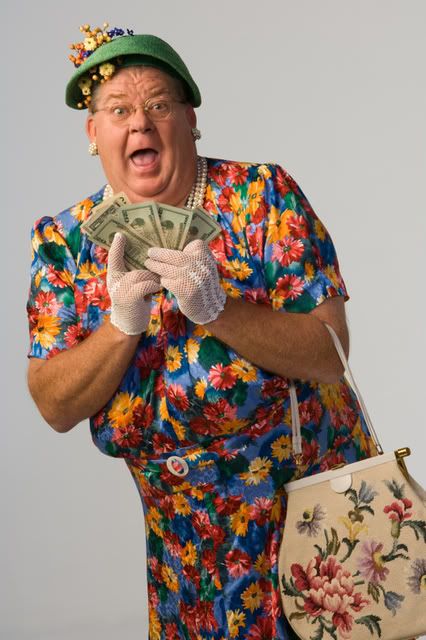 Joe Sears: (above as Aunt Pearl Burras) I don't want to jinx anything but Jason and I have been together longer than Laurel and Hardy. We're what they call a long-lasting comedy team. We still have fun together and laugh together. We were babies in the '70s having fun. Now we're all about our families. He and his partner have a special-needs boy from China, and I'm helping raise my granddaughter, who's about to be 13 — Becky Pearl. She was raised backstage. At intermission she'd put on my Aunt Pearl earrings. She's well aware how crazy her grandpa is. I didn't care as long as she grew up a liberal child. She turned out to be liberal and very religious. I love that — liberalism and a belief in God — and it's right.
Ed Howard: I don't like Vegas. I hate gambling. Jaston and I went out to Vegas and went to marriage parlors, toured casinos, walked the streets. Vegas is a satire of itself, which made it convenient for us. There's nowhere tackier.
Jaston Williams: It's amazing we're all still together. It's interesting that we're closer now than we've been since the very beginning. We had to go through a lot of life. When you're young you don't imagine the kind of things you'll have to deal with — they're all somebody else's issues. We've lost friends and family. I had a child from when I was young and lost him in an accident 10 years ago. We've gotten each other through hard times and good times. When you do live this long and experience this much, the petty stuff becomes obvious. We've all learned the difference between disappointment and tragedy. You put it in perspective. I'm grateful every day I've gone through life with these people. So many things could have changed — we could have done other things, but this is what we've chosen to do. It's been a gas.
Tuna Does Vegas runs June 17-28 at the Curran Theatre, 465 Geary St., San Francisco. Tickets are $25-$75. Call 415-512-7770 or visit www.shnsf.com or www.ticketmaster.com for information.