San Francisco Chronicle theater writer Robert Hurwitt has an excellent story in today's paper about the ongoing struggles of the Lorraine Hansberry Theatre, the Bay Area's 27-year-old African-American theater company.(Read the story here.)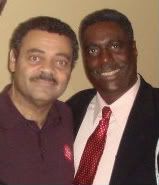 The short version is that Stanley Williams and Quentin Easter, who run the company, were ousted from their downtown theater space by a real estate-grubbing university with an artistic bent. They had to be out of the space by June 1.
I talked to Williams and Easter earlier this week, and they seem confident that they will eventually find a space — many irons in the fire, and they seem to have the ear of SF Mayor Gavin Newsom. In truth, it's shameful that the city's preeminent African-American theater finds itself without a permanent home.

Yehmanja Houff, Zeondrae RoShawn, Brian S. King, Stefon Williams, Linwood "Woody" Clark, and Luther Michael Spratt (left to right) huddle to do some tight harmonies in The Black Nativity, A Gospel Celebration of Christmas, a Lorraine Hansberry Theatre production. Photo by Stacie Batiste
But even in this tricky time, the Lorraine Hansberry will have a season. Williams and Easter have done some creative collaborating. Here's how the season shakes out:
August Wilson's Radio Golf, Oct. 8-Nov. 2, a TheatreWorks production in association with the Lorraine Hansberry Theatre, Oct. 8-Nov. 2
Langston Hughes' The Black Nativity. Venue to be announced (likely the Marines Memorial Theatre, across the street from the old Hansberry venue), November-December.
William A. Parker's Waitin' 2 End Hell (a spoof of Terry McMillan's Waiting to Exhale from the man's perspective), February 2009, venue to be determined.
Tracy Scott Wilson's The Story, March 21-April 25, 2009. A co-production with S.F. Playhouse.
Porgy and Bess by George Gershwin, Dubose and Dorothy Heyward and Ira Gershwin. San Francisco Opera production in association with the Lorraine Hansberry Theatre, June 9-27, 2009.
Another "in association" even is Berkeley Repertory Theatre's production of August Wilson's Joe Turner's Come and Gone in November.
Call 415-345-3980 or visit www.lhtsf.org for information.