Actor Megan Cavanagh has the kind of living arrangement you might see on a TV sitcom – in fact, you should see it on a TV sitcom. Every time she tells someone about her house and her family, someone inevitably says, "You should totally write a show about that!"
Here's the deal: Cavanagh was married, as she puts it, "many moons ago," and she and her now ex-husband have a son who's in high school. The ex-husband remarried and had a daughter who adores her older brother (and vice-versa). So when the ex and his wife moved from Los Angeles to Palo Alto, it seemed only right that Cavanagh, now a lesbian, and her partner pull up stakes and head north as well. Brother and half-sister get to finish growing up together, and the exes and their new mates happily allow that to happen.
But wait, there's more! Cavanagh and her partner live next door to the ex, the new wife and the little sister. And the son's bedroom connects TO BOTH APARTMENTS! Mom on one side, dad on the other. Cue the laugh track and run the closing credits music.
"The arrangement poses its challenges," Cavanagh says, "but it's actually pretty great. We love my son's little sister – we're her aunties. We babysit and give her music lessons, and that fulfills a baby fix in me. The best part is my son gets to grow up with his sister."

Megan Cavanagh (right) sings with Darlene Popovic in 42nd Street Moon's revival of Out of This World, a 1950 musical by Cole Porter. Photo by David Allen
So how about writing the TV show inspired by real life?
"I'm actually more interested in a reality show," Cavanagh says. "You could call it `Getting Along,' and it could follow couples after a divorce. There's so much horrible news out there. You never really hear the good stuff, about couples who loved each other once, aren't together anymore but decide to be mature for their kids."
Cavanagh is one of this busy workman actors whose name you might not know but whose face – and voice – ring a bell. Cavanagh is on Logo's lesbian sitcom "Exes and Ohs," which she describes as a gay cross between "Sex and the City" and "Friends." She plays Cris, who, along with partner of 10 years, Kris, operates an online pet supply business out of Seattle (the show is filmed in Vancouver). "They call it a dramedy, but it's really more comedy than drama," Cavanagh says. "Everything I do is comedy. I celebrated my 40th birthday in the first season – they're so kind – but that was filmed two years ago. We're going to film the second season, but it's like, hello people, I'm aging. How long can I pretend to be 40? They're writing scripts madly now, and we'll likely film this fall."
Though she has lived in the Bay Area for a couple years, Cavanagh still commutes to LA to do voiceover work for Nickelodeon cartoons. Most notably, she's the voice of Jimmy Neutron's mom. Among the other voices she provides for the network is a new show set in San Francisco in which she plays mother to kids voiced by Amy Poehler and Andy Richter. "I'm a total San Francisco mom," she says. "I have dreds, a tattoo and drive a Harley. I booked that job right as I decided to move up here. I thought it was God's way of saying, `Go for it!' "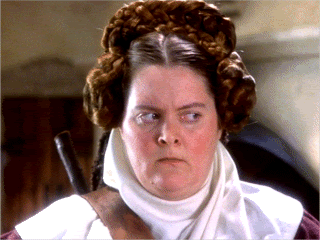 TV and film have been good to Cavanagh (remember her as Broomhilde in Mel Brooks' Robin Hood: Men in Tights or as Marla, the homesick ballplayer in A League of Their Own?), but the actor claims that theater is her first love. But when the TV and movie gigs keep coming along, it's hard to commit to a stage job. After a long stretch of work in LA, Cavanagh suddenly realized it had been almost a decade since her last play. "I was flabbergasted with myself," she says. "So I went back to Door County, Wis., where I had interned in college at the oldest resident summer stock company in the U.S. They were doing Sylvia, and I played the therapist you're not sure if it's a man or a woman. I had a panic attack backstage and worried that I couldn't do a whole scene without starting or stopping like they do in TV. I was about to make my entrance. I was sweating profusely. I gave myself a good talking to, pushed myself onstage and did it – shakily. I vowed never to let so much time go by again without doing a play."
So, these last few years, while she's been doing the TV thing, she has also been going in and out of various productions of Menopause: The Musical (one of her stints included the Pier 39 production in San Francisco). And now she has her first post-Menopause gig: with 42nd Street Moon's revival of Out of This World, the 1950 Cole Porter musical about Greek gods and Hollywood's upper crust comically colliding.
The musical (in previews June 5 and 6 with opening on June 7) entered Cavanagh's life shortly after she dove into the Theatre Bay Area general auditions. "I hadn't done an audition since the '80s," Cavanagh says. "I dusted off a monologue from college that was totally not right for my age – Viola in Twelfth Night. And I sang both parts of `Bosom Buddies' from Mame. I had been home 15 minutes when 42nd Street Moon called."
In the show, Cavanagh plays the Hedda Hopper-like gossip columnist Isadora St. John. "I'm modeling her on Eve Arden," Cavanagh says. "She's a hoot – an opportunist always on the lookout for a scoop. She'll go with a guy or a girl, whatever's working in the moment. I get two duets with (Bay Area actor) Darlene Popovic, and we are having so much fun. There's one number, `I Sleep Easier Now,' that just kicks butt. We're drinking through it."
Cavanagh says she's anxious for more Bay Area stage work – mostly of the comic variety – though she's willing to shake it up. "I did the audition to face my fear, and I'm ready to go. I'd do anything that comes along."
Out of This World continues through June 29 at the Eureka Theatre, 215 Jackson St., San Francisco. Tickets are $22-$38. Call 415-225-8207 or visit www.42ndstmoon.org for information.