Opened May 7, 20008 at the Curran Theatre, San Francisco

The cast of A Midsummer Night's Dream. Photos by Tistram Kenton
Beautiful, challenging, rewarding – those are three words that immediately come to mind when thinking about the production of Shakespeare's A Midsummer Night's Dream now at San Francisco's Curran Theatre. I'd also use the word shocking, but not so much about the show, more about the audience. More on that in a minute.
Part of the SHN/Best of Broadway season, this well-traveled Midsummer was first produced in India about three years ago and has since been produced in Stratford-on-Avon, London, Verona and Australia. The cast and crew is all Indian and Sri Lankan, and the play is performed with three live musicians at the sides of the stage (traditional South Asian instruments, heavy on the percussion) and in seven languages: Hindi, Tamil, Malyalam, Marathi, Bengali, Sanskrit and Shakespeare's native tongue, English.
The goal of director Tim Supple seems to be the creation of a universal Shakespeare production that through music, dynamic production, dance, song, excellent acting and clarity of intent communicates the story even when the text is in a foreign language.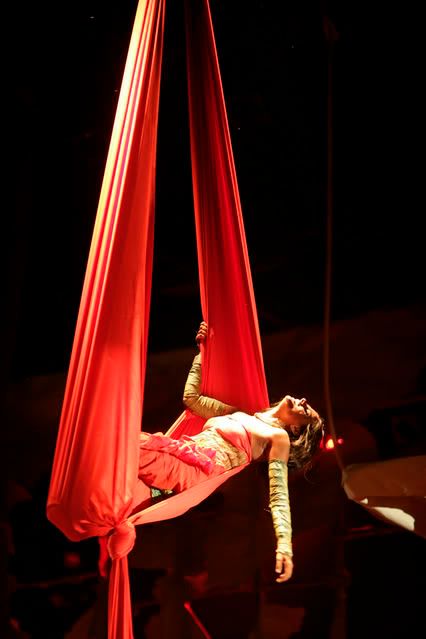 To a large and satisfying degree, Supple succeeds. Certainly it helps if you have some familiarity with Midsummer and its romantic tangle of a plot (if you don't, and if you arrive at the theater a half hour early, you can read the two-page "synopsis" slipped into the program). But even if you come as a blank slate, you'll get it. There's just enough English to coax us along as the plot unfolds.
The first striking thing about the production is the work of set and costume designer Sumant Jayakrishnan. Everything is simple but effective on his stage. The colors of the costumes – gold, pink, orange, cyan, magenta – are stunning, and his set is a rough wood scaffolding covered with what looks like white tissue paper but is actually something much sturdier as we come to see when the action shifts from the court in Athens to the wilds of the woods and the cast members clamber all over that scaffolding like 12-year-old gymnasts.
There are two moments in Act 1 that stick out in my mind. The first is when Titania, Queen of the Fairies (Archana Ramaswamy) asks to be sung to sleep, so her fairies put on a dazzling pageant for her enjoyment. At this point, the show turns into a mini-Cirque du Soleil, with actors twirling up and down ropes and performing acrobatic feats on great swaths of red fabric dangling from the rafters.
The other moment comes toward the end of the act when mischievous Puck (a mohawked Ajay Kumar) has turned a quartet of runaway Athenian lovers into a magically mismatched mess. While the lovers – Yuki Ellias, Prasanna Mahagamage, Chandan Roy Sanyal and Shanaya Rafaat – fight, Puck begins weaving a rubbery web around them – literally roping them in – so that when he's finished, they can hardly move with becoming entangled and ensnared. It's an amazingly apt visual image, and it tells the story beautifully even if we don't understand a word of what's being said.
Then came intermission and the great exodus. The number of people who bailed on Act 2 on opening night was shocking. I can understand that a) watching Shakespeare and b) watching Shakespeare in a foreign language without supertitles is a challenge. But this is San Francisco. People here are supposed to welcome challenge and not be such cultural cowards. Looking across the orchestra section I saw to center rows, each with three people in them.
If the production were appalling, I could understand the impulse to bail, but this Midsummer is wonderful. I will say that the people who stayed responded mightily with appreciation in an effort to make up for the empty seats.
Too bad for them. They missed an immensely satisfying performance by the rude mechanicals – the blue collar workers who take it upon themselves to present a tragic play for the entertainment of the royals. As Bottom, the overly inflated actor who, for a dreamy night, is turned into an ass, Joy Fernandes (speaking mostly in English) captures the innocence and exuberance of Bottom, both qualities that make his ego easier to tolerate.
The evening ends on a stage filled with deep reds, wonderfully bad acting (by the rude mechanicals) and rousing song and dance. The twists and turns of Shakespeare filtered through another culture still manage to end in the same happy, fulfilling place. This Midsummer's Night is truly a dream.
A Midsummer Night's Dream continues through June 1 at the Curran Theatre, 445 Geary St., San Francisco. Tickets are$35-$80. Call 415-512-7770 or visit www.shn-sf.com or www.ticketmaster.com for information.