Opened May 3 at the Palazzo Las Vegas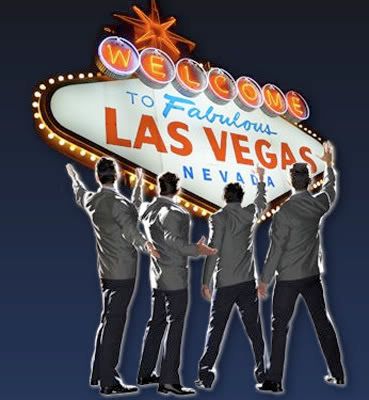 OK, so technically we're not "live" in Las Vegas anymore (6:05 a.m. flight from LV to SFO – ouch). But given that it feels like I'm still at the opening-night party of Jersey Boys at the Venetian (next door to the Palazzo, where the show actually resides), I feel as live as is humanly possible.
There's only good news for fans of Jersey Boys. The show has not been Vegas-ized. The creative team, headed by director Des McAnuff has been creative about making cuts and getting the show down to a brisk 2 hours and 10 minutes. The biggest cut is in the intermission, which here is called a "pause." At the end of Act 1, after the reprise of "Walk Like a Man," the audience is instructed via a projection that they have eight minutes do with what they please. Now, eight minutes is not a lot of time to run to the restroom or the bar (especially for slower-moving folks), so the wise people simply stand up, chat and watch the projections on the giant video screens (projections of a cross-country tour circa 1964, including footage of a trip across the Golden Gate Bridge and a glimpse of the Transamerica Pyramid-less San Francisco skyline).
Co-writers Rick Elice and Marshall Brickman have artfully trimmed their book here and there, but only purists (and there are plenty of them out there!) will notice. All the songs are there, albeit some of them have also been shortened (not detrimentally and none of the big Four Seasons numbers are noticeably shorter).
Act 1 does feel rushed at times, though audiences will likely appreciate getting through the early stages of the Four Seasons' development so they can get to the meaty hits such as "Sherry," "Big Girls Don't Cry," "Walk Like a Man," "December 1963 (Oh What a Night)," "My Eyes Adored You" and "Dawn (Go Away)." Act 2 feels more like it did at the Curran Theatre in San Francisco.
Speaking of the Curran, I must say the theater at the Palazzo, which seats 1,700, is quite nice, if unadorned. The sound system, which is what really counts, is phenomenal and is a great improvement over the Curran's.
The cast, a blend of the casts we saw in San Francisco (but primarily comprised of the performers we saw last fall), is more than up to the high standards we Bay Area fans are used to. The sad news is that John Altieri, whose primary role is producer Bob Crewe, had to leave the cast for health reasons, and his role is now being played by John Salvatore, who's terrific.
The Four Seasons have meshed nicely. Rick Faugno, who we first saw in the role of Joe Pesci with the first national tour, has really grown into the central role of Frankie Valli. His voice – already strong – has gotten even better and smoother, and dramatically, he's spot on, especially in his scenes with Joyce Chittick as Frankie's wife, Mary. Their "My Eyes Adored You" post-break-up scene packs a wallop.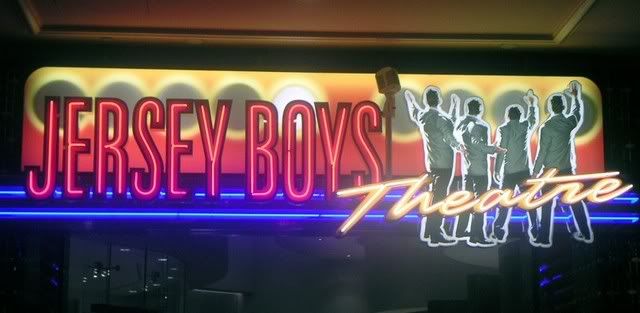 Erich Bergen, also from the first national tour, has evolved as Bob Gaudio, the musical mastermind (with Crewe) of the Four Seasons sound. Bergen is a charmer and a fine singer. He's also extremely tall, so to say his talent is giant seems fairly accurate.
Jeremy Kushnier, from the second San Francisco cast (the one that headed to Chicago), makes the somewhat despicable character of Tommy DeVito not only appealing but somewhat understandable. He's not necessarily a bad guy. He sort of means well and just lets his ego do its dirty work. Kushnier's performance is incisive, and his section as narrator (each of the Four Seasons takes a turn narrating) crackles with New Jersey wit.
Last but not least is the Bay Area's own Jeff Leibow as Nick Massi, the "Ringo" of the Four Seasons as he says toward the end. Leibow was in the final San Francisco cast (rumored to be the Vegas cast, which turned out only partly to be true), and though he was strong then, he's even better now. Nick's mostly contained emotions register more now, and his explosion – geared mainly toward Tommy – is seismic.
The nine-piece band, headed by Keith Thompson, sounds sharp, and Sergio Trujillo's choreography is as smooth and sexy as ever.
Now that I've seen Jersey Boys five times (which is nothing compared to the real fans), I feel it's necessary to mention the Jersey Girls every time. The three women in the show play all the women in the show, and they work really hard. The expert Chittick is joined by the multitalented Natalie Bradshaw and Julia Krohn in making sure the men don't completely take over the show.

(above from left) Real life Jersey Boys meet Las Vegas Jersey Boys during the curtain call on opening night at the Palazzo: John Salvatore and Bob Crewe, Bob Gaudio and Erich Bergen, Frankie Valli and Rick Faugno, Jeremy Kushnier and Tommy DeVito and Jeff Leibow.
As has become the custom for a big opening night, the surviving Seasons show up for the curtain call and hug the actor who played them. The Vegas opening was no different. After the rousing closer of "Who Loves You," Faugno introduced the surviving guys: Valli, Gaudio and DeVito as well as producer Crewe, who all took the stage. DeVito, who is dramatically banished to Las Vegas in the show, still lives in Sin City, and I had to wonder what it was like for him to sit through this show yet again and hear about what a slime bag crook he is – but now in his hometown. But then again, I have to wonder what it's like for Valli and Gaudio, too, to relive those moments in their past over and over again. They're probably inured to it now, but I can't imagine what it's like for Valli to have to repeatedly watch his stage self go through the death of his daughter Francine.
But at the curtain call in Vegas, it was all smiles. DeVito seemed as robust as ever, and I was only disappointed that Joe Pesci, who was also in the audience, didn't get to go on stage and hug the actor (Jonathan Gerard Rodriguez) who played him.
As beautifully and as expertly as this show is put together, and with so many great songs and performances, Jersey Boys is mighty satisfying and sets a new standard for musical theater in Las Vegas.
For information about Jersey Boys at the Palazzo, visit http://www.jerseyboysinfo.com/vegas/.