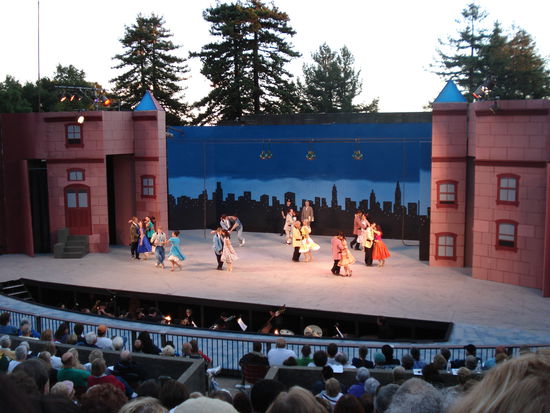 Woodminster Summer Musicals, the annual theatrical tradition of musicals under the stars, will produce three shows this summer at the Woodminster Amphitheater in Oakland's Joaquin Miller Park.
The season, Woodminster's 42nd, opens with the high-stepping Seven Brides for Seven Brothers (July 11-20). Next up is Seussical: The Musical (Aug. 8-17), and the season concludes with the classic operetta The Pirates of Penzance (in the 1980 Broadway version).
If you haven't ever seen a Woodminster show, you really should try this quintessential Bay Area experience at least once. Bring a picnic, stroll through the grounds and enjoy the WPA-built amphitheater, complete with stunning views and a waterfall on its western side. The shows are a combination of professional actors and community performers.
Auditions, by the way are April 6 and 12 at Woodminster from 1 to 4 p.m. Click here for information.
Show tickets range from $23 to $38 (with a $2 discount for children and seniors). The "Kids Come Free" program allows children 16 and younger to attend for free with paying adults. Call 510-531-9597 or visit www.woodminster.com for information.