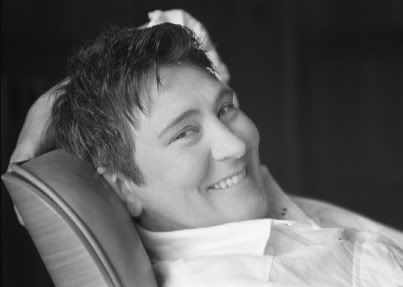 This isn't a theater item, but I wanted to share with you a superb concert experience I had Tuesday night at the Palace of Fine Arts Theatre, where k.d. lang brought her Watershed tour promoting her new album of the same name.
I've see lang a number of times in concert, but I have never seen her so relaxed or in such strong, beautiful voice. She has clearly arrived at a good spot in her life, both personally and professionally. Her confidence and warmth are palpable, and she obviously takes great pride in her new album (on the Nonesuch label), for which she served as producer for the first time. She co-wrote all the songs on the disc, which is her strongest collection of original material since 1992's Ingenue.
The evening got off to a surprising start with the opening act, solo pianist Dustin O'Halloran, whose offbeat charm set the tone for his lovely keyboard work — sort of a blend of New Age and classical but entirely lacking in pretension.
That mellowed the sold-out crowd quite a bit, though lang's entrance — barefoot as usual — revved things up. With her five-man band solidly behind her, lang launched into the new album with "Upstream." She would go on to perform the album in its entirety, and the live versions were even better than the album versions — more lived in, more passionate.
From her previous album, the superb Hymns of the 49th Parallel (easily lang's best overall album, also on the Nonesuch label), lang sang Neil Young's "Helpless" and literally brought the house down with Jane Siberry's haunting and hopeful "The Valley" and Leonard Cohen's "Hallelujah." The latter two performances each earned a standing ovation, and though "Hallelujah" verges on the overexposed these days (hello, "American Idol"), lang's full-throated, dramatic version is the best this side of Jeff Buckley.
With such an impressive back catalogue from which to choose, it was interesting to see what oldies lang would perform. She surprised and deligthed with "Wash Me Clean" from Ingenue, "Western Stars" from Shadowland and "Smoke Dreams" from drag.
Of course she performed her greatest (and only real) hit, "Constant Craving," but like so many requisite performances, lang has allowed the song to evolve and take on new life while still pleasing the fans.
For her first encore, she used an old-timey microphone and an acoustic setting to perform an early song, the rockabilly "Pay Dirt," then accompanied herself on the banjo for "Jealous Dog" from the new album. "I've recently taken up the banjo," lang said. "I realized it's a chick magnet."
Her final song of the evening, from the new album, was her nod to being a "good Buddhist." She described "Shadow and the Frame" as an "existentialist lullabye," and so it is.
"And so illusive
this life we live
sad and dull
but beautiful

So I find myself
and what I became
having nowhere else
to lay the blame

The shadow and the frame
so perfectly remain

The shadow and the frame
are indeed the same."
Visit k.d. lang's official Web site here or here.
Here's a glimpse of lang and the new album: