Opened March 19, 2008, Berkeley Repertory Theatre's Thrust Stage

Thomas Jay Ryan, Marguerite Stimpson and Danny Wolohan. Photos by Kevin Berne
Laughing through the tragic darkness
three stars Our top story tonight
Reportedly, during a preview performance of Will Eno's TRAGEDY: a tragedy at Berkeley Repertory Theatre, an audience member rose up mid-show and, on her way out of the theater, muttered loud enough for other audience members to hear: "Oh, for Christ's sake."
Seems a perfectly reasonable response to Eno's offbeat, highly original, thoroughly captivating play, which is most certainly not for every taste. Eno has been called a "Samuel Beckett for the Jon Stewart generation," and boy is that description apt.
TRAGEDY, now on Berkeley Rep's Thrust Stage, is a brief, bracing piece of theater that doesn't play by the usual rules. It's only about 70 minutes long, but it feels longer because it's dense and weird — obtuse, to be succinct.
This absurdist foray into a dark, dark night is also full of laughs (most at the expense of the already-absurd notion of TV news). But then again, there's also despair, disconnection and the inescapable fact of eventual death.
Eno sets the play up as a newscast. Frank, the anchorman (David Cromwell, below), is the distinguished, John Chancellor-like figure in the TV studio. He throws the broadcast variously to John (Thomas Jay Ryan), literally out in a field, Constance (Marguerite Stimpson) stationed at an empty home and Michael (Max Gordon Moore) the legal expert on the steps of the state capital.
Director Les Waters' challenge is to keep the show moving even though there's hardly any movement at all. The reporters stand there, holding their microphones and reporting into invisible cameras, and Frank sits at his anchor's desk, often ignoring what the reporters are reporting.
Thankfully, there's no video used in the show — this is a fully theatrical evening, imagination required. The actors all use what you might call "TV voices," which is to say, overly enunciated, overly emphatic language as they report on a massive event that has swept the entire country.
That event, as we come to learn, is the fall of night. Yes, it got dark, and the Channel 3 news team is there to cover the tragedy of it all, even when there's nothing to report.
"This, of course, as the hours grow more and more late out here, and we, it seems, learn less and less," John says from the field.
The literalness of the newscast begins to melt away as the night deepens, and the news folk, even solid Frank in the studio, all succumb to nervous breakdowns of varying kinds. They ramble about their childhood, about lost pets, about parental figures, about their deepest misery. During one report, Michael (Moore, below) recalls an uncle who gave him a dictionary, which he "mistook as the long, sad, confusing story of everything." Later he adds from "the missteps of my life": "They should have never let me use the alphabet."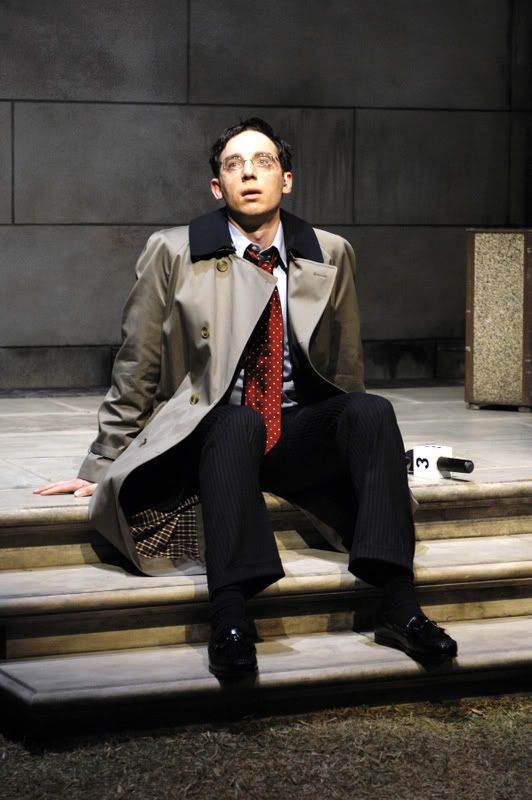 Humor helps make all this flow, but occasionally, Eno slips in some actual human tragedy. We now go to Frank in the studio: "The flashlight is dead and we are left darkling — as we used to say in my youth, which is also gone, with no remains."
TRAGEDY goes from funny and odd straight to sad. When all the on-air bounce has been drained from the reporters, a slight shred of hope emerges in the form a witness, a "man who happened to be standing right near or somewhere around the horizon as night fell tonight at nightfall." As played by the pitch-perfect Danny Wolohan, the witness wraps things up with a warm dose of spirituality, some comfort and a little storytelling. It's not anything like a happy ending, but it's not bleak either.
Director Waters lets Eno's words be the play's action, and that's a good thing. The actors stand in their locations, suggested by the four zones of Antje Ellermann's set, and Matt Frey's lights help provide TV focus in a theater.
This is definitely Beckett land. In one part of the world, you can imagine two sad clowns waiting for the elusive Godot, while in our part of the world, night falls and inspires a tormented newscast.
But Beckett's Godot allowed characters to actually interact. Eno is only able to connect his characters via cameras and microphones, and that leads to unavoidable detachment. There's much to admire in the play, and there are emotional moments (especially from Cromwell's Frank), but there's also a chill that even the humor can't banish.
TRAGEDY: a tragedy requires an open mind, a willingness to take the ride without promise of a destination. There are rewards aplenty, but go with someone whose hand you can hold on the way home.
_____________________________________________________________________________
TRAGEDY: a tragedy continues through April 13 on Berkeley Repertory Theatre's Thrust Stage, 2025 Addison St., Berkeley. Tickets start at $27. Call 510-647-2949 or visit www.berkeleyrep.org for information.