Opened Feb. 19, 2008 at Berkeley Repertory Theatre
Sex, drugs, drinking, celebrity: Fisher tackles it all in Wishful Drinking
three 1/2 stars
Her mother is famous for, among other things, a movie musical with Gene Kelly and buckets of rain. Now Carrie Fisher is, in a sense, carrying on her mother's legacy, though she's singing in the pain.
The central mantra of Fisher's beguiling one-woman show, Wishful Drinking, now on Berkeley Repertory Theatre's Roda stage, is "If my life weren't funny, it would just be true. And that is unacceptable."
She's right. Life is too strange and difficult not to have a sense of humor. As Fisher says in the show, when she finds her teenage daughter laughing about her crazy family, she's glad her daughter can laugh. "That may save your life."
A wicked sense of humor has been the making of Fisher, whose glittering opening night audience reflected much of what she was talking about in her autobiographical show. There were your basic movie stars – Sean Penn, James Franco. Your music legends – Bonnie Raitt. And the man who Fisher jokingly says "ruined her life," George Lucas, father of the Star Wars saga and creator of Princess Leia, the role that will follow Fisher to her grave (with stops at comic book conventions along the way).
And then there were Debbie and Eddie. The two people Fisher talks about most, her mother, Debbie Reynolds, and father, Eddie Fisher, were there on opposite sides of the mezzanine. With her on the right, him on the left and Fisher in the middle on stage, it was real-life, Hollywood-theatrical Surround Sound.
Fisher enters singing. While she warbles "Happy Days Are Here Again," headlines from her storied past flash on the screen behind her (the cozy, high-tech set, the lights and the projections are by Alexander V. Nichols).
She jumps right into the tabloid fodder by addressing her most recent incident: A good friend, a gay man, died in her home. Not only in her home, but in her bed. With her in it. "He didn't just die in his sleep. He died in mine," she says.
After taking questions from the audience, Fisher goes back to her childhood and that one time her dad left her mom – for Elizabeth Taylor. But here's the thing I didn't know. Before the scandal, Eddie and Debbie were good friends with Elizabeth and her husband, Mike Todd. In fact, Eddie was best man at Mike and Liz's wedding and Debbie was the matron of honor. Debbie even washed Liz's hair on her wedding day.
This leads Fisher, with the help of a large chart, to hold forth on "Hollywood Inbreeding 101," with her family and its assorted, mostly bad, marriages, as examples.
She imitates her mother ("Hello, dear, this is your mother, Debbie") and makes fun of her father ("He's had so many facelifts he looks Asian"). She smokes clove cigarettes (the writer of the show, some hack named Carrie Fisher, makes her do it, though the clove part is a concession to tetchy Berkeley audiences) and drinks Coke Zero on ice. She's not shilling for the soft drink, she says. She really likes this diet soda, while most others, she maintains, "taste like drinking poison from an aluminum wound."
Costumed (by Christina Wright) in a drape-y look somewhere between gypsy and high-class madam, the 51-year-old Fisher has a low, gravelly voice that's not ideal for the theater (the microphone helps), but boy does that voice convey dark, cynical humor beautifully.
Fisher is hilarious, which is no surprise to anyone who has read her books (if you haven't read her most recent, The Best Awful, do yourself a favor and pick it up). What's more surprising is her good cheer. Even while talking about her failed relationships – divorced from Paul Simon, the father of her daughter leaves her for a man – and her mental illness (manic depressive, bipolar disorder), Fisher maintains a unique brand of bleak optimism, of world-weary hope: The worst will likely happen, but everything will just as likely be fine.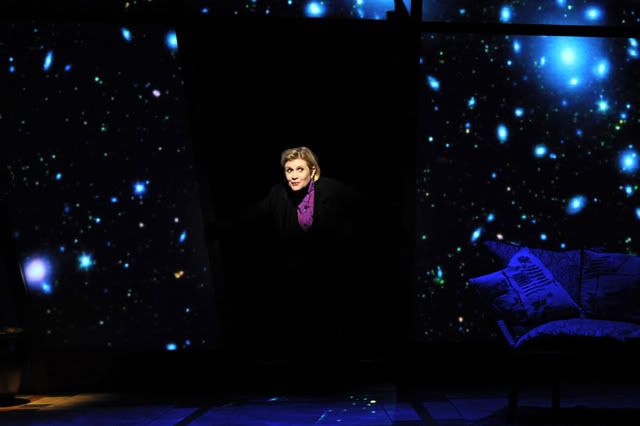 She has a brilliant mind and sharp comic timing. On the page, she tends to be a little brainier, but onstage, she's full-on Catskills comedian. Whether she's discussing Princess Leia while wearing the famous cinnamon-roll hair-do wig or molesting an audience volunteer, Fisher is someone you want to hang out with and listen to. The celebrity part of her life appeals to that silly "oh, look! Something shiny" aspect in us, but she's got substance under the stardust.
She's got a lot to say about our messed-up culture, about body chemistry, about families, about maturity. But she says it all in such a way that it all sounds like a well-honed comic monologue that just happens to have the incisive direction of Tony Taccone behind it.
I would have loved some more serious Fisher moments in the two-act, two-hour show, but maybe those just aren't in the repertoire. I'd be very interested, for instance, to hear more about her time at drama college in London, which she says was the "only unobserved" period in her life.
Frank and forthcoming and, I'm delighted to say, occasionally filthy, Wishful Drinking is a theatrical memoir with a whole lot of kick to it. Fisher says that if someone called the show over the top, she'd have to agree. "But imagine what I'm leaving out."
Wishful Drinking continues through March 30 at Berkeley Repertory Theatre's Roda Theatre, 2015 Addison St., Berkeley. Tickets are $33-$69. Call 510-647-2949 or visit www.berkeleyrep.org for information.