Opened Feb. 11, 2008 at SF Playhouse Stage II
Mee's melancholy Gone goes down easy
Three stars (Sad beauty)
No man was ever born
but he must suffer.
He buries his children and gets others in their place;
then dies himself. — Sophocles
Those words open Charles L. Mee's grief-stricken but strangely joyous Gone, having its Bay Area premeire from Crowded Fire Theatre Company at SF Playhouse's Stage II in San Francisco.
The ever-entertaining Mee (Big Love, "Fetes de la Nuit'' at Berkeley Repertory Theatre, Wintertime at San Jose Repertory Theatre, Summertime at the Magic Theatre) always takes an unusual approach to his plays. He borrows liberally from any source that happens to interest him. There's almost always good music (also mostly borrowed), and the final creation is often an enjoyable theatrical collage.
Gone is what Mee calls a "fragment'' play. And that's as good a description as any. He takes chunks of Sophocles, Proust, Ginsberg, Updike, Alphonse Daudet and Philip Larkin – not to mention the New York Times obituary page and random blogs. Oh, and Mee has included pieces from some of his own plays as well.
With such a variety of sources and no plot or consistent characters, the task before director Marissa Wolf is to create not a play so much as a tone, a feeling, an experience. When other writers attempt this fragment thing, the results tend to be pretentious and boring. Mee values humor and music, two combatants against boredom, so Wolf already is at an advantage.
Rod Hipskind's set consists of doors – some useable, some leaned up against the wall of the small black-box theater. In the center of the performance space is a sort of sandbox filled with dark soil – not unlike a fresh grave.
The set also consists of many and varied lamps, which play an important role in Jarrod Fischer's lighting design, which often consists solely of a single lamp being held by an actor. This is a dark evening, figuratively and literally.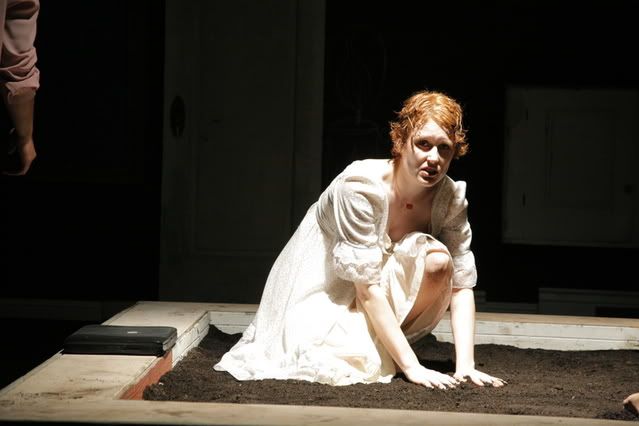 The text, as intoned by Shoresh Alaudini, Kalli Jonsson, Marilee Talkington (above) and Mollena Williams, is dominated by themes of loss. You've got your death, your love loss, your wiped-out civilizations.
It's moody to be sure, but not grim. Part of that has to do with the music. For Odetta's "Another Man Done Gone,'' for instance, the cast is doing sort of a spiritual dance in the sandbox. For Montgomery Gentry's country-fried "Gone,'' Jonsson lip synchs, and the other cast members provide back-up (choreography throughout the show is by Humu Yansane).
Between the country songs and spirituals, we get a healthy dose of Proust's madeleine moment from Swann's Way, a musing on the tragic, love- and pleasure-filled lives of cicadas and some insight into the world of Ruth M. Siems, inventor of Stove Top stuffing on the occasion of her death.
It's all rich and compelling and beautifully performed, but I must admit, after about an hour, I found myself longing for character and story. Some elements, such as Proust and Sophocles, make repeat appearances, but the fragment nature of the show couldn't overcome my need for narrative.
There's pleasure, fleeting (as in life) to be sure, amid the pain and loss, and that's the triumph of Mee's show and Wolf's production: that we seize on the joy when it arises. But then we head back to Sophocles, who leaves us in, as he puts it, "Egyptian blackness'' with, "Time makes all things dark and brings them to oblivion.''
Gone continues through March 2 at SF Playhouse Stage II, 533 Sutter St., San Francisco. Shows are at 8 p.m. Thursdays-Saturdays; 5 p.m. Sundays. Tickets are $15 to $25. Call 415-433-1235 or visit www.crowdedfire.org.