Opened Jan. 8, 2008,Lorraine Hansberry Theatre
Word for Word scores with jazzy Blues
three [1/2] stars Musical and muscular
First we see snapshots, glimpses of lives we have yet to understand. And we hear music. First the trumpet, then the bass, then the sax and, finally, piano.
More than a short story, which is how Sonny's Blues began life at the pen of James Baldwin, and more than a play, which is what Sonny's Blues has become through the efforts of Word for Word, what we are seeing is a jazz tone poem about love and creation.
Word for Word is consistently the most interesting and adventurous small theater company in the Bay Area. What could be an intellectual exercise — adapting short works of fiction to the stage without changing a word of the original text — becomes, in this company's capable hands, becomes thrilling, emotionally involving theater.
And with director Margo Hall at the helm of Sonny's Blues, the experience grows even further. Hall's understanding of Baldwin's 1957 work, set in Harlem in the '50s, includes a deep sensitivity to the musical aspect of both the subject matter and Baldwin's jazz-influenced writing.
To enhance these Blues, Hall recruited local jazz great Marcus Shelby to score play, and Shelby's work here (performed via recording) is extraordinary in the way it heightens the already intense emotions of Baldwin's story.
Music is a key part of the relationship between two brothers. A man known only as Brother (Peter Macon) has gone to school, served in the Army and settled into a high school teaching career with a wife (Allison L. Payne) and three children. His younger brother, Sonny (Da'Mon Vann), younger by seven years, has had a more difficult time of it, feeling restless and unable to fully channel his creativity.
As time goes on, Sonny, a jazz pianist, falls in with the wrong crowd, and the brothers' relationship fractures. Brother always feels a sense of guilt because he promised his mother (Margarette Robinson) before she died that he would always keep an eye on Sonny. But Sonny has turned to drugs — heroin — and Brother wants no part of that.
After reading about Sonny's arrest in the newspaper, Brother reestablishes contact with his little brother, and when Sonny gets out of jail, the two men begin the tricky dance of actually being brothers to one another. This means that Sonny must somehow make Brother understand what it means to play and create music.
When Brother does start to come around, it inspires some of Baldwin's most beautiful writing: "All I know about music is that not many people ever really hear it. And even then, on the rare occasions when something opens within, and the music enters, what we mainly hear, or hear corroborated, are personal, private, vanishing evocations."
Baldwin is wise enough not to offer a pat happy ending, but he does offer understanding and love and creativity at their most emotionally vulnerable.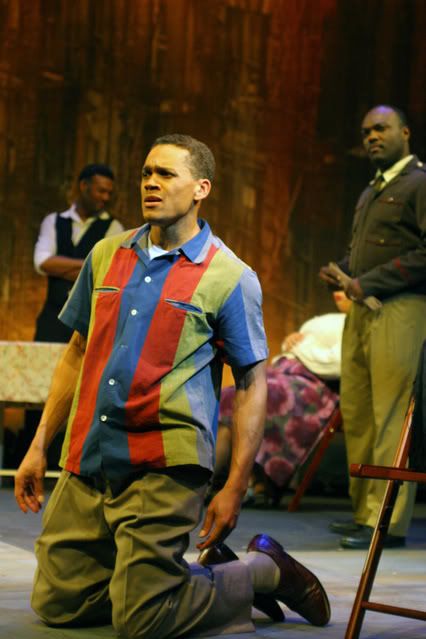 Hall's production is first rate. Her ensemble, which also includes Mujahid Abdul-Rashid and Robert Hampton, is fluid and capable of playing anything from a small child (Hampton) to a fireplug of a jazz player (Robinson).
In true Word for Word fashion, Sonny's Blues is a triumph on all levels. The production itself — with a spare, efficient set by Lisa Dent and moody lights by Tom Ontiveros — is strong, the performances are solid and the text, already muscular and evocative, becomes even more so when brought to life.
But it's Shelby's music that puts the show over the edge. You can't have Sonny's Blues without real blues in your ears, and between Baldwin's words and Shelby's music, these Blues translate to bliss.
Sonny's Blues continues through March 2 at the Lorraine Hansberry Theatre, 620 Sutter St., San Francisco. Tickets are $22-$36. Call 415-474-8800 or visit www.lhtsf.org or www.zspace.org.
Special event:
On Feb. 15, Marcus Shelby will perform live, with vocals by Miss Faye Carol. The event begins with a pre-show reception at 7:30 p.m. and the gala party afterward. Tickets are $95.