Mountain View's TheatreWorks announced its 39th season today. The season opens in June with Snapshots with music and lyrics by Stephen Schwartz (Wicked, Enchanted), at right, and book by David Stern. The musical uses songs from other Schwartz shows to tell the story of a marriage. The show runs June 18 through July 13.
John Patrick Shanley's Pulitzer Prize-winning Doubt, a Parable runs July 16 through Aug. 10.
In August comes the hit Broadway musical Grey Gardens in its first production since the Broadway production closed. The musical is based on the documentary Grey Gardens about Jacqueline Kennedy's aunt and cousin, Edith and Edie Bouvier Beale and their shocking life in a crumbling East Hampton estate. The show runs Aug. 20 through Sept. 14.
The late August Wilson's Radio Golf, the final play in his extraordinary cycle of plays documenting African-American life in each century of the 20th century, runs Oct. 8 through Nov. 2.
For the holidays comes a world-premiere musical: Long Story Short created by Brendan Milburn and Valerie Vigoda, aka GrooveLily. The show, about a roller-coaster romance, runs Dec. 3 through 28.
The first show of 2009 is Ben Hecht and Charles MacArthur's Twentieth Century, in a new adaptation by Ken Ludwig. The show runs Jan 14 through Feb. 8, 2009.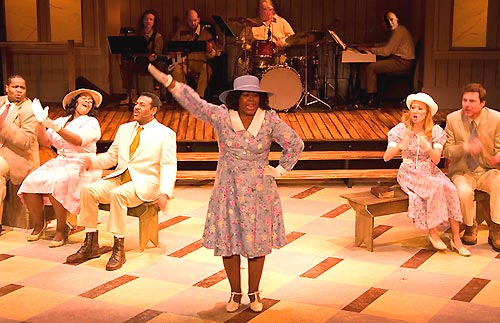 The regional premiere of the musical revue It Ain't Nothin' but the Blues, above, runs March 11 through April 5, 2009, and the season concludes in April 2009 with the Ashland, Ore. hit Distracted, a drama about raising and ADHD child by Lisa Loomer.
Subscriptions range from $115 to $410. Single tickets go on sale June 1. Call 888-273-3752 or visit www.theatreworks.org for information.