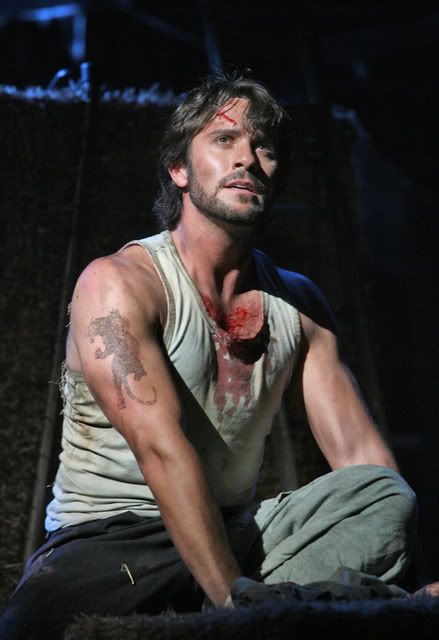 You knew Andrew Lloyd Webber wrote Cats, right? Well, did you know he also wrote a dog?
In the Lloyd Webber canon, only By Jeeves was more critically pummeled than Whistle Down the Wind, a collaboration with lyricist Jim Steinman (of Meatloaf's "Bat Out of Hell" and Bonnie Tyler's "Total Eclipse of the Heart" fame). The show, based on a 1961 movie of the same name, had its premiere at the National Theatre in Washington, D.C. in 1996 and was supposed to open on Broadway the following year.
The Hal Prince-directed show was reviled, by critics and audiences alike, and the Broadway transfer was scrapped.
A revised London production opened in 1998 and closed in 2001. Producer Bill Kenwright took over the directing reins for a UK tour, which ended up back in London last year (taking up some slack from another flop Lloyd Webber show, The Woman in White) at the Palace Theatre.
Now Kenwright's production of Whistle Down the Wind is touring the U.S., and that tour (seen above and below) is coming to San Francisco's Curran Theatre April 1 through 20, so we can see what all the fuss (or what all the non-fuss) was about.
Here's Lloyd Webber in a statement: "Whistle Down the Wind is a fantastic story for a musical dramatist and it took me back to my rock roots. It's a primal tale about salvation and forgiveness that everyone can relate to. I'm absolutely delighted that Bill Kenwright's wonderful production is going to be seen in America."
The ticket sale date has not been announced. Visit www.shnsf.com for information.